American Workforce Shifts to More Part-time Jobs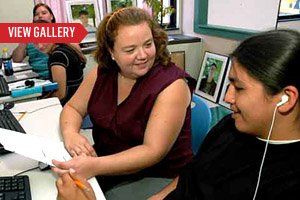 In this economy, a job isn't just a job: It's a pastiche of part-time gigs, project contracts and fill-in freelance work. According to the Bureau of Labor Statistics, unemployment was up in December across all fifty states from the previous month and the prior year. Some 2.5 million full-time jobs have evaporated in the last 13 months, contributing to what's being called the "gig economy." But there is a convergence of other, more developed trends at play as well. Tight-budgeted company managers long ago embraced outsourcing to only pay for what they can use. A new generation of workers has 24/7 connectivity, lacks corporate loyalty, and thinks like (if the McCain/Palin contingent will give us back the word) mavericks. Put them together and you get gigonomics.
Hustling isn't new to the writers, photographers, Web designers, musicians and other creative types who've been gigging for decades. "Now that everyone has a project-to-project freelance career, everyone is a hustler," Tina Brown wrote recently, drawing attention to the trend at her Web site, The Daily Beast. What's making Brown and others take notice now is the spread of independent work to higher-income workers, and to professions not known for their creativity, such as finance, law and human resources. And while an earlier generation of giggers may have embraced the hustle because it afforded them time with the kids or the chance to pursue their art, the newest entrants may be getting pushed into it by employers who no longer want to be saddled with their health-insurance bills.
Contingent workers--including part-timers, freelancers and contractors--consistently made up about 30 percent of the workforce between 1996 and 2005, according to the U.S. Government Accountability Office. That number might be higher the next time they measure: In the last year alone, the number of people working part-time because they couldn't find full-time work almost doubled from 4.5 million to nearly 8 million. "The future is one in which tying your identity to the companies you work for is getting more and more tenuous," says employment consultant John Challenger of Challenger Gray & Christmas. "Once they come to the conclusion that there's no stable place to work, people are saying, 'OK, I'm going to build my own workstyle.' It's almost like we're going back to the days of the guild."
That has policy implications and can create new winners and losers. Winners may include companies like elance.com, a job-auction Web site that saw 239,000 project postings in 2008, a 63 percent increase over 2007, or snagajob.com, where increasing numbers of middle-aged and main family breadwinners are picking up part-time fill-in work. There's new industry space for everything from benefits consultants to office-supply firms in the place where project-offering employers meet hungry job shoppers.
Gigonomics Central is probably New York City, where two thirds of the opportunities created last year were either part-time, temporary or contract based, according to Sara Horowitz of the Freelancers Union, a group which does advocacy work and provides benefits for independent workers. Mayor Michael Bloomberg has proposed giving tax relief to the thousands who actually pay more in taxes because they are self-employed. Typical are young, hip, Brooklynites like Ebenezer Bond and his girlfriend, Angelica Kushi. The couple make rent and keep themselves challenged with an endless series of diverse projects and assignments. She's a yoga teacher, nutritionist and shoe model. He designs window displays and showrooms for Ralph Lauren, manages World Up, a hip-hop/social-action nonprofit, ran a month-long road trip for Rock the Vote and mines for marketing work that will pay before the next month's rent is due. It's not dull. "I have a lot of different plans for my future," he says. "They mostly involve me being self employed."
In a freelance-based job market, talented, skilled and energetic people can still do great work and make good money. But those highly qualified workers who aren't good at the business side of selling themselves, over and over, can suffer. Even connected, ambitious, talented giggers can hit slow periods, and that's where the gigonomics start to pinch. "You have to bring in a project and then the project ends, and then you have to bring in another project," says Challenger. "That can be a difficult time. It can make you doubt yourself when you might be good."
And it isn't just about feelings. The complete lack of a safety net for independent workers is the key policy challenge of the gigonomic era, says Horowitz, who received a prestigious MacArthur fellowship for her advocacy work in this area. Her organization is pressing President Obama to include relief for self-employed workers in his stimulus plan. She is lobbying for a savings system in which contingent workers could get some government-matching funds when they put rainy-day money away during fat times.
She would also like to see other policy initiatives aimed at the independent workforce, including more non-employer mechanisms for affordable group health insurance, flexible retirement plans, and tax breaks to address the additional Social Security and Medicare taxes paid by the self-employed.
When the economy improves, there will be a core group of giggers who won't return to full-time jobs, according to analysts like Challenger and Horowitz. Their incomes will rise as labor markets improve, corporate budgets grow, and companies pay up for solid skills and talents. They'll be happy to have the better-paying projects, but people like Bond and Kushi are likely to eschew the company ID and its regular paycheck. After all, the next gig might be the best one yet.
American Workforce Shifts to More Part-time Jobs | Business