An American working as a spokesperson for the Ukrainian military responded to Senator J.D. Vance after the Republican lawmaker sent a letter to U.S. officials expressing his concerns regarding her work for Kyiv.
Vance's September 15 letter about Sarah Ashton-Cirillo, a spokesperson of the Territorial Defense Forces (TDF) of the Ukrainian Armed Forces, was addressed to U.S. Secretary of State Antony Blinken, U.S. Secretary of Defense Lloyd Austin and Director of National Intelligence Avril Haines. In his message, Vance raised several questions about Ashton-Cirillo and accused her of threatening "physical violence to anyone who circulates 'Russian propaganda'" during a video message she had made.
"Like myself, Senator Vance understands the importance of the First Amendment, and defending it is part of upholding an oath," Ashton-Cirillo told Newsweek.
Vance requested information about whether Ashton-Cirillo is employed by the Ukrainian military and if she is being "compensated using American resources." He also asked if she was an American citizen, as well as if she had ever served for American intelligence services.
Vance additionally asked the U.S. officials if "we have reason to believe Ukrainian forces or intelligence services are planning to commit acts of violence against those who engage in 'Russian propaganda.'"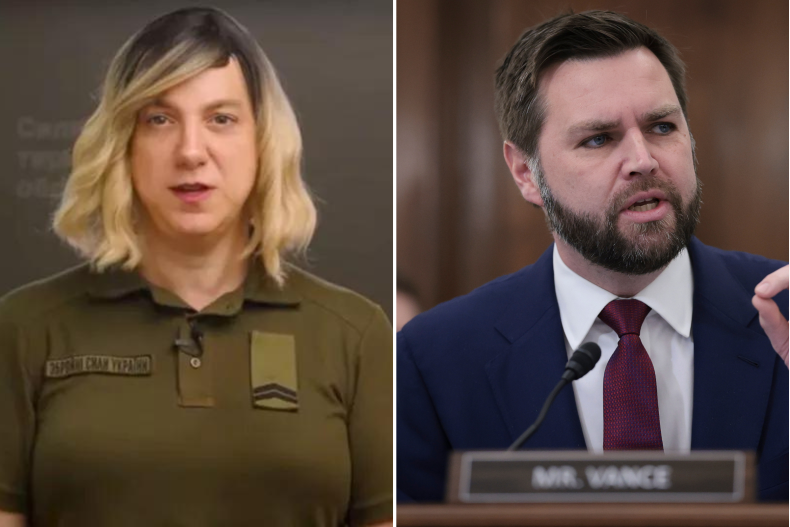 "While we can debate the merits of these accusations, engaging in protected speech should not invite threats of violence—otherwise, the First Amendment means nothing," Vance wrote.
Newsweek reached out to Vance's office via email for comment.
Ashton-Cirillo is from the United States, and she first arrived in Ukraine in March 2022 to work as a reporter. After experiencing war firsthand, she enlisted in the Armed Forces of Ukraine and worked as a combat medic. She also began hosting English-language shows for the TDF before she became a spokesperson for the military branch this summer.
She addressed Vance's letter in a video posted Monday on X (formerly Twitter). In the clip, she began by thanking the U.S. for its support of Ukraine from Russian President Vladimir Putin's invading forces and said, "We in the TDF and across Ukraine believe journalists are heroes and have the right to report on Ukraine's war for liberation without interference."
Ashton-Cirillo referenced Vance's accusation about her supporting violence against members of Kremlin-backed media by saying that "the Russian propagandists and war criminals who are spreading lies and pushing false narratives are not journalists, they are information agents and an extension of the Putin-Prigozhin effort to spread chaos and wreak havoc across the globe."
"In Ukraine, we do not seek vengeance only justice," she said.
As for Vance's question about Ukraine's military seeking to take action against propagandists, Ashton-Cirillo told Newsweek that "International Tribunals along with the Ukrainian courts are in place to indict and hold fair trials for those who are suspected of committing war crimes."
She added, "Only the Kremlin propagandists have spoken of extrajudicial killings since political assassinations and journalist murders are a hallmark of the Putin regime."
In the video posted on X, Ashton-Cirillo also answered if she was working for the U.S. government in any capacity.
"Simply put, I am an American serving as a Ukrainian infantry soldier and combat medic who was brought from the zero line and assigned to the TDF's Media Team in the dual role of spokesperson and Russian disinformation analyst," she said.
Ashton-Cirillo also hinted at other "disappointing" speculation about her.
"While in Ukraine we are fighting for global liberty and the ideology of victory, too many in Moscow and across the world are still caught up in focusing on the tired trope of gender chaos," Ashton-Cirillo, who is transgender, said in the video.
In the past, Vance has called for cutting off U.S. support for Ukraine, arguing that additional funding could prolong the war.
When asked by Newsweek if Vance's letter might be a reflection of his broader views about ending U.S. support for Kyiv, Ashton-Cirillo answered that "Vance has been elected by the voters of Ohio to ask questions that are important to them, and so I can't speculate as to why he wrote the letter, only that he is doing what the voters of his state elected him for."
Ashton-Cirillo ended her X video by saying she has "never been more proud to be a U.S. citizen as I am fighting on behalf of the Ukrainian people against the tyranny of Russia and their assorted enablers, all of whom are enemies of the United States."
"I'll finish by stating unequivocally that I only answer to three groups of people: My Ukrainian commanders, the Ukrainian people and the American taxpayer," she said.