American in Wuhan Says if He Had 'Magic Crystal Ball' He Would Have Left Before Coronavirus Quarantine
Doug Perez, a San Francisco native working in Wuhan, China, doesn't regret giving up his spot on an evacuation plane to stay with his girlfriend. But, if he could have seen the future, he would have had them both leave before officials locked the city down because of a new coronavirus outbreak.
"If I had a magic crystal ball, I would have gotten myself, my girlfriend and her family out of Wuhan," Perez told Newsweek. "Then, we'd be free."
On January 23, Chinese officials began closing off travel into or out of Wuhan, where the virus originated, in an attempt to limit a massive outbreak. Since the virus was discovered in December, it's breached the borders of more than 18 countries, infecting at least 7,818 people around the world and causing any range of illnesses from mild cold-like symptoms to death.
The new coronavirus, temporarily named 2019-nCoV, has hit China the hardest and more than 170 people have died, according to the World Health Organization. Some people, however, have accused China of underreporting the number of deaths.
The United States Consulate is located in Wuhan, the capital of Hubei Province. On Wednesday, 210 American citizens, many of them consulate personnel and their families, arrived in California after being evacuated from Wuhan and Perez had the chance to be on the flight.
But, he didn't take that plane, mostly because it would have meant leaving his girlfriend behind. She isn't a U.S. citizen and therefore could not get on the plane. While he stands by that decision, he says that if he could go back in time, he'd leave with her before being locked inside the city.
"We could go where we want. We could even go to another part of China and figure it out from there," Perez explained, adding that he's certain there were people who knew about the potential quarantine and left.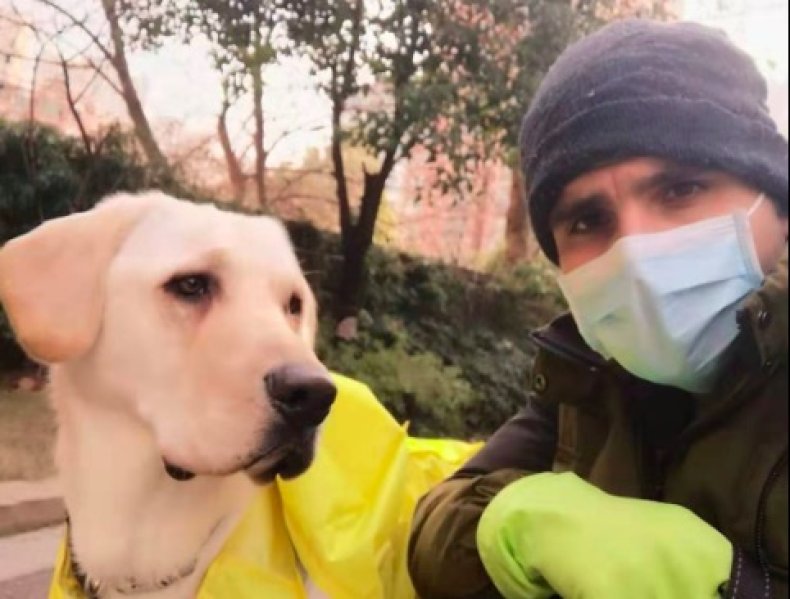 Complicating the process of containing the virus is a shortage of masks and protective gear to prevent health care workers and the public from being infected. According to The New York Times, in a press conference on Sunday, Wang Jiangping, China's vice minister of industry and information technology, said that Hubei Province needed 100,000 protective suits a day but Chinese manufacturers could only supply 30,000 per day.
Hospitals in the Wuhan area renewed calls for additional supplies, and on Wednesday, a six-ton shipment of masks and protective suits from UNICEF, bound for Wuhan, landed in Shanghai. Perez urged Americans who were eager to help people in Wuhan to mail masks themselves, although, he noted it could be a complicated process if they don't have a family or friend in Wuhan to whom they can directly send supplies.
Officials haven't announced when the lockdown will be lifted and Perez and the millions of other people in Wuhan are learning to survive within the confines of the city. His main worry is a shortage of supplies, including electricity, gas and food, or a significant delay in deliveries.
Unlike hospitals, Perez's fear about shortages of his own supplies hasn't come to fruition, yet. There have been delays in grocery and supply deliveries, though, and if items can't come to them, it means Perez or his girlfriend have to go to the store.
Perez isn't "too keen" on venturing out because he risks becoming infected. Friday was a good day, Perez said, because their shipment arrived as expected.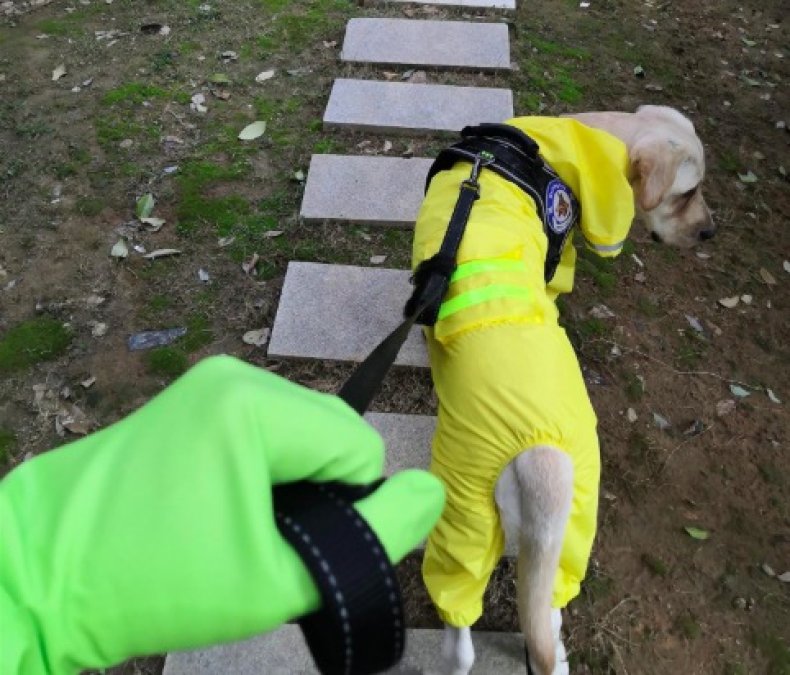 However, every day in quarantine is a day Perez spends money he wouldn't in a normal situation because of inflated prices and the need to stock up on necessities. Fortunately, as an English-speaking teacher in China, he's been able to compile a "robust" emergency fund that could sustain them for a few months.
"I'd be panicking if I didn't have it," Perez said. "That's one thing I've really learned from this. Always, always, have an emergency fund."
In addition to the physical and financial challenges, after spending more than a week almost entirely in his home with just his girlfriend and his dog, Chubby, the quarantine is posing mental challenges, as well. "Preventing cabin fever and staying in a psychologically good place," is also a very real concern for him.
Cabin fever has seemingly already started to affect Chubby, who destroyed a PlayStation controller and was engaged in a quite impressive destruction of a cardboard box while Perez spoke to Newsweek. Accustomed to going out four or five times a day for a walk, he's down to only one or two outings.
Whenever Chubby leaves the house, he wears his raincoat to protect against the virus getting onto his fur and then being transmitted to Perez and his girlfriend's hands.
"It's tough," he said. "You have to keep yourself in a positive frame of mind as much as possible."