#AmericaNeedsYang Trends as 7th Democratic Debate Proceeds Without Andrew Yang on Stage
As the 2020 candidates took the stage in Des Moines, Iowa for the seventh Democratic debate on Tuesday evening, the hashtag #AmericaNeedsYang began trending on Twitter, with tens of thousands of Andrew Yang supporters voicing their disappointment that the former tech entrepreneur didn't qualify to take part in the event.
Yang did not appear on Tuesday's debate stage at Drake University. The candidate only met the threshold in just two of the four required polls as of Friday night, when the window ended. To qualify, candidates were required to have raised money from at least 225,000 donors and reach 5 percent in at least four national polls or hit 7 percent in two polls from early voting states. Three days later, on Monday, Yang reached 5 percent in another poll, which could have brought him closer to the finish line. Despite this, Yang's 2020 campaign has continued to thrive in fundraising, after having raised $16.5 million in the fourth quarter of 2019.
Six candidates qualified in the narrowing Democratic primary field: Senators Bernie Sanders, Elizabeth Warren and Amy Klobuchar, as well as former South Bend Mayor Pete Buttigieg, former Vice President Joe Biden and billionaire Tom Steyer.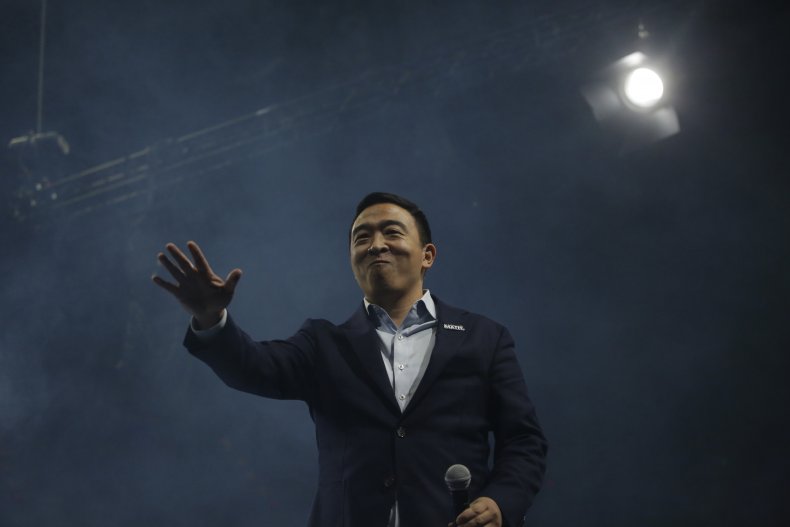 As the six qualifying candidates appeared on stage, tens of thousands Yang supporters, also known as the Yang Gang, took to Twitter to make the case for why he should be up there debating. Others noted that without Yang, the stage contained only white candidates. The movement elevated #AmericaNeedsYang to the second-most trending topic on the social media platform in the United States.
"#AmericaNeedsYang because he is *by the numbers* the strongest candidate against @realDonaldTrump," Twitter user @gang4610 wrote.
"Dear @TheDemocrats, An all-white stage of boring Career Politicians and a billionaire is not going to motivate a high young voter turn out. You know what would inspire a large young voter turn out? A fresh, charismatic, energizing candidate like @AndrewYang #AmericaNeedsYang," Twitter user @yanggangrising wrote.
"#AmericaNeedsYang because a 15 year old boy stood up at Andrew's townhall today and told him he was put in a group home because his mom was addicted to meth, and all they had to eat was donated food that wasn't healthy - as if any kid should ever be in that position at all," Twitter user @YangVets wrote.
"Definitely missing @AndrewYang on the #DemDebate stage tonight! #DemocraticDebate #AmericaNeedsYang," singer Jann Klose tweeted.
Yang also used the hashtag in numerous posts throughout the first half of the debate.
See more tweets below: