Americans Are Learning What Vets Already Know—Nature Helps You Heal | Opinion
Over the past four months, Americans across the country have had their lives upended at the hands of a coronavirus outbreak that has cost tens of thousands of lives, millions of jobs and left untold economic destruction. Tens of millions have been laid off or furloughed, parents have had to choose between going to work and caring for their kids, and far too many have lost a loved one to the virus.
The pandemic has also kept us away from many of the activities that help us cope and overcome these challenges—going to a movie or concert, spending time with friends and family, or enjoying a meal at a favorite restaurant. As a result, millions of Americans are heading back into the outdoors and onto our public lands. In the process, they're discovering a lesson that our fellow veterans have known for generations: nature helps you heal.
When service members return from active duty, the realities of civilian life are often a shock to our systems. Many veterans may recover from the physical wounds of war, but others will also bring home invisible scars from the battlefield. The refuge we—and so many other veterans—find through hiking, fishing, camping and hunting on public lands is something most of us can find nowhere else. These lands must be protected for veterans of this generation and every generation of Americans to come.
Before this disease began its rapid spread, we—a Democrat from Maine, a Republican from Florida and a bipartisan group of lawmakers in the House—were already working together on bipartisan legislation to protect and expand public lands for all citizens. With the pandemic and economic pain ongoing, it's more critical than ever that we see this legislation through to the end.
So many of the public lands we use every day have been developed, maintained, and protected by the Land and Water Conservation Fund (LWCF). Since the 1960s, the LWCF has proved to be a bipartisan triumph, investing millions of dollars in public projects in every county of every state in the union. More impressively, it has done all this at no cost to the taxpayer. By using royalties paid by oil and gas companies, the LWCF has been able to support everything from sweeping national parks to local community ballfields from sea to shining sea.
These projects don't only bolster the public health of our communities, they also support the booming outdoor recreation industry across the country. In Maine alone, the great outdoors inspire $8.2 billion annually in consumer spending, generate $2.2 billion in wages and support $548 million in state tax revenue. In Florida, those numbers are even greater, driving a $58 billion industry that has created 485,000 jobs and invested more than $1 billion across Florida to conserve fish and wildlife habitat, while ensuring access for the public to hunt and fish.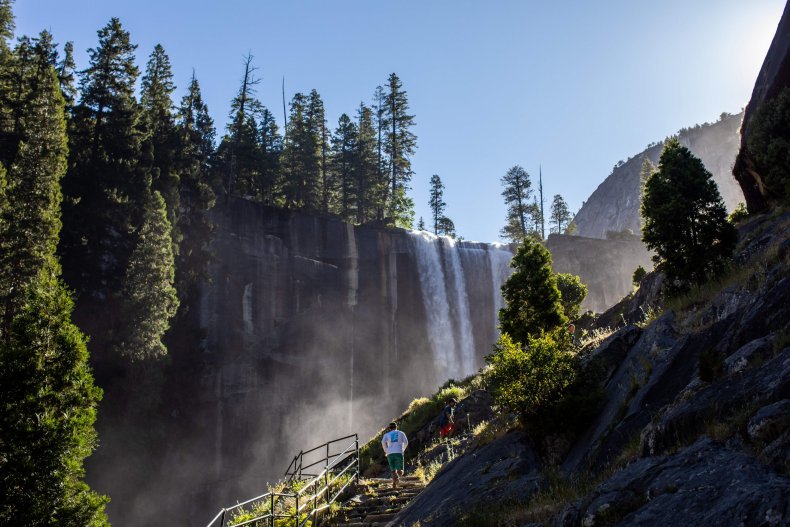 LWCF's impressive résumé led Congress to permanently reauthorize the fund last year—a critical first step in investing in the great outdoors. The Great American Outdoors Act (GAOA) would take the final necessary step and finish the work started decades ago by permanently and fully funding the LWCF, as well as addressing the $12 billion maintenance backlog in our National Park System. Passing this legislation immediately allows parks and trails to prepare for late summer visitors and vacationers while also giving the local economies a much-needed boost as we begin to contend with the aftermath of the coronavirus. We've fought hard for months to find the right balance between protecting our public health and supporting the economy. Passing the GAOA addresses the need for both.
Any service member will tell you that challenges bring the unit together and offer perspective. In this era of crippling partisanship, we—as members of Congress—are always looking for ways to work across the aisle to get things done. Our nation's current struggles with COVID-19 and the resulting economic downturn have made it clear to Americans of all political stripes that public lands serve us all—in times of panic, trauma and peace.
Just as the lands have helped generations of veterans heal from war and reconnect with their nation, public spaces will be a critical part of our communities, our families and our businesses healing from the battle with COVID-19. Now is the time to act: We must pass the Great American Outdoors Act to invest in our economy and the public health of all Americans.
Congressman Jared Golden is a U.S. representative for Maine's 2nd Congressional District. Congressman Brian Mast is a U.S. representative for Florida's 18th Congressional District.
The views expressed in this article are the authors' own.