Americans Are Very Unhappy With Donald Trump's Handling of the Coronavirus, Polls Show
A majority of U.S. adults are very unhappy with the way President Donald Trump has handled the coronavirus outbreak, according to recent polls.
An ABC News/Ipsos poll reveals that 39 percent of Americans said they approve of the way Trump has dealt with the crisis, while 60 percent disapproved. The poll, which was conducted from May 20 to 21 and surveyed 733 Americans, shows that Trump's most recent approval rating is a major decrease from previous polls conducted by ABC News/Ipsos over the past few months. A poll from March 18 to 19 found that 55 percent of Americans approved of Trump's response to the outbreak, but this number decreased to 44 percent in April and 42 percent in early May. (The latest poll has a margin of error of plus or minus 4.1 percentage points.)
While Trump's approval rating for his handling of the outbreak was much higher in March, the outbreak worsened and has now infected over 1.5 million U.S. residents, according to a Johns Hopkins University tracker. Throughout the pandemic, Americans have differed in their opinions of Trump's response, with some saying he was downplaying the outbreak's severity while others were more focused on the economic turmoil it has caused.
Another poll, conducted by Fox News, found similar results, with Trump's approval rating on his coronavirus response decreasing over recent months. The most recent poll was conducted from May 17 to 20 and found 43 percent approved of his response, while 55 percent disapproved. These findings show a drop from previous Fox polls, with those in April and March both showing Trump with a 51 percent approval rating for his handling of the crisis.
The latest Fox poll surveyed 1,207 U.S. adults and has a margin of error of 3 percentage points.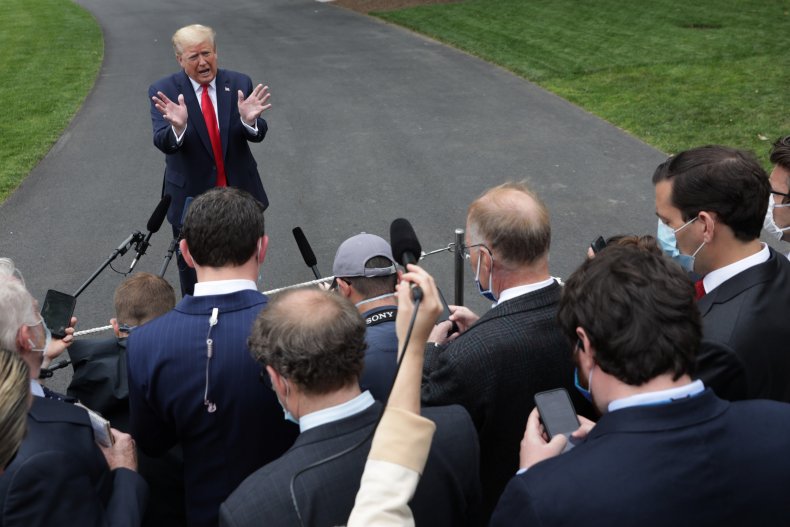 Americans also expressed their unhappiness with Trump's coronavirus response in a poll conducted by CNBC/Change Research. It surveyed 1,424 likely voters across the U.S. from May 15 to 17 and has a margin of error of 2.5 percentage points.
According to this poll, 45 percent of respondents approved of Trump's handling of the outbreak, with 33 percent saying they strongly approved and 12 percent saying they somewhat approved. By comparison, 55 percent said they disapproved of the president's response, with 52 percent showing strong disapproval and 3 percent saying they somewhat disapproved.
In addition to the significant disapproval of Trump's coronavirus response that is shown by the polls, his overall approval rating as president has decreased over the past month.
FiveThirtyEight's polling system, which averages the findings from a number of different national polls, shows his approval rating steadily decreasing since the beginning of last month. On April 1, national polls showed Trump with a 45.8 percent approval rating, but this number has since dropped to 43.1 percent, while 53.3 percent said they disapprove of his job performance, according to FiveThirtyEight.
Real Clear Politics' average of national polls also shows 53 percent of Americans disapproving of Trump's presidency, compared with a 45 percent approval rating.