Americans Believe Both Biden and Sanders Are Better Equipped to Handle Coronavirus Outbreak Than Trump, Poll Finds
Americans believe that both former Vice President Joe Biden and Vermont Sen. Bernie Sanders are better equipped than President Donald Trump to tackle the coronavirus outbreak, a new poll has found.
Of all three potential 2020 candidates, Biden was identified as the best person to lead the U.S. in its response to the growing global crisis.
Commissioned by Newsy, the YouGov poll, which saw 1,000 people surveyed between March 9 and 10, asked respondents to decide who would be "best equipped" to handle the coronavirus, or COVID-19, outbreak in a series of match-ups between Trump, Biden and Sanders.
Asked who would be the best candidate to tackle the outbreak between Biden and Trump, 40 percent of respondents said they believed the former vice president would be the best candidate to do so, compared with 34 percent who said they felt Trump is best equipped to respond.
Fifteen percent said they believed "neither is equipped to do so," while 11 percent were undecided.
Asked to decide between Trump and Sanders, the outcome was more narrow, with 37 percent saying they felt the Vermont senator was best equipped to handle the outbreak, compared with 35 percent who put their support behind Trump.
Eighteen percent said they felt "neither is equipped to do so," while 10 percent were undecided.
The disparity between candidates was greatest in a match-up between Biden and Sanders, with 29 percent of respondents saying they felt Biden would be the best of the two to handle the growing coronavirus crisis, while 18 percent put their support behind Sanders.
A plurality of respondents, however, said they felt neither of the two candidates is equipped to handle the COVID-19 outbreak, with 38 percent sharing in that sentiment. Fifteen percent, meanwhile, were undecided.
The poll's findings come as coronavirus cases in the U.S. surpass the 1,000 mark, with 1,037 cases confirmed as of early Wednesday morning and with 28 of those resulting in death, according to an online tracker maintained by Johns Hopkins University.
As of Wednesday, there had been 23 confirmed deaths related to coronavirus in Washington, two deaths in California, another two in Florida and one death in New Jersey, according to the online tracker.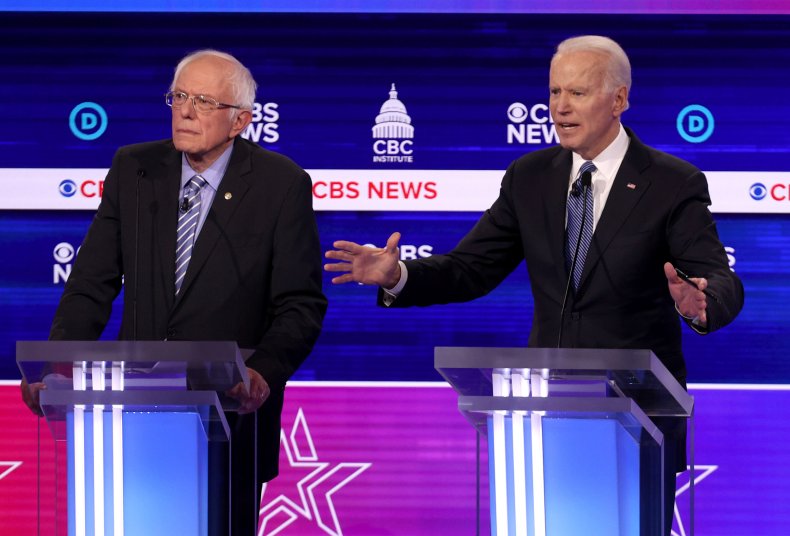 Globally, more than 119,130 cases have been confirmed with 4,285 resulting in death. The majority of deaths have taken place in Hubei, China, where the outbreak began, with 3,046 deaths recorded, while more than 600 people have died in Italy and nearly 300 in Iran.
Already, Trump has faced scrutiny over his handling of the coronavirus outbreak, with the president facing questioning on Tuesday on why he, himself, has not yet taken a coronavirus test after having faced potential exposure to the virus at the Conservative Political Action Conference last month and with two members of Congress having direct contact with someone who had tested positive for COVID-19.
Asked on Tuesday by CNN's Manu Raju why he hadn't taken a test, Trump said: "I don't think it's a big deal."
"I would do it," he said. However, the president said: "I don't feel any reason—I feel extremely good." The president then added that he has had "no symptoms, no anything."
Newsweek has contacted the Trump, Biden and Sanders campaign teams for comment.