Americans Expected to Bet More Money on Super Bowl Than Trump Wanted for Border Wall
Americans are expected to bet $6 billion on Super Bowl LIII, the American Gaming Association said in a Monday press release.
Combined, 22.7 million Americans will place wagers on Sunday's game between the New England Patriots and the Los Angeles Rams, spending more money than the $5.7 billion President Donald Trump had demanded for a wall on the southern border.
The Rams were favored by those betting; 52 percent of individuals placing money on the game said they would pick the Rams to win. The $6 billion figure is a significant increase from last year's estimate: Americans were expected to place $4.76 billion on the 2018 Super Bowl, according to projections from the AGA.
In May, the Supreme Court struck down a federal law prohibiting states from permitting gambling. A string of states subsequently passed legislation to legalize gambling.
Reuters reported in November that as many as one dozen states could legalize betting in 2019, citing industry experts. The AGA emphasized that a significant amount of sports betting continues to be conducted illegally.
"The interest in legal, regulated sports betting in the United States has never been higher," AGA president and chief executive officer Bill Miller said in the press release. "More Americans than ever before will be able to place their bets with legal sportsbooks now operating in eight states, generating valuable revenue for state, local and tribal governments and increasing fan engagement with the game."
"These results, however, also point to the continued viability of the dangerous, illegal sports betting market in America. It is more important than ever for jurisdictions to enact sound policies that provide a safe, legal alternative with protections for the nearly 23 million Americans who will place a bet on the big game."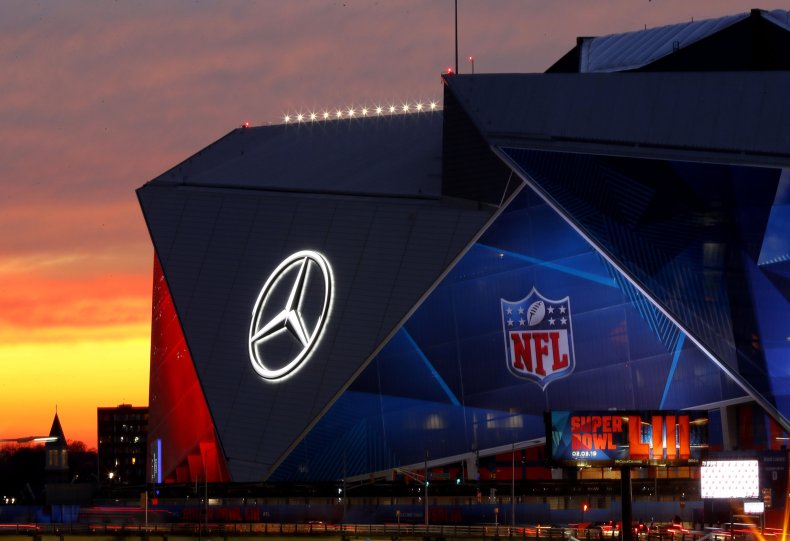 Some critics and celebrities have linked Sunday's game—which will take place in Atlanta and feature Maroon 5, accompanied by Travis Scott and Big Boi during the halftime show—to politics because of New England quarterback Tom Brady's support for the president. The two have golfed together, and Brady backs a number of Trump's political stances.
"Take that MAGA hat out of your locker!" Daniel Radcliffe said about Tom Brady while speaking to Variety. "I feel like that was the moment when as a country we were all like, 'Come on, dude! You're awesome, but don't put that in there."
Last year, 103.4 million people watched the Super Bowl, according to Nielsen data.