Americans Blame Biden First for Gas Prices, Oil Companies Second: Poll
Most Americans say President Joe Biden is the most responsible for rising gas prices, according to a new poll.
The YouGov/Yahoo News survey found Biden topped the list when it came to who to blame as prices have soared to their highest level in more than a decade. Thirty percent of Americans said the president was at fault.
But oil and gas companies are not too far behind, as 23 percent of U.S. adults said those entities were to blame for elevated costs at the pump.
The oil industry and the Biden administration have sparred over blame for tight energy supplies and rising costs.
The industry has argued the White House's policies have harmed U.S. oil production and energy independence, such as the halting of the Keystone XL pipeline construction and the recent pause on new federal oil and gas leases and permits.
Biden has argued that there are 9,000 approved drilling permits for companies to use immediately.
"They could be drilling right now, yesterday, last week, last year," he said last week.
The administration has also pledged to use "every tool" available to address financial burdens the public is experiencing from rising fuel prices. White House press secretary Jen Psaki told reporters Tuesday that their economic team is "working overtime" to evaluate options to bring costs down.
The administration has already announced a release of 60 million barrels of oil from strategic reserves to stabilize the global market.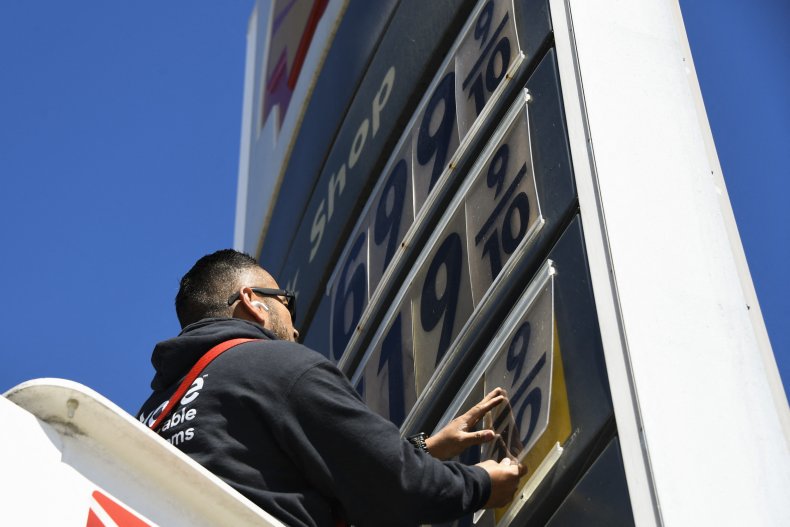 The national average for a gallon of gas on Tuesday was $4.316, according to the American Automobile Association (AAA). That's a fractional decrease from Monday's $4.325 per gallon but still 14 cents higher than last week's average price and 80 cents higher than last month.
Consumers could start to see some relief as oil prices drop, AAA told Newsweek on Monday. While still elevated, the price of oil has been trending downward after reaching more than $130 per barrel. West Texas Intermediate, which serves as the U.S. reference point for oil prices, was trading below $100 on March 15.
Less than 20 percent of Americans blame Russia for rising prices at the pump, while Democrats and Republicans each received blame from 4 percent of Americans. An additional 18 percent of adults said they're not sure who bears the most responsibility.
Approximately 81 percent of Americans say they have felt the impact of rising gas prices either "a lot" or "a little."
YouGov/Yahoo News surveyed 1,623 U.S. adults between March 10 and March 14. The poll has a margin of error of plus or minus 2.7 percentage points.
Newsweek reached out to the White House for comment but didn't receive a response before publication.