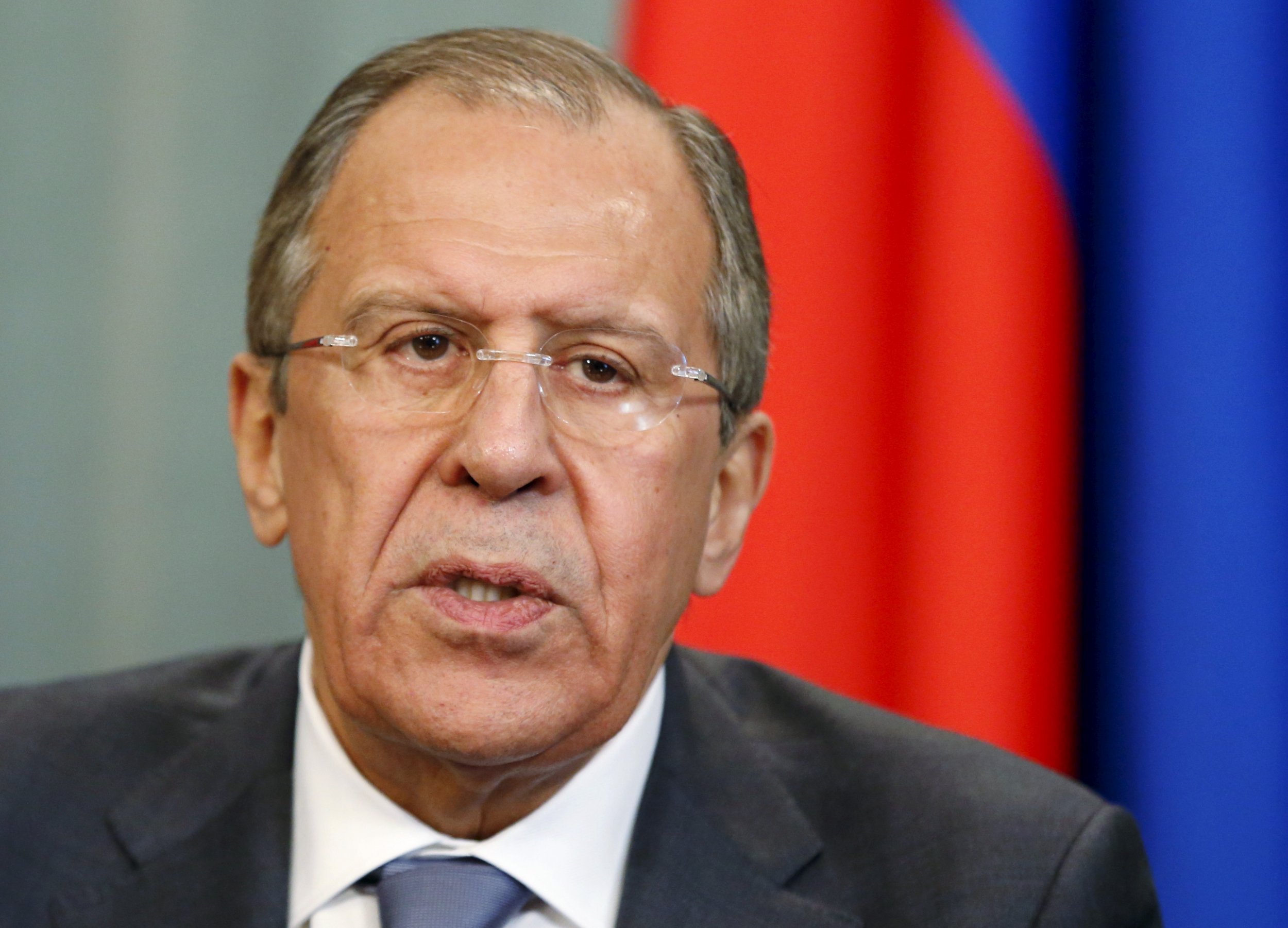 Russian Foreign Minister Sergey Lavrov said Americans have been brainwashed to believe his country influenced the 2016 election and that President Donald Trump is ready to reset U.S.-Russia relations.
In an interview with the National Interest published Wednesday (but which took place on March 24), Lavrov said he hasn't "seen a single fact" to substantiate "groundless accusations" from the CIA, NSA, and FBI early this year that Russia worked to sway the election in favor of the Republican candidate through hacks of political emails and a misinformation campaign.
The Obama administration, he maintained, made it all up and "decided that the American people should be brainwashed without any facts." Every day Americans are being bombarded "with very simple phrases like 'Russia is aggressor in Ukraine,' 'annexation of Crimea" and so on and so forth," Lavrov said.
The ongoing investigations at the FBI, CIA, and other intelligence agencies, and in the House and Senate Intelligence Committees, are part of a "Russophobic" political campaign, Lavrov said.
Read more: FBI Director James Comey tried to reveal Russian tampering months before election
This anti-Russia campaign took over the Democratic Party, he added, "to raise support among the American people" by "playing on their feelings that no one shall meddle with American affairs."
Lavrov's comments were published as the bipartisan Senate Intelligence Committee's Republican Chairman Senator Richard Burr and Senator Mark Warner (D-VA.), the Intelligence Committee's ranking member, said that " upward of 1,000 paid internet trolls " bombarded U.S. states with anti-Clinton news during the 2016 campaign.
"This is one of the biggest investigations the Hill has seen in my time here," Burr, who was first elected to Congress in 1995, said on Wednesday. Warner said that campaigns of "fake news" on social media targeted key swing states, including Wisconsin, Michigan, and Pennsylvania.
Early Thursday Russian President Vladimir Putin called any accusations that Russia interfered in the election "lies" used for "domestic American politics."
On March 15 the U.S. Justice Department (DOJ) charged two Russian intelligence agents and two hackers with the theft of 500 million Yahoo user accounts in 2014. They targeted American and Russian cybersecurity, military and diplomatic personnel, the DOJ said, and then used the emails to hijack specific users' other accounts, such as Google.
This wasn't linked to their current investigation of Russia's influence on the election, officials said. However, it offers a view into Russia's methods and capabilities after American intelligence agencies found links between Russian intelligence and hackers that infiltrated Democratic Party and Hillary Clinton's campaign emails in 2016.
Trump has been a vocal supporter of Putin, praising him throughout the 2016 election and afterward, calling him "very smart" for not responding to a new raft of sanctions Obama introduced against Russia in January for their alleged election interference. Before the release of the US intelligence agencies report, Trump dismissed claims of Russian influence on the election as a "witch hunt."
Although no clear example of wrongdoing has been established, American authorities have since found at least four of Trump's campaign officials and associates to have had contacts with Russian government representatives despite their original claims to the contrary.
President Barack Obama and the EU placed economic sanctions on Russia after it annexed Crimea from Ukraine in 2014. Yet Lavrov said that when Putin and Trump spoke soon after the election that they addressed "what could be done to bring the bilateral relations to normalcy."
Normal relations, Lavrov said, is "not to try to impose some of your ideas on others." The Obama administration, he said, had a "superiority complex" and "were obsessed with their exceptionality, with their leadership." President Trump, he said, "holds the same position as we do in Moscow, as President Putin does, that we don't want to meddle in other people's matters."
Lavrov said that Trump's Secretary of State Rex Tillerson is also someone he can do business with. The two held meetings on the sidelines of the G20 summit in Bonn, Germany, in mid-February. "From the point of view of personal relationship, we feel quite comfortable," he said.
Tillerson will make a trip to Moscow in April while Trump meets with the members of NATO. Lavrov said that he and Tillerson will "discuss the preparation for the presidential meeting which should take place when both countries, both leaders feel comfortable." A member of former Secretary of State Henry Kissinger's consulting firm has suggested that they meet in the fall after establishing a relationship with traditional American allies. Kissinger has been advising Trump and it a long-time advisor to Putin.
"I don't believe that we are having another Cold War" like some in the West have suggested, Lavrov said. "Ideologically, we're not different, we're not apart. Yes, there are nuances in how the countries in the West and Russia and its neighbors are run. But all in all the basis is democracy, which is elections, basically, and organizing the system, the way you respect the opposition and it's also market economy."
At least eight critics and political opponents of Putin have died violently in attacks by masked gunmen, poison, or other means in the past decade.
The day before Lavrov's interview on March 23, Putin critic and former Russian MP, Denis Voronenkov, was shot dead by a gunman in Kiev, Ukraine. He was a vocal critic of Russia's annexation of Crimea and gave testimony about it to Ukrainian authorities.
"He told me he was receiving threats from the FSB," Russia's domestic security service, another former Russian MP Ilya Ponomarev told The Guardian. "To be honest," said Ponomarev, who also fled Russia, "I had thought he was being a bit paranoid."
When Fox News host Bill O'Reilly asked Trump about all the killings that are linked to Putin in an interview in February, he said: "There are a lot of killers. Do you think our country is so innocent?"