Americans Bridge the Divide to Support Refugees | Opinion
With more than 80 million forcibly displaced people worldwide, President Joe Biden's commitment to offer safety to refugees is a moral necessity and a return to the U.S.' most virtuous tradition. His administration is responsive to the demand of the American people that we rise to meet this unprecedented global crisis.
Across the nation, Americans recognize the importance of the U.S. Refugee Admissions Program, a life-saving humanitarian initiative that has offered new hope to the world's most in-need refugees for more than four decades.
The last four years saw a hollowing out of this program. Refugee admissions decreased by more than 85 percent and certain groups—including Muslims and those fleeing some of the world's worst crises like Syrian and South Sudanese refugees—saw their access deliberately barred by the Trump administration.
American support has only grown. In 2016, the Pew Research Center found that 61 percent of Americans supported welcoming refugees fleeing violence and war. In 2019, the number grew to 73 percent, driven in large part by an 18 percent increase in support amongst Republicans, 58 percent of whom now support taking in refugees fleeing violence.
President Biden's promise to renew American leadership on refugee protection is a beacon of hope for those with few places left to turn—and a return to what has long been a bipartisan tradition of welcoming refugees. The average refugee admissions goal over the nearly four decades preceding the Trump administration was 95,000, with some of the highest levels for refugee admissions set under Republican administrations.
The American people stand ready to welcome them. In their refugee neighbors, they recognize themselves: people who take their children to school, celebrate family milestones and give back to their communities.
They're also customers, coworkers, employers and elected representatives. At the International Rescue Committee, we've been helping refugees rebuild their lives in the U.S. for more than 80 years.
We know that when refugees come to America they seize every opportunity to thrive and in turn bring benefits to local economies. Refugees start businesses and create jobs at staggering rates: The U.S. is home to more than 180,000 refugee entrepreneurs (13 percent of the refugee population, compared to the entrepreneurship rate of 9 percent among the U.S. born population).
The evidence of these contributions is overwhelming. A 2017 government report found that over the past decade refugees have contributed $63 billion more in government revenues than they received in assistance. In Texas alone, refugees pay $615 million in state and local taxes and their spending power totals more than $4.6 billion.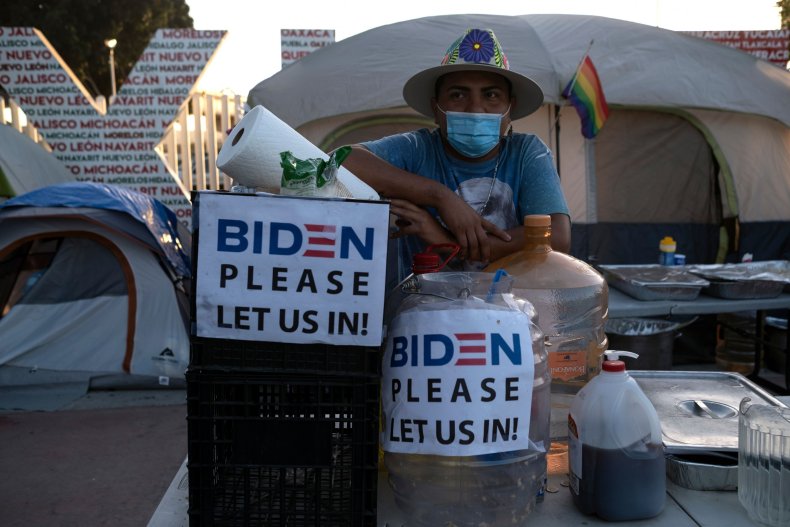 Refugees and immigrants are equally vital to the frontline response to the COVID crisis: Nearly 20 percent of the U.S. health care workforce is made up of immigrants and nearly 30 percent of all doctors are born outside of America. Refugee communities are and will continue to be a source of strength as the U.S. works toward full recovery.
This is part of the reason we've seen a groundswell of state and local support for refugees. In 2015, 31 governors, Democrats and Republicans sought to reject resettlement of Syrian refugees in their states. Four years later, 43 governors, including 19 Republicans declared their public support for resettling refugees in their state.
We've seen a sea-change in support within state legislatures as well: In 2015, nineteen states proposed over 50 pieces of anti-refugee legislation. But almost none passed—communities across the country have rejected over 100 pieces of anti-refugee legislation since 2016. And in 2020, pro-refugee legislation outpaced negative legislation by seven to one.
As admissions fell precipitously, Americans made their voices heard. Calls for increased resettlement came from the nation's most distinguished retired military officers, religious leaders and organizations across the full spectrum of faiths, and state and local officials from all 50 states.
The opportunity at hand now is to grow, diversify, and sustain this support, and rebuild our bipartisan tradition of providing refuge for the most vulnerable. President Trump used the bully pulpit of the presidency to attack immigrants and refugees. President Biden can use it to welcome them.
President Biden has already taken unprecedented steps, not only by speaking out and taking action to rebuild the refugee admissions program in his first weeks in office, but by introducing policy innovations that will allow a broad array of Americans and civil society organizations to sponsor and support refugees—recognizing that Americans are ready to welcome refugees in communities across the country.
The surge in volunteer applications across the International Rescue Committee's U.S. resettlement offices since 2016 is evidence enough: applications increased by more than 98 percent nationally over the course of one year and soared as high as 198 percent at certain points in reaction to anti-refugee actions taken by the previous administration.
In some locations, volunteers outpaced refugee arrivals by two to one. By taking bold action and speaking out in support of refugees, and by empowering and lifting up the voices of refugees and these constituents, President Biden can build durable, bipartisan support.
Congress, too, would do well to recognize these trends.
Throughout the pandemic, as our community bonds have been tested and strengthened, the virtue of helping those most in need has come into stark relief.
As the Biden administration takes steps to rebuild America's humanitarian leadership, we call on Congress to do everything in its power to support a return to this bipartisan humanitarian tradition.
Nazanin Ash (@NazaninSAsh) is the vice president of Global Policy and Advocacy at the International Rescue Committee and formerly served as deputy assistant secretary of state for Near Eastern Affairs.
The views expressed in this article are the writer's own.