Americans Can Lose Up to 70 Percent of Their Incomes Without Pandemic Unemployment Aid, Economist Says
Americans might soon have to battle income losses of up to 70 percent once a federal aid program expires at the end of July, a top economist said.
Indivar Dutta-Gupta, co-executive director of Georgetown's Center on Poverty and Inequality and an economic adviser to the campaign of presumptive Democratic presidential nominee Joe Biden, explained during an interview with NPR Friday what will happen to the American economy once these benefits end.
"Families are going to face high rates of eviction, homelessness, food insecurity, hunger," Dutta-Gupta said. "And the economy overall is going to see much slower progress in a recovery than otherwise."
Millions of Americans lost their jobs in the last few months over economic fallout from the coronavirus pandemic, which caused businesses across the country to close their doors for several weeks.
But shortly after the crisis began, Congress came together to create a package which provided anyone laid off because of coronavirus an extra $600 per week — more money than many people were making while they still had their jobs.
Americans received the payments, part of the Federal Pandemic Unemployment Compensation (FPUC), in addition to receiving state unemployment benefits, which vary based on location and previous wages.
For many, this provided a welcome relief to the financial burdens the pandemic created.
Congress's program, however, is set to expire July 31, absent federal action. Once it disappears, Americans will see the $600 weekly payments go with it, and will be forced to rely only on local unemployment benefits.
In Arkansas, this means that people could go from receiving $681 per week to $81. In Florida and Tennessee, the highest-paid workers will receive a maximum of $275, compared to the $875 they were getting, Time reported.
Without FPUC, people are facing income losses of up to 70 percent, Dutta-Gupta told NPR.
"Families really need well over $600 a week," he said. "And even when you add in the state benefits, it's really grossly inadequate. There's just no way to afford the cost of housing, the cost of care-giving, the cost of food."
People of color will be disproportionately affected once the program ends, Dutta-Gupta said, citing the "extraordinary" racial wealth gap where Black families have about a tenth of the wealth of white families.
Congress allowing the federal aid program to end would also have an extreme effect on the nation's economy, as families will no longer have the funds to afford goods and services, Dutta-Gupta said.
"That means that overall demand in the country has shrunk dramatically and that will lead to further layoffs, further income losses," he said. "In just about a week and a half, we're going to see hundreds of billions of dollars in reductions in spending get underway because Congress has failed to act to date."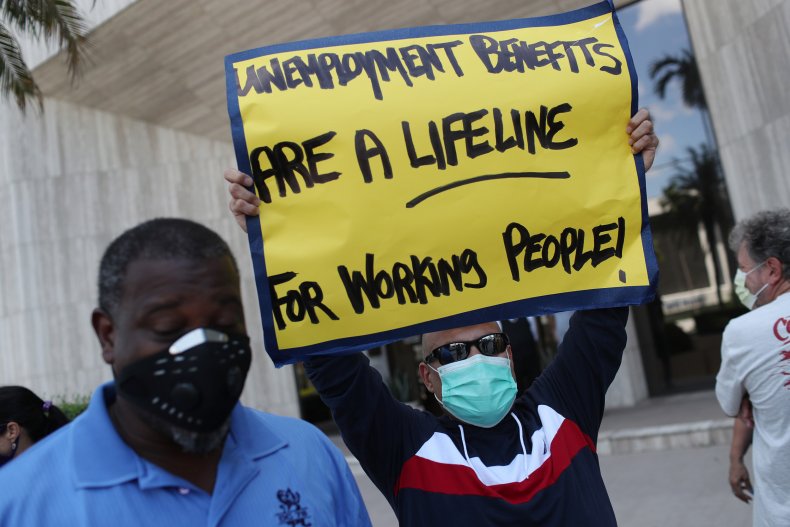 Treasury Secretary Steven Mnuchin has previously stated that the White House would not support another unemployment package as generous as the first.
Many Republican lawmakers are opposed to extending federal unemployment benefits, pointing to research that suggests two-thirds of FPUC recipients are making more on unemployment than they did while working. Critics maintain unemployed workers won't want to return to their jobs if federal and state benefits remain so generous.
Lawmakers and political advisers have thrown around other possibilities, such as a "return-to-work" weekly bonus payment to incentivize people to find jobs, or gradually reducing the amount of unemployment money provided by the federal government each week.
But Stephen Moore, one of Trump's economic advisers, told Yahoo! Wednesday that "the single most important thing we have to do going forward is stop the $600 a week."
Newsweek contacted the U.S. Department of the Treasury for comment, but did not hear back in time for publication.
During Friday's interview, Dutta-Gupta said that Congress's $600 payments would effectively stabilize the economy and grow employment rates in the U.S.
"People aren't working today because there is a virus that's contagious, that's lethal, and that is not being contained," he said.