Traveling to North Korea Is Still Legal for Americans, but It's Probably Not a Great Idea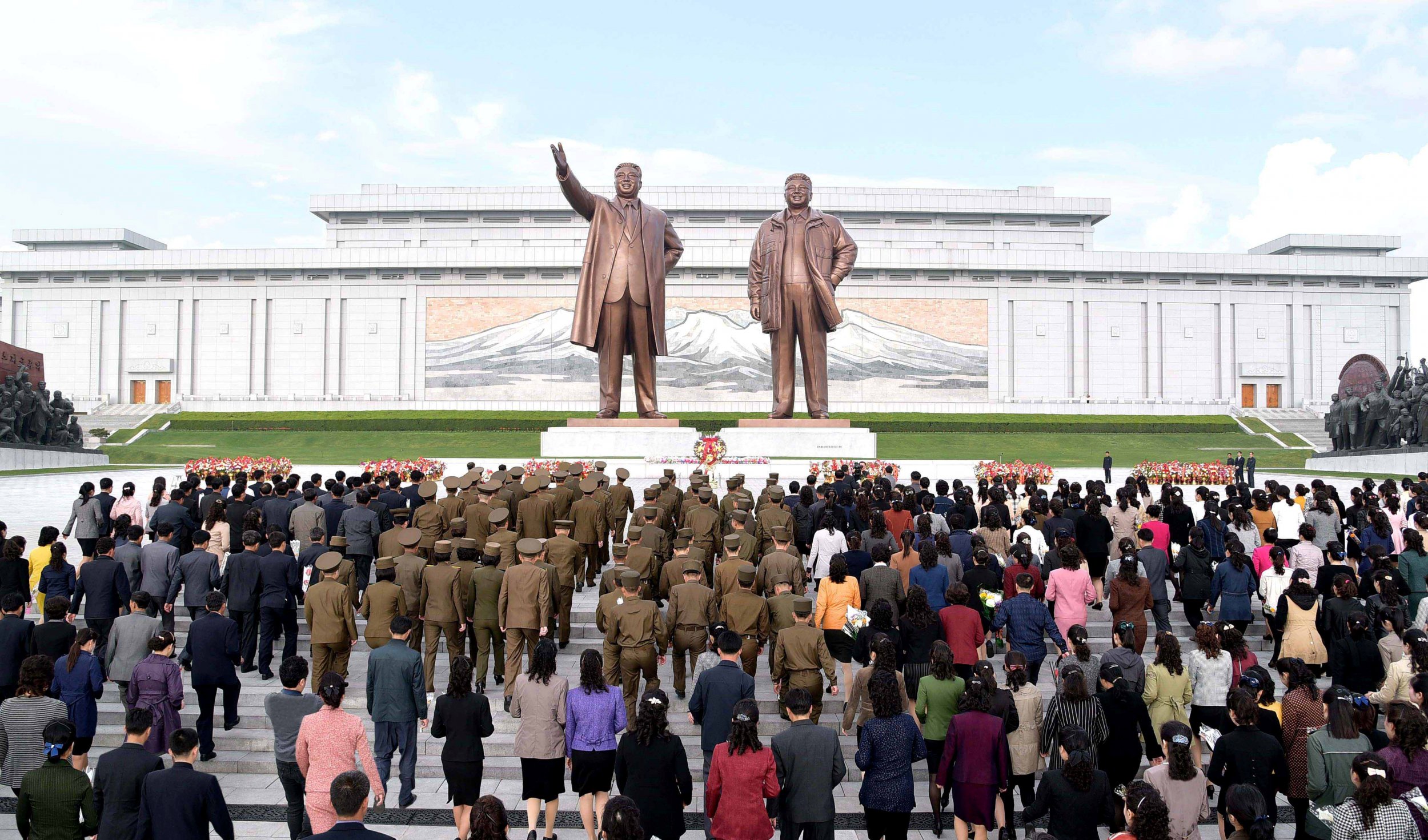 As he was readying to leave Pyongyang in May 2011, Robert King, then the United States' special envoy for North Korean human rights, was given American citizen Eddie Jun as a parting gift of sorts from the totalitarian regime of Kim Jong Il. Jun had been accused of carrying out missionary work in atheist North Korea, where religion is seen as a threat to the supreme leadership. Then, as in now, it wasn't necessarily uncommon for North Korea to detain or imprison a U.S. citizen for breaching, unintentionally or otherwise, one of its arcane rules.
"What's happened in the past, Americans who've been arrested have been there as tourists," King told Newsweek in a phone interview this week. "They do foolish things that people who aren't used to a totalitarian regime, particularly a pretty controlling one, do."
This week North Korea again detained a U.S. citizen, but it could be different than business as usual as the United States seemingly inches ever closer to outright war with the isolated nation. Yet after decades of high-profile detainments, Americans continue to travel to North Korea. In fact, should an American want to fly to Pyongyang tomorrow, there's no law preventing it—it just might be a terrible idea.
Amid rising tensions this week between the U.S. and North Korea—replete with military drills and threats of annihilation—Tony Kim, a U.S. citizen teaching at the Pyongyang University of Science Technology, was detained Monday as he boarded a flight out of the country.
At least two other Americans are currently being held by North Korea. Twenty-one-year-old University of Virginia student Otto Warmbier was detained in January of last year as he was set to board a flight in Pyongyang. He was accused of taking a political poster off a wall and sentenced to 15 years of hard labor. Another U.S. citizen, Kim Dong Chul, got 10 years of hard labor for alleged espionage charges.
In its latest travel warning issued in February, the State Department does everything but ban going to North Korea, saying there's "serious risk of arrest and long-term detention under North Korea's system of law enforcement." The U.S. doesn't have diplomatic or consular relations with the country, which complicates matters as Sweden's embassy has to work as a go-between of sorts.
The State Department even goes as far as to suggest that Americans who travel to North Korea could indirectly fund the country's weapons programs.
The warning reads, in part: "The DPRK [Democratic People's Republic of Korea] funnels revenue from a variety of sources to its nuclear and weapons programs, which it prioritizes above everything else, often at the expense of the well-being of its own people. It is entirely possible that money spent by tourists in the DPRK goes to fund these programs. We would urge all travelers, before traveling to the DPRK, to consider what they might be supporting."
Some 100,000 people visited North Korea in 2014, most of whom came from neighboring ally China, Time reported last year. But Westerners, including Americans, do visit the country, albeit usually through touring companies. They're shepherded around by North Korean-approved guides who make sure to praise the supreme leadership as they visit monuments, factories, museums and other expensive testaments to a country plagued by mass starvation. For Americans who make the trip, it's a (selective) peek behind the curtain.
U.S. citizens also end up in North Korea for humanitarian, scholarly or journalistic purposes. King speculated there were likely fewer than 1,000 Americans in the country these days, down from previous years, because of the increased dangers of war.
"It's very rare that the United States prohibits travel to a country. We don't take a nanny-state approach," said Joseph DeThomas, a former State Department official who worked on non-proliferation who's now a professor of international affairs at Penn State University.
But that doesn't mean some people aren't pushing for the U.S. to employ such a rare measure. Anthony Ruggiero, senior fellow at the think tank the Foundation for Defense of Democracies, said there should be no Americans in North Korea, outside of a few exceptions for humanitarian or journalistic purposes. He said a travel ban is the right move and expressed as much during Congressional testimony in February.
"North Korea is not a place for adventure tourism. It's a dangerous, dangerous place," he told Newsweek in a phone interview this week. "When people are detained or kidnapped—depending on your phrase—it's the U.S. who is on the hook. That political capital doesn't have to be expended."
In the past, the U.S. has sent important figureheads, such as former presidents Jimmy Carter and Bill Clinton, to secure the release of detainees in North Korea. But that was before relations had fallen to where they are now. In the most recent case, it remains unclear, what, if anything, Tony Kim is alleged to have done that led to being detained.
"This one is one that surprises me," said former special envoy King. "I'm not sure, but it seems like this could be a reflection of change in the overall relationship between the United States and North Korea."
Pyongyang University of Science and Technology, which King noted is West-leaning and employs a number of U.S. citizens, confirmed the detainment of Kim, also known as Kim Sang Duk, but didn't add much information outside the fact that it wasn't tied to "the work" of the school. Taking a U.S. citizen hostage could be North Korea both making a symbolic gesture and the regime acquiring leverage.
But the North Korea crisis is incredibly complex and changing every day. And it's unclear if banning Americans from entering North Korea would really effect much change. After decades of the U.S. barring its citizens from Cuba, former President Barack Obama worked to normalize relations with the communist country in the final stretch of his time in the White House. "What the United States was doing was not working," he said in a speech in Havana last year. "We have to have the courage to acknowledge that truth."
As it stands, the U.S. and the United Nations have levied numerous sanctions against North Korea aimed at crippling the country's ability to develop weapons and further cutting it off from the world at large. Legislation put forward last year by House Foreign Affairs Committee Chairman Ed Royce was aimed at punishing people or entities that aided North Korea in its nuclear quest or played a part in violations of human rights. Royce, a California Republican, proposed further legislation last month that would punish banks and middlemen that help the country get around existing sanctions. It also aims to crack down on the use of what amounts to slave labor, in which North Korea sends workers overseas to work and earn money that goes only to the government.
"We're ratcheting up the pressure by cutting off the currency," Royce told Newsweek about the latest sanctions.
While the sanctions against North Korea are extensive, a travel ban—a la Cuba—could be out of the question. Such a move would likely have to pass through Congress and Royce said there's a balance to strike since the freedom to travel is protected by the Constitution.
"Let me be clear here: Americans should not be traveling to North Korea for any reason," Royce said. "Kim Jong Un has no respect for human life and has detained Americans as bargaining chips. Use some common sense and recognize the grave risk."
Meanwhile, North Korea is threatening to carry out its sixth nuclear test and China has expressed unease with a U.S. plan to install a missile defense system in the area. There are no easy solutions—further sanctions run the risk of increasing pressure on North Korea's trading partner China, while any military action has its obvious drawbacks.
But, barring a round of mass detainments, a ban on travel to North Korea might not be more than a symbolic gesture.
The moment "you say you cannot go, Americans' immediate response is to disobey," said DeThomas, the former State Department official. "Bless their hearts, they don't listen to us."