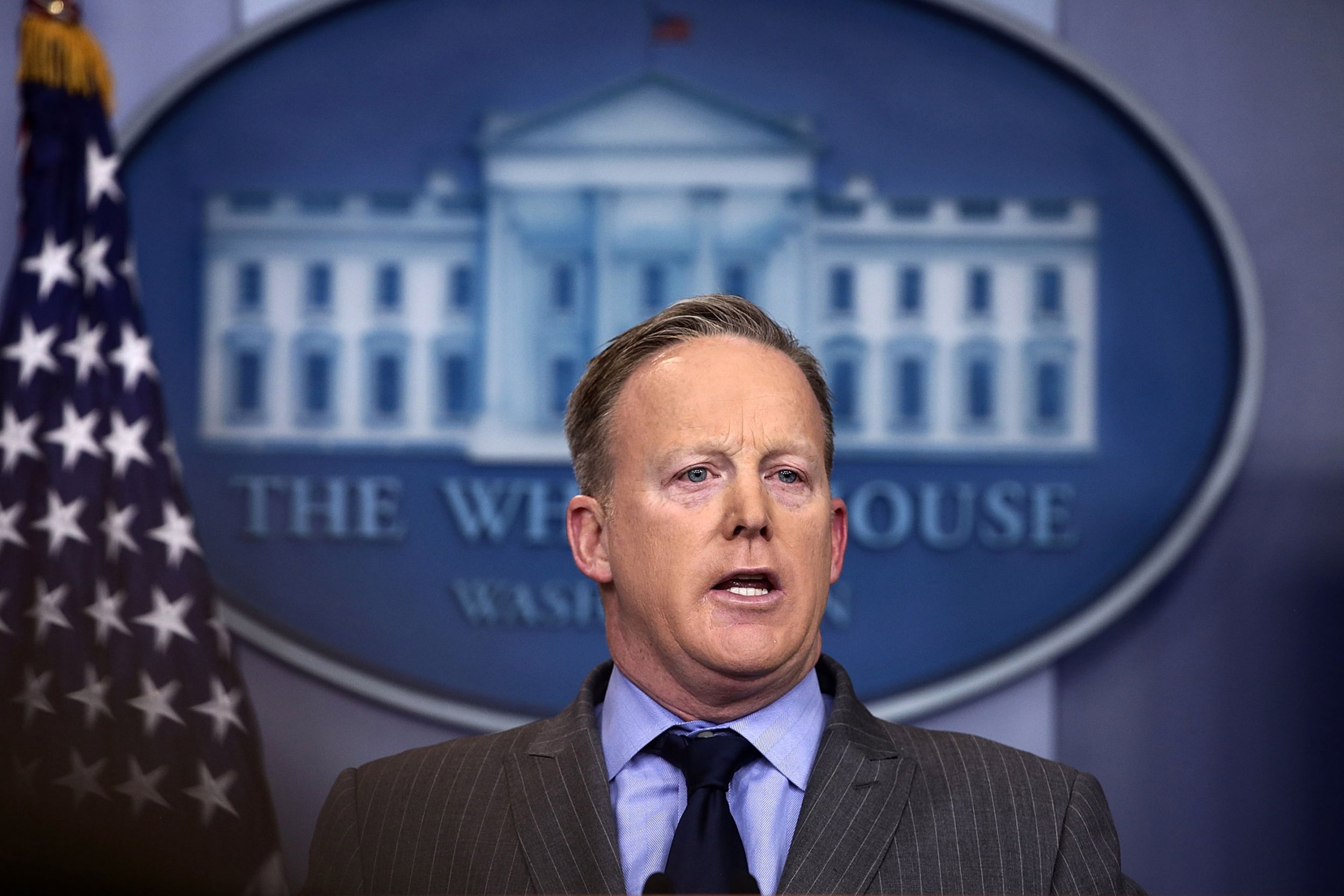 This article first appeared on the Just Security site.
"This was the largest audience to ever witness an inauguration—period—both in person and around the globe." —White House Press Secretary Sean Spicer
On Saturday, newly minted White House Press Secretary Sean Spicer lied to the press corps.
He did so about facts readily verifiable by photographs, Metro ridership, crowd experts and journalists' own eyes. He did it in the James S. Brady Press Briefing Room located between the West Wing and the White House residence.
Counselor to the President Kellyanne Conway defended Spicer by asserting he offered "alternative facts." President Donald Trump also misrepresented crowd size during his ill-received speech at the Central Intelligence Agency headquarters.
While I am much more concerned about policy than I am about crowd-size controversies, White House credibility is of paramount importance. The Trump presidency has already ignited a crisis of confidence.
As a former White House staffer under Barack Obama, and later as a lawyer, I agonized over tiny factual details to be certain that White House spokespeople, senior officials, the vice president and the president never said anything false in my area of responsibility.
Truth is the White House mandate. The American people deserve it. During my years in the White House, the staff felt that we were not protecting the president if we did not arm him with the facts.
Every White House will put their best gloss on the facts—that is "spin"—but facts are the touchstone, and spin does not deny them. Sometimes the system fails, and someone who is speaking on behalf of the president, or the president himself, will say something that is inaccurate. Then, the first job of White House staff must be to correct the record and re-establish credibility as soon as possible.
This weekend the Trump White House failed these standards. Being inaccurate is very different than saying something you know to be demonstrably untrue.
This behavior has consequences. The American people look to the White House for bankable information about war, terrorist attacks, pandemics, natural disasters and the effects of government policy. How do we rely on this White House for truth in an emergency?
What about foreign governments? Every country makes strategic, economic, military and diplomacy decisions with an eye toward America. White House credibility matters. Without a credible White House, our allies cannot rely on our promises and our adversaries doubt our threats. Everything becomes more dangerous.
Will 60 years of peacetime in Western Europe be jeopardized if our allies cannot get a straight answer about U.S. commitments to NATO? Will Americans be safer if India turns toward China because of doubts about American friendship and resolve?
How about counterterrorism cooperation and intelligence sharing? Our ability to shape events around the world will be degraded by a bankruptcy of White House honesty.
Moreover, this episode reveals that Trump's team has thus far failed the most basic function of a presidential transition: shifting from campaign mind-set to governance. Spicer now works for the American people, not the Republican National Committee. We pay his salary. We deserve truth from the White House podium every day in every way.
I would offer a few notes to the new White House staff. Yes, the press corps is a pain in the ass. Some media outlets have biases. Some news organizations have vapid priorities. Some journalists will treat you unfairly.
But the press has a fundamental role in our democracy. Media scrutiny makes government more democratic and more transparent. It forces government officials to justify their conduct and policy decisions. It can root out corruption and neglect. (Think about the appalling conditions uncovered by The Washington Post at the Walter Reed Army Medical Center in 2007.) Most importantly, it informs voters who hold the ultimate authority in our system of government.
On Saturday, Spicer described a reporter as "irresponsible and reckless" for misreporting (via Twitter) that a bust of Martin Luther King Jr. had been removed from the Oval Office, even though the reporter quickly corrected his mistake and apologized for it. Spicer said the Trump administration intends to "hold the press accountable."
Discrediting the media wholesale will ultimately backfire. Ad hominem attacks may increase the fever temperature of an unmoored political base. But it will quickly devolve into daily unpleasant and unproductive exchanges that will not make America feel "great." Even in our age of segmented media, over time it will drive the rest of the country away.
Why engage in daily trench warfare with the media over facts? The White House will have more on its plate than any staffer knows what to do with. Trying to win an existential argument about the nature of "facts" will be a costly distraction that will make everything harder and more unpleasant.
"Who are you going to believe, me or your lyin' eyes?" is no way to speak to the American people. President Trump and his staff now occupy sacred space in our democracy. It is already past time to honor the public trust and give us conduct worthy of the White House.
Andy Wright is a member of faculty of Savannah Law School, having serving two years as associate counsel to President Barack Obama in the White House Counsel's office.