Americans Detained in Haiti President's Assassination: What We Know About the Suspects
Two American men are reportedly among 17 suspects that Haitian authorities have arrested in connection with the assassination of President Jovenel Moïse as of Thursday.
Joseph Vincent and James Solages, both believed to be Haitian Americans, were detained following Wednesday's brutal early morning killing of Moïse, according to The Associated Press. Both men are said to be from Florida.
Vincent, 55, is from Miami, while 35-year-old Solages is from Fort Lauderdale, according to The Miami Herald. The paper reported that Mathias Pierre, a minister in charge of Haitian elections, identified the suspects. Solages is reportedly the youngest of all the identified suspects, while Vincent is the oldest.
Solages' uncle Schubert Dorisme, 63, told The Washington Post that his family was "stunned" by the arrest, which he said he learned of after seeing a news article on Facebook. Dorisme said that although the family did not believe that Solages had extreme political beliefs, his nephew sometimes traveled to his hometown of Jacmel, Haiti to help with humanitarian aid efforts.
"First of all, I'm sorry for what happened about my president. I am deeply sorry. It feels like my son killed my brother," Dorisme told the paper in an interview outside his home in Tamarac, Florida. "I love my president, and I love James Solages... I don't know how this thing happened. He doesn't have no military training."
In 2019, Solages founded a charity told help residents of southern Florida, according to the AP. He was reportedly listed as a "certified diplomatic agent" on a website for the charity. The site also asserted that Solages had worked as a bodyguard at the Canadian Embassy in Haiti, although Canadian officials have not confirmed his former employment.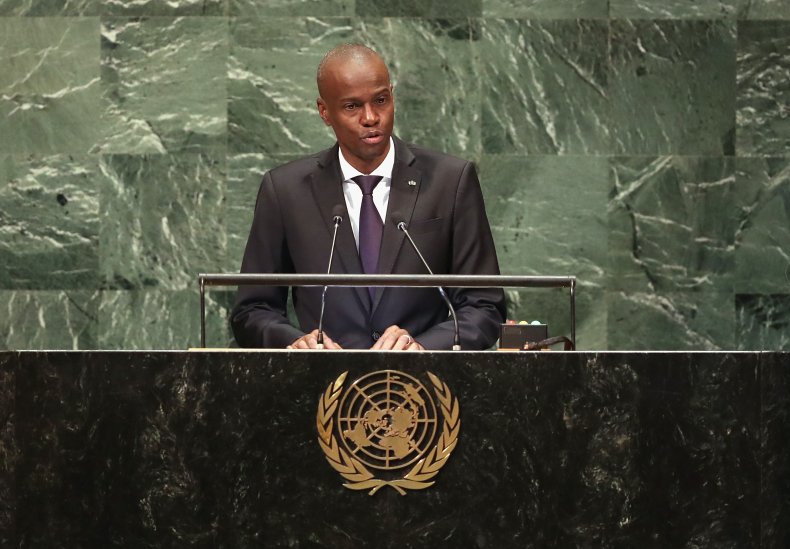 Far fewer details about Vincent were immediately available, except that he reportedly emigrated from Haiti and is a U.S. citizen. In addition to the two Americans, at least 15 of those arrested are believed to be from Colombia. Haitian National Police Chief Léon Charles said that at least three suspects were killed by police, while eight more were at large as of Thursday evening.
U.S. State Department spokesperson Ned Price told reporters on Thursday that he was "not in a position to confirm" reports that U.S. citizens were among those suspected in the assassination.
"Haitian authorities are, of course, leading this investigation," Price said. "It's still early days. We're aware of the reports of the arrests that have taken place, but I would need to refer to Haitian authorities for any details."
Newsweek reached out to the Haitian Embassy in Washington, D.C. and the Canadian Embassy in Port au Prince, Haiti for comment.