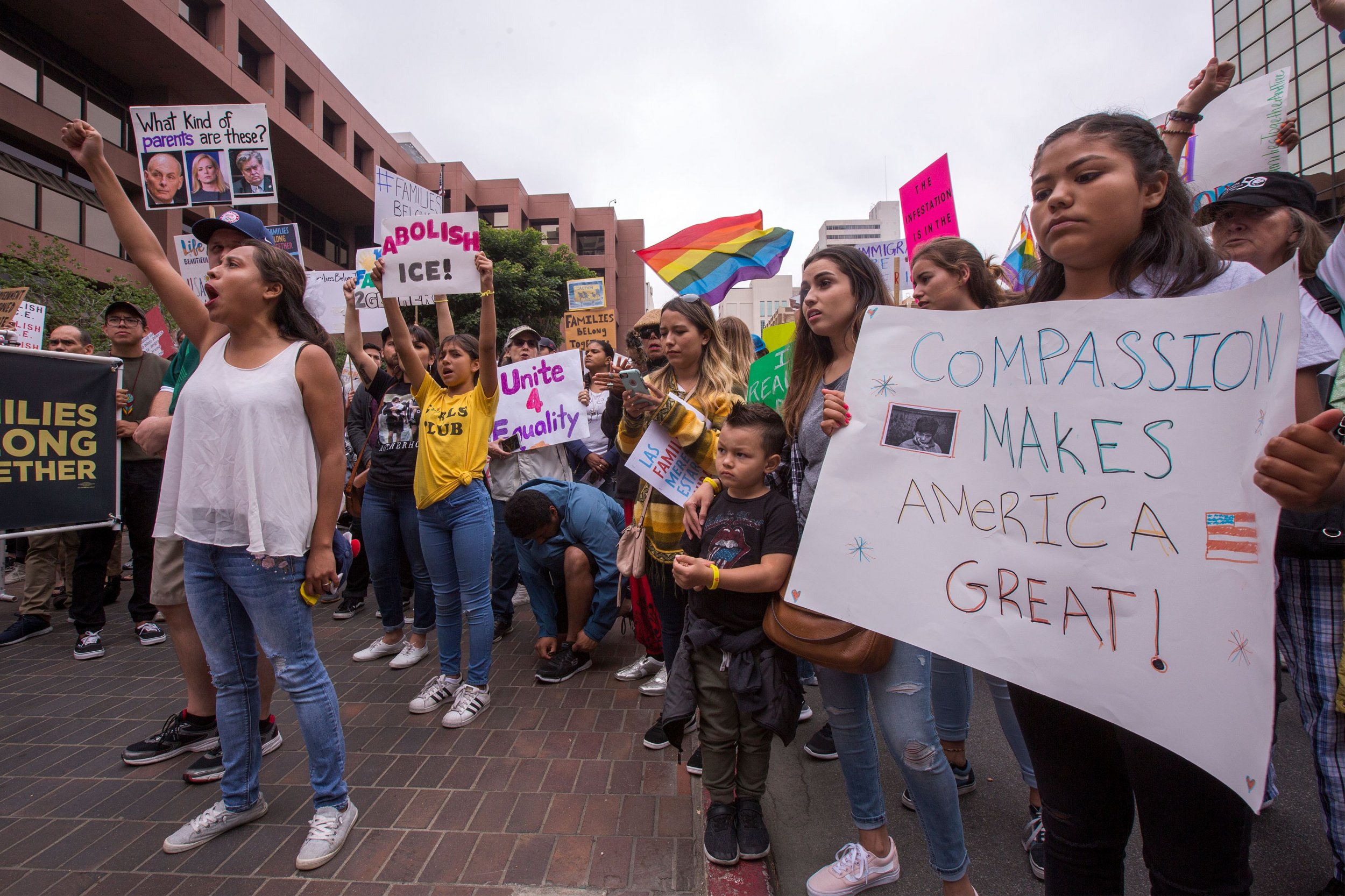 When Jorge, an asylum seeker from Honduras, first made the difficult journey to the United States with his 6-year-old son last May, the father arrived at the southern border filled with hope for a better life for his family.
Instead, Jorge, 31, whose name has been changed to protect his family's identity, told Newsweek that what unfolded in the subsequent months could only be described as one of, if not the most, "difficult and harrowing" experiences he has ever faced.
Rather than being welcomed into the United States, Jorge said, his family was torn apart at the border, with the father being forced to return to Honduras, while his son was taken into the custody of the U.S. government as a consequence of the Trump administration's "zero tolerance" immigration policy.
"We were separated on May 16, 2018, while crossing to the U.S. My son had just turned 6, and they told me that they were going to separate us because they were applying a zero tolerance immigration policy," Jorge said. "I was sent back [to Honduras], and they kept our son detained for five months."
During those long months, Jorge said, he and his wife, Noemi, whose name has also been changed to protect the family's identity, were allowed to have a video call with their son once every eight days.
"He was telling us that he was fine, but I knew that he was suffering," he said. "It's been very difficult and harrowing. Being separated from a child this age is very hard."
Finally, after five months of waiting, Jorge and his wife were told that their son would be sent to Washington to live with a cousin of Jorge's.
With the help of immigration legal assistance group Al Otro Lado, Jorge and Noemi were able to start the process of returning to the U.S. to be reunited with their child. They arrived in America earlier this month as part of a group of around two-dozen parents who were detained shortly after arriving at the U.S. border.
Once released, however, Jorge and his wife were able to finally reunite with their son. The only issue was figuring out how to get from America's Pacific Coast, where the parents had crossed into the U.S., thousands of miles to the east of where their son was now living.
That's when Miles4Migrants, an organization that aims to help families seeking reunification using airline frequent flyer miles donated by Americans, stepped in. Within days, Miles4Migrants was able to pair Jorge's family with a donor eager to donate miles to see them reunited.
"Thank God these organizations helped us to reunite with our son," Jorge said. "We are happier now."
Miles4Migrants co-founder Andy Freedman said Jorge's family was one of hundreds to be reunited using the nearly 47 million miles that have been donated to the organization. He said Miles4Migrants was founded two years ago out of a "desire to offset the financial burden that was being put on families."
To date, the organization has seen more than 740 family members reunited, with "about 50 percent" of those from families that had been separated because of the Trump administration's policies.
Mindel De La Torre, a 59-year-old attorney working in international telecommunications, said that as soon as she heard of Jorge's plight, she was happy to donate as many miles as it would take to get the family reunited.
When Miles4Migrants sent De La Torre a photo of the family being reunited, she said, "it was extremely emotional for me." She added, "They had been separated for almost a whole year from their child."
"I think probably all of us in the U.S. feel a little helpless in terms of what's happening with the policies here," she explained. "So being able to do one thing that could impact a family made me feel really good."
Condemning the Trump administration's hard-line crackdown on immigration, De La Torre said she believed the "current immigration policies in the United States" are "inhumane and disgraceful."
"We are a country built on immigrants and will continue to be, and to demonize those who want to come to our country to escape violence and corruption is a travesty of justice and just plain wrong," she said.
For Jorge's family, the effects of family separation—which President Donald Trump ended on June 20, 2018, in response to an international backlash—could be long-lasting.
The father said that since enduring the ordeal, his son, who will soon turn 7, "is not the same as he was before."
"He cries over small things, and his behavior has changed," Jorge said. "But we are caring for him, giving him our love, and he is slowing returning to how he used to be."
Despite their harrowing experience with the U.S. immigration system, Jorge said his family has not given up hope of building a life in America. Honduras, he said, is not a safe place for his family to return to, and if they are sent back, they will only try to seek refuge in the U.S. again.