Under Donald Trump's Presidency, Americans Fear North Korea, ISIS Significantly Less: Poll
A partisan gap is widening between what Democrat and Republican-leaning voters view as global threats in 2019, but a new survey shows Americans' fears of North Korea's nuclear program and the Islamic State have both fallen in the past two years of President Donald Trump's administration.
The share of Americans who view North Korea's nuclear program as a major threat to the well-being of the United States fell significantly, 22 percent, since 2017, according to July 2019 data collected by the Pew Research Center. And the number of U.S. adults who see ISIS as a serious threat to the U.S. also fell drastically from more than two-thirds of Americans in 2017 to just over half. On a less substantial level, many Americans appear to have simply shifted their global concerns over to another perceived threat from Asia: China.
Americans of all political affiliations may agree on the decreased threat of ISIS and North Korea, but wide partisan divides are exposed on issues such as Russia's power and influence, Iran's nuclear program and climate change.
Climate change concerns have become the most widely divided issue along partisan lines under the Trump administration.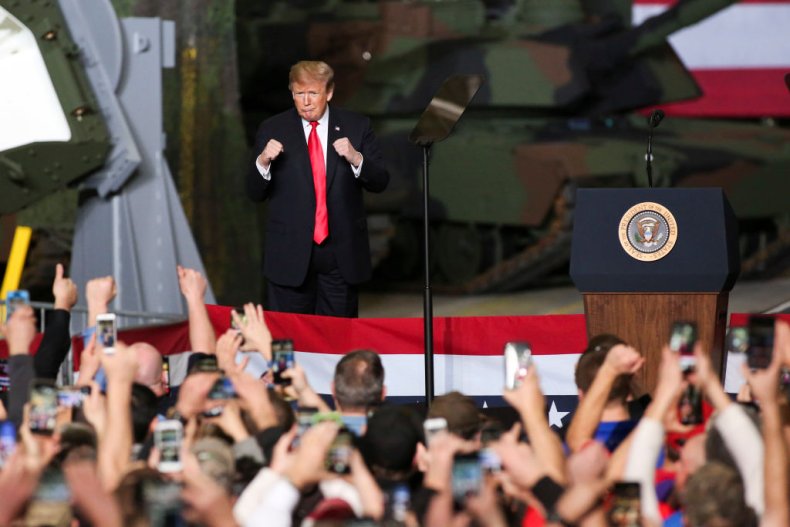 About 85 percent of Democratic-leaning voters and just 27 percent of Republican-leaning voters agree climate change is a serious threat. Additionally, a 30-point percentage gap is revealed between the 65 percent of Democrat-leaning voters who view Russia's influence as a major threat, compared to just 35 percent of Republican-leaning U.S. voters. Compared to previous data, the sizable fracture between conservative and liberal Americans only emerged following the 2016 presidential campaign. Several of the topics seeing divergence along party lines appear to be directly tied to Trump's increasing influence over the Republican Party.
Fears of cyberattacks from other countries — a frequent accusation against Russia since the 2016 election — are the top concern among Americans as a whole. Nearly three-fourths, or 74 percent, of U.S. adults of any political affiliation see online breaches as the country's top threat.
Concerns about China's global power and influence have increased since 2017, with more than half, 54 percent, of Americans saying Beijing poses a major threat to the U.S. Sixty-two percent of respondents said the U.S. should build a stronger relationship with China via trade and economic policy. More than one-third of Americans said they want to get "tougher" with China.
Since 2017, there has been a 10 percent decline in Americans who say China is "not much of a problem." The number of U.S. adults who describe China as an "adversary" or "serious problem" has increased sharply.
Members of both parties view North Korea with even more skepticism than they did two years ago, with data showing the share of U.S. adults doubting the seriousness of Kim Jong Un and the Pyongyang leadership rising to nearly 60 percent from fewer than half. More Democrats than Republicans say North Korea is "not serious" about addressing concerns over their nuclear program.
The poll data was released on the same day that North Korea conducted its second weapons test in six days. South Korea's Joint Chiefs of Staff issued a statement Wednesday saying the "nuclear-capable" missiles were launched from the city of Wonsan and flew about 155 miles and reached a height of more than 19 miles above the earth.
In regards to Iran, more Americans of all political affiliations say it is more important to avoid military conflict with Iran rather than taking firm action against the Middle East nation.