The Russian invasion of Ukraine has left some Americans grappling with how to get their family members, including those struggling with health issues, from the Eastern European country.
As the conflict rages on, people in the United States are relying on various forms of communication, including texts and social media messages, as they try to keep in touch with their relatives in the war zone, and in some cases, attempt to come up with a plan to get them to safety.
Jake Renner from Los Angeles, who grew up in Kyiv, has been trying to travel to the city to help his mother Valentina, 70, and his sister Marina, 46, leave the country, according to a report from KTLA.
"One of the biggest issues that they have to deal with is my mom being immobile. A lot of tasks fall upon my already physically weak sister. Shortage of food and medicine is a rising issue as well. In addition, most of the neighbors left the region, and I am not certain if my family has assistance they need," Renner told Newsweek on Friday.
"I have to go get my mom physically because she's not able to walk. I have to hold her hand or transport her in the wheelchair," he added.
Renner said he decided to start raising money to go to Ukraine to get his mother and sister out, because they won't leave on their own, despite Russian airstrikes that hit the city on a daily basis.
"I am selling all of my assets, my car and my computer," he said, according to KTLA. "I have several routes... I have coyotes. Everybody's on standby."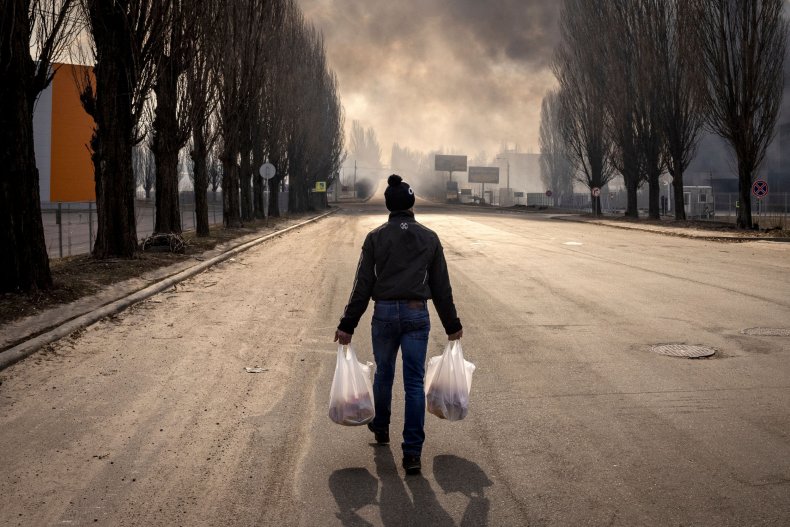 Renner also launched a GoFundMe page to help finance his journey and the logistical efforts necessary to help evacuate his mom and sister who both suffer from some health issues. He has raised $4,184 of his $30,000 goal as of Friday afternoon.
Renner said that he expects to face challenges during his journey as the route will take him through the combat zone as well as through snow, forest, and mountains. However, he is determined to succeed in his rescue mission, according to KTLA.
"I'm prepared to do this journey whether I get the funds or not," Renner said. "I can speak and I can fight with my words. That's what I intend to do."
Renner told Newsweek that he would "ideally" leave in about a week, and noted that the funds raised so far will help him secure a path into Poland and then into Ukraine.
He also said that he has cousins, uncles, and aunts who are living in other parts of Kyiv, but he doesn't have any information about their well-being.
Some of his family members used to live in towns and villages near the city of Zhitomyr and the city of Chernigiv, "both are displaced due to occupied towns and destruction."
While Renner is preparing to head to Ukraine, some in the U.S. are just trying to stay in communication with family there.
Ukraine native Nataliya Pashchenko, who lives in Houston, is still in touch with her disabled sister in Kyiv, ABC13 reported on Thursday.
Pashchenko, who left Ukraine in 1994, said she fears for her older relatives and wonders whether she'll ever see them again in person.
"I have a sister in Kyiv. We developed a line of communication because of the seven-hour time difference. When she wakes up, she sends me a text message saying, 'I'm still alive.' When I wake up, I send her a text message, 'How are you doing? I am up,'" said Pashchenko, according to the news outlet.
Pashchenko told ABC13 that she also checks in with her Ukrainian cousin Max Bogadysta, who said he has lost communication with his parents in Mariupol as that city has been heavily targeted by Russian forces.
Bogadysta lost his job as an electrical engineer and fled Mariupol as the conflict intensified, but the future of his family and his two children remain bleak.
Pashchenko said she spoke with Bogadysta through an audio Facebook messenger call, and he told her "I love my country. I love my job. I have two children. I don't know what's going to happen to me."
Over 6.5 million people are currently displaced inside Ukraine and 3.7 million have fled the nation since Russian President Vladimir Putin declared a "special military operation" to "demilitarize and de-Nazify" the Eastern European country, according to the latest data by the UN Refugee Agency.
Update: 03/25/22 4:59 p.m. ET: The story has been updated to include comments from Jake Renner.