Americans Have Saved Enough Amid Pandemic to Nearly Pay for Biden's Stimulus Plan
During the yearlong coronavirus pandemic, Americans have accumulated nearly enough money in excess savings to pay for President Joe Biden's sweeping relief package.
In a report released earlier this month, Oxford Economics estimated that U.S. households saved $1.8 trillion from March 2020 to January 2021—just shy of the $1.9 trillion price tag for Biden's American Rescue Plan.
"It is a very large amount," Gregory Daco, the chief U.S. economist at Oxford Economics, told Newsweek. "But I think the dynamics are very important."
Daco noted that while, initially, people at all income levels were holding on to more cash thanks to the historic $2.2 trillion Coronavirus Aid, Relief and Economic Security (CARES) Act passed in late March, by the middle of 2020 most of the excess savings were held by higher-income households.
Biden's package is estimated to bring accumulated excess savings to $2.5 trillion in the next three months, Daco added.
The legislation was signed into law by Biden on March 11. The bill made it through Congress via the budget reconciliation process, which allowed Democrats to bypass the Senate filibuster and pass the bill without any Republican support.
Every single conservative member of the Senate voted against the relief package, blasting it as a partisan wish list filled with wasteful and untargeted spending. The GOP has been generally opposed to additional government spending after December's $900 billion relief legislation that was passed into law.
The American Rescue Plan will provide $1,400 direct payments to individuals making less than $75,000 annually, $350 billion in state and local government aid, $14 billion for coronavirus vaccine distribution and $170 billion for school reopenings. It will also provide an additional $300 in weekly unemployment benefits through September and a child tax credit of up to $3,600, among other measures.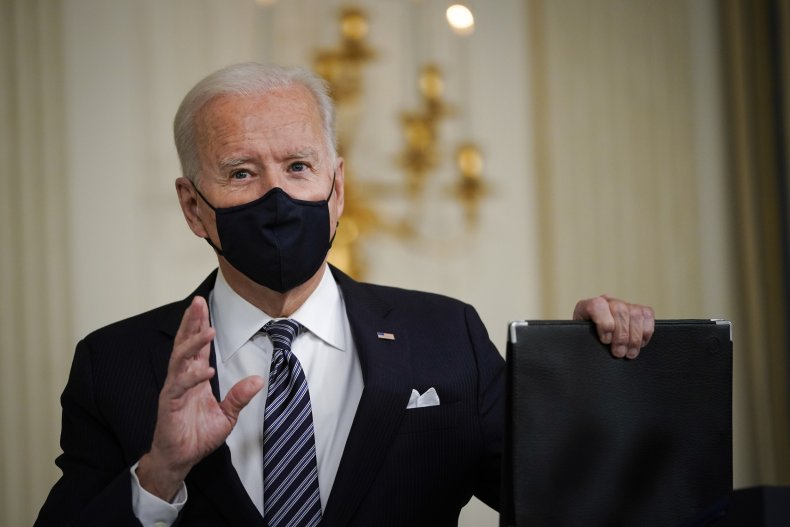 The president and Vice President Kamala Harris will embark on a tour to promote the new legislation. Harris traveled to Las Vegas on Monday, while Biden will go to Delaware County, Pennsylvania, on Tuesday and Atlanta on Friday.
"When I signed the American Rescue Plan last week, I said help is on the way. This week I can report it isn't just on the way. It's here. Sooner than many thought possible," Biden said in a speech on Monday.
Biden also announced Monday that Gene Sperling, a former top economic official in the Obama and Clinton administrations, will be overseeing implementation of the relief package.
"We're going to have to stay on top of every dollar spent through the American Rescue Plan," Biden said. "And that's what we're going to do. We can do this. We will do this."