Americans have joined Canadians in leaving hockey sticks on their porches to pay tribute to the Humboldt Broncos junior ice hockey team, which lost 15 of its players and staff in highway crash that rocked Canada last Friday.
Ten Broncos players, who were all between the ages of 16 and 21 died, as well as five team support staff, including Head Coach Darcy Haugan.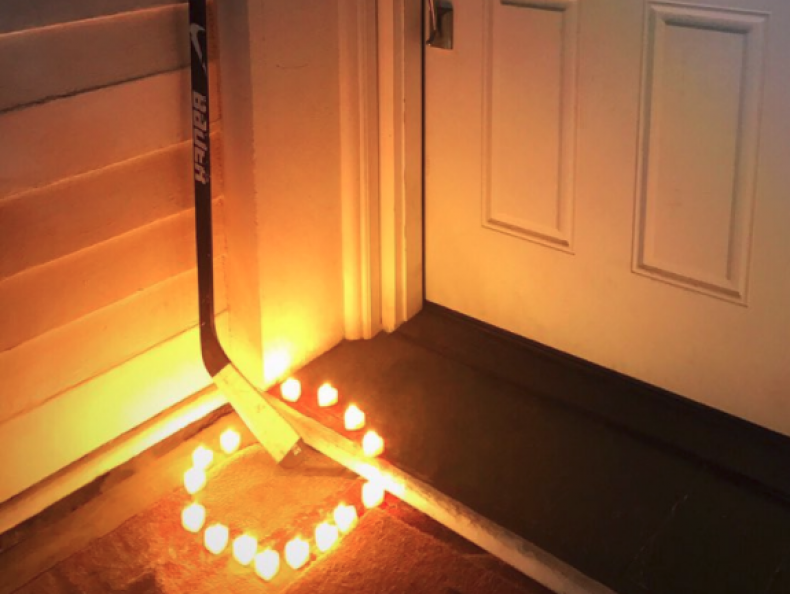 On Sunday night, TSN play-by-play announcer Brian Munz posted a photo to Twitter that he had received from a friend living in Humboldt, Saskatoon showing a lone hockey stick left out on the front step of a home.
"Leaving it out on the porch tonight," the friend wrote. "The boys might need it... Wherever they are."
After Munz called on his followers to "do the same as we remember and send our thoughts to the Humboldt Broncos," Canadians began to flood social media sites with images of their own hockey stick tributes, adding the hashtags #PutYourStickOut and #BroncoStrong.
"Saw this earlier and thought it was a great idea," one social media user Tim OMell wrote. "We all mourn with you," he added, with the hashtag #PutYourStickOut.
Americans from states including New York, Texas and Florida joined the movement, placing sticks outside their homes in a show of solidarity.
One supporter, who took part from New York, placed a hockey stick on her porch along with fifteen heart votive candles-one for each of the victims.
"Prayers of strength for our Canadian hockey family,sending love from my NY hockey family," Stefania Campioni Ferrandino wrote.
"We have been a hockey family since my sons were born," Ferrandino told Newsweek, adding that her husband and oldest son both play. "Our oldest son Rocco plays rec league hockey and this past week just won his division championship for his league. It was bittersweet as all we could think about were those 15 lost souls.
"We know all hockey families are one family and our hearts are breaking for our neighbors up north," she added. "When I mentioned the porch tribute to my son Rocco, he insisted we add the heart votives and asked me if I had 15 to put out."
NHL Hockey teams and politicians also put hockey sticks out, with the Vancouver Canucks leaving their hockey sticks outside their dressing room in a show of support.
Since Friday's deadly crash, hundreds of people, including Canadian Prime Minister Justin Trudeau and hockey legend Don Cherry, have joined in mourning the loss.
"To the team, to the families, to the community: The whole country is behind you," Trudeau wrote. "You are loved and you will be remembered," he added, including the hashtag #HumboldtStrong.
A vigil, which Trudeau attended, was held in Humboldt on Sunday, with many mourners donning green and yellow Broncos jerseys.
NHL teams have also mourned the loss, with teams taking a moment of silence ahead of weekend games to honor the Humboldt players who died in the crash.
A number of people who have posted photos of hockey sticks left outside to social media have also called on others to donate to a GoFundMe page set up in support of the families of the victims. So far, it has raised nearly $7 million, making it the largest campaign in Canada to date and one of the top five campaigns across the globe.