Americans Left Hanging as Many Senators Return Home With No Stimulus Deal
Many senators prepared to head home Thursday afternoon, embarking from the nation's capital to their home states despite congressional leaders and the White House still without an agreement of any kind on another coronavirus relief package.
The decision to skip town is a clear message about lawmakers' confidence—or lack thereof—of a deal materializing anytime soon. Republican senators emerged from a closed-door lunch with no new clarity from leadership about ongoing negotiations.
"We're at an impasse right now," said Senate Appropriations Committee Chairman Richard Shelby (R-Ala.). "I would hope over the next few days we can get together and do something that would help a lot of working people in America."
"At the moment, it doesn't look promising," he added. "We might not get a deal."
What's at stake is federal relief for tens of millions of Americans: some 13 million people seeking jobless pandemic assistance, eviction protections for an estimated 20 million renters and another round of $1,200 checks for most Americans.
There's been no shortage of blame to go around, with both parties lobbing criticisms at one another. But while lawmakers continue to say they remain optimistic and hopeful that bipartisan talks will eventually yield a bipartisan product, there is growing pessimism from both parties that a bill will ever be passed.
The back-and-forth negotiations between Democratic leaders and Trump administration officials have so far been futile, with Congress still unable to strike any sort of deal over how to address the nation's high unemployment, children returning to school, and the massive budget shortfalls staring in the face of local and state leaders. Congress remains in a state of limbo—talks commence each day, both sides trade barbs afterward and tell reporters how they're "miles apart," and then negotiators hit the reset button the next day.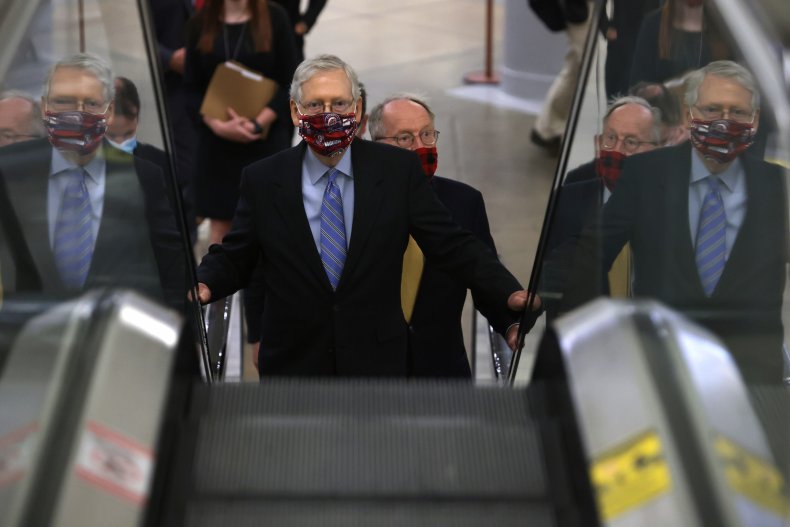 "I think it's impossible to tell" if there will be a deal, Senator Tim Scott (R-S.C.) said. "I think there's plenty of reasons to be optimistic, and a lot of reasons not to be."
The gridlock is centered on the fundamental disagreement between the two parties on what the size and scope of aid should be, including how to extend enhanced jobless benefits that officially expired last week. Republicans have pushed for $200 weekly from the federal government for two months and then transitioning to 70 percent wage replacement through 2020. Democrats are demanding an extension of the full $600 per week through March 2021.
Deep divisions within Senate Republicans over if—and how—to provide another economic stimulus has made the final end goal that much harder to accomplish.
"They push you up against the wall and then say it's your fault," Senator Doug Jones (D-Ala.) said of his GOP colleagues."They knew this deadline was coming. They knew it was coming. To push it under a threat like this, it's just unconscionable. That's not leadership."
President Donald Trump has vowed to take executive action on federal eviction protections (which expired last month); the supplemented unemployment insurance; payroll tax cuts (which lawmakers in both parties oppose); and student loan repayment options. White House Chief of Staff Mark Meadows and Treasury Secretary Steve Mnuchin, who have been negotiating with House Speaker Nancy Pelosi (D-Calif.) and Senate Minority Leader Chuck Schumer (D-N.Y.), have set a self-imposed deadline of Friday to break the impasse before Trump will take unilateral action.
While many rank-and-file members depart from Washington, congressional leaders and a handful of others indicated they would remain behind. Most GOP senators appeared prepared to leave town. Friday marks the start of a scheduled August recess for the Senate that lasts through the end of the month. House members left for their August break at the end of July and will return to vote, if need be.
Senate Majority Leader Mitch McConnell, who met with the president Thursday, is technically delaying the start of his chamber's recess. However, most senators will head home and return once—and if—a deal is ever struck.
"I will not be adjourning the Senate for our August recess today as has been previously scheduled," the Kentucky Republican said on the floor. "I've told Republican senators they'll have a 24-hour notice before a vote, but the Senate will be convening on Monday and I'll be right here in Washington."
Mnuchin, Meadows, Schumer and Pelosi meet again at 5 p.m. Senate Republicans will host daily conference calls about the status of negotiations while lawmakers are out of town, according to Senator Mitt Romney (R-Utah).
This is a developing story and will be updated with additional information as it becomes available.