Americans Lose Faith in Biden Amid Supply Shortages Despite Drastic Drop In COVID Cases
President Joe Biden's approval rating remains on a downward trend despite a drop in coronavirus cases nationwide.
That's likely because the economy is now a major concern for a plurality of Americans as shortages persist and consumer prices rise.
A new poll from Ipsos found most U.S. adults said the top problem facing the country is the economy, unemployment and jobs. Public health, disease and illness ranked second, seven percentage points behind the economy.
The latest Rasmussen survey showed economic confidence fell more than seven points from September and is at its lowest level since May of last year. An overwhelming majority of Americans (85 percent) said they're concerned that supply chain problems will lead to shortages of basic items, and 75 percent said they are following supply chain news closely.
Nearly two-thirds of those polled said they think the federal government should take action to solve the problem.
This week, the White House announced a number of measures aimed at easing supply chain issues.
Two California ports responsible for 40 percent of the container traffic that enters the U.S. are now operating around the clock. Corporations such as Walmart, UPS, FedEx, Samsung, Home Depot and Target are implementing more off-peak and nighttime hours to increase output.
"Strengthening our supply chain will continue to be my team's focus. If federal support is needed, I'll direct all appropriate action," Biden said in a speech from the White House on Wednesday. "If the private sector doesn't step up, we're going to call them out and ask them to act."
However, images and videos shared on social media highlight empty shelves at supermarkets and stores across the country.
The public's concern over the supply chain may explain why Biden's approval rating has been in steady decline since August, even though COVID-19 cases are dropping.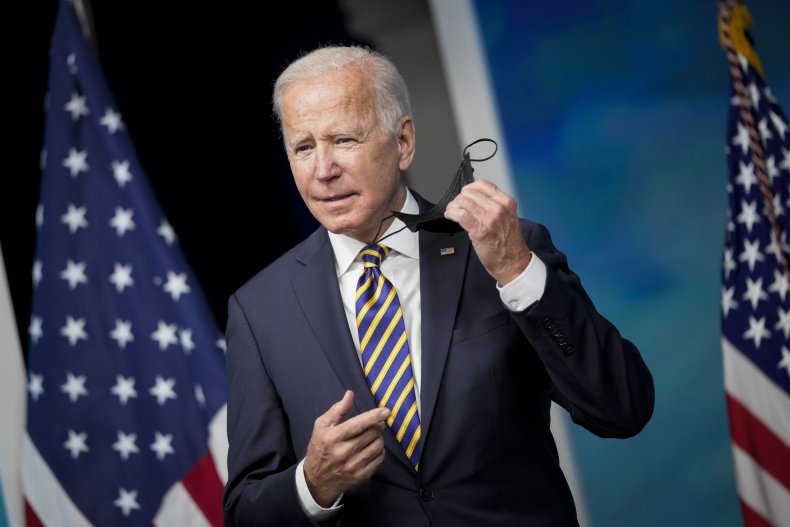 The current seven-day moving average of daily new cases (95,448) decreased 11.6 percent compared with the week prior, according to data from the Centers for Disease Control and Prevention (CDC). The agency is also predicting that virus deaths and hospitalizations will decline over the next few weeks.
In early August, more than 50 percent of Americans approved of Biden's job as commander-in-chief—according to polling averages tracked by FiveThirtyEight. As of Friday, the tracker showed just 44 percent of Americans approved of Biden's job as president while 49 percent disapproved.
Gallup's latest poll of Biden showed his job rating had sunk to a new low: 43 percent approved of his performance while 53 percent disapproved. The numbers showed a 14 percent drop in Biden's approval rating since he entered office in January.
When asked about Biden's sliding poll numbers, the White House referred Newsweek to press secretary Jen Psaki's recent comments on the matter.
"I would say that this is a really tough time in our country," Psaki told reporters last week when asked about surveys about Biden's approval dropping. "We're still battling COVID, and a lot of people thought we'd be through it, including us.… That's far and away the biggest issue in the minds of the American people, and it's impacting a lot of issues."
Psaki also pointed to the supply chain as another factor, stating: "Our focus is not exactly on the day-to-day up and downs of the polls, our focus is on getting the pandemic under control, returning to life—a version of normal—so people can have security in going into work and dropping their kids off and knowing people will be safe.
Update (10/15/2021, 4:15 p.m. ET): This story has been updated with previous comment from White House press secretary Jen Psaki on Biden's declining poll numbers.