Americans Made 'Dramatic' Shift Away From Pro-Choice Position, Now More Anti-Abortion, Poll Finds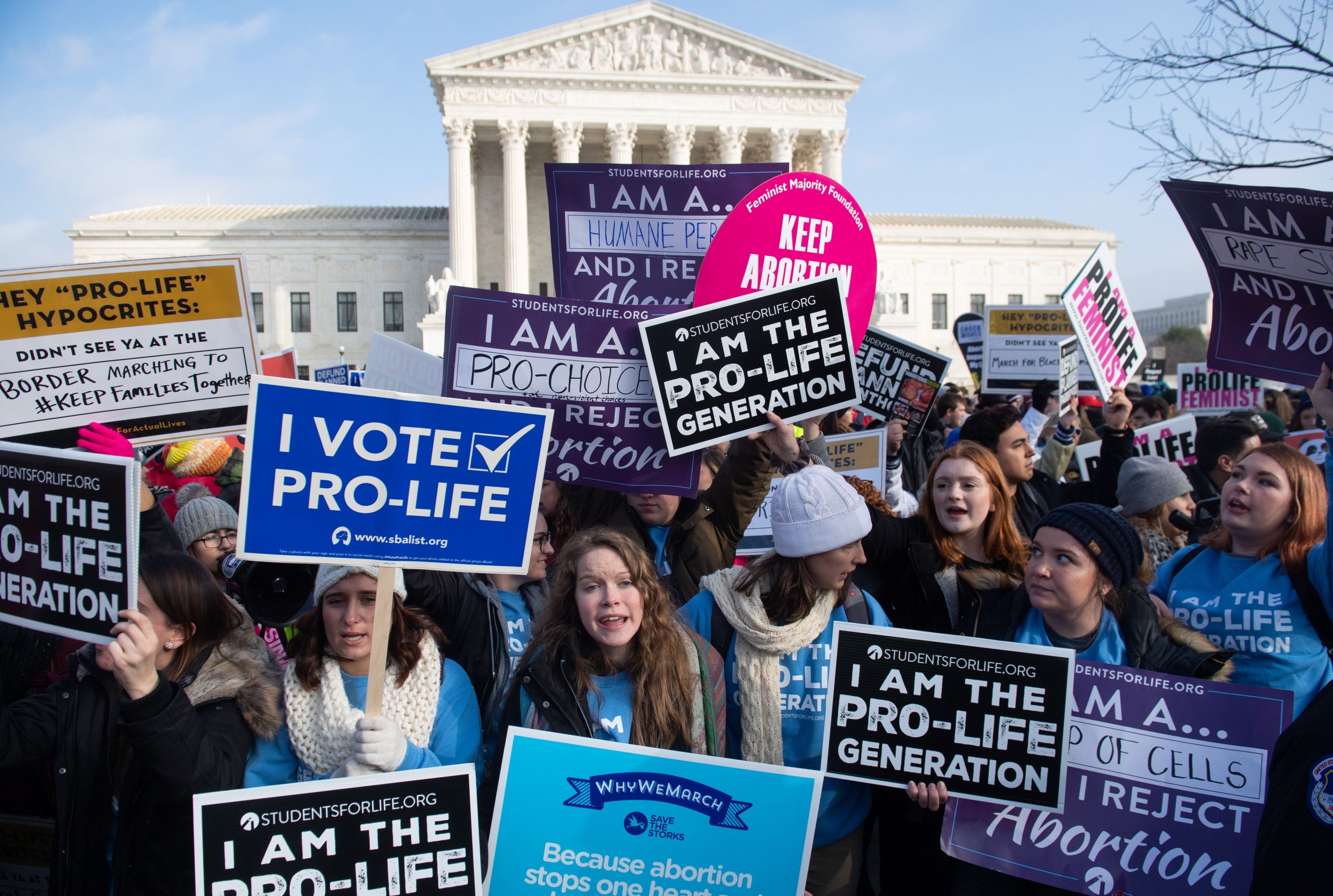 A recent poll found a dramatic shift among Americans in the abortion debate, with an almost double-digit increase in those who consider themselves anti-abortion.
Marist conducted the poll on behalf of the Knights of Columbus, a Catholic organization, between February 12 and 17. In January, a poll found 55 percent of Americans identified as pro-choice, compared with the 38 percent who considered themselves to be anti-abortion, according to the Knights of Columbus.
However, February's poll found the gap between the anti-abortion and pro-choice sides had closed. In an even split, 47 percent of Americans identified as anti-abortion and 47 percent as pro-choice. The poll represented the first time since 2009 that as many Americans identified as anti-abortion as identified as pro-choice, according to the Knights of Columbus.
In January, 20 percent of Democrats that were polled identified as anti-abortion; February's poll showed an increase to 34 percent. Democrats identifying as pro-choice fell from 75 percent to 61 percent.
In January, 65 percent of Americans under 45 identified as pro-choice, while the February poll showed a decrease to 48 percent.
Barbara Carvalho, director of the Marist Poll, told the Knights of Columbus that proposals promoting late-term abortion have "reset the landscape and language on abortion in a pronounced and very measurable way."
Regarding abortions conducted in the third trimester, 60 percent of Democrats, 72 percent of independents and 85 percent of Republicans responded that, generally, the practice should be illegal.
The Knights of Columbus categorized the recent findings of the Marist poll as "dramatic and sudden," and Supreme Knight Carl Anderson said arguments in favor of late-term abortions were not convincing to Americans. Anderson added that, along with not garnering support, the proposals are possibly having a boomerang effect.
During his State of the Union address in February, President Donald Trump criticized a recent law passed in New York that repealed sections of the state's penal code criminalizing abortion. The new Reproductive Health Act permits abortions to be performed through the first 24 weeks of pregnancy as well as later when a woman's life or health is in danger.
In response to the law, Trump called on Congress to pass legislation prohibiting late-term abortions, invoking language that New York Governor Andrew Cuomo said was "intentionally spreading lies" about the legislation.
While the Marist poll found that people looked unfavorably on late-term abortions, a Fox News poll conducted around the same time indicated that most Americans want the landmark abortion ruling Roe v. Wade to remain intact. Fifty-seven percent of those polled said the Supreme Court should let the ruling stand. Even among Republicans, who often take anti-abortion stances, 43 percent said the ruling should be left alone, compared with 37 percent who want it overturned.