Americans May Get Stimulus Checks 'Very Quickly' if Deal Reached by August, Mnuchin Says
The American public is waiting to find out who, if anyone, will receive a second economic impact payment, but if Congress reaches a deal, people could see the money right away, Treasury Secretary Steve Mnuchin said.
Mnuchin told CNBC's Kayla Tausche on Thursday that the White House supports another round of economic impact payments. In most cases, funds would be issued through direct deposits, not paper checks, and Mnuchin said the Department of the Treasury has the ability to "get that into hard working Americans' bank accounts very, very quickly."
It's likely that the next round of payments is more targeted than those included in the CARES Act that was unanimously passed in Congress in March. During an event in Kentucky on Monday, Senate Majority Leader Mitch McConnell said the people who were hit hardest by the coronavirus pandemic were those who make about $40,000 or less a year.
"Many of them work in the hospitality industry. The hospitality industry as you all know just got rim racked ... so that could well be a part of it," McConnell said in reference to the stimulus checks.
Senior economic adviser Larry Kudlow also speculated payments would be confined to those who were struggling the most financially. Mnuchin wouldn't share specific details as to what qualifications the White House was eying in terms of stimulus checks but said the administration will discuss the "level and criteria" with the Senate.
"I had a very productive call with Mitch McConnell and as soon as the Senate gets back, we're going to sit down on a bipartisan basis," Mnuchin said. "And it will be our priority to make sure between the 20th and the end of the month, that we pass the next legislation."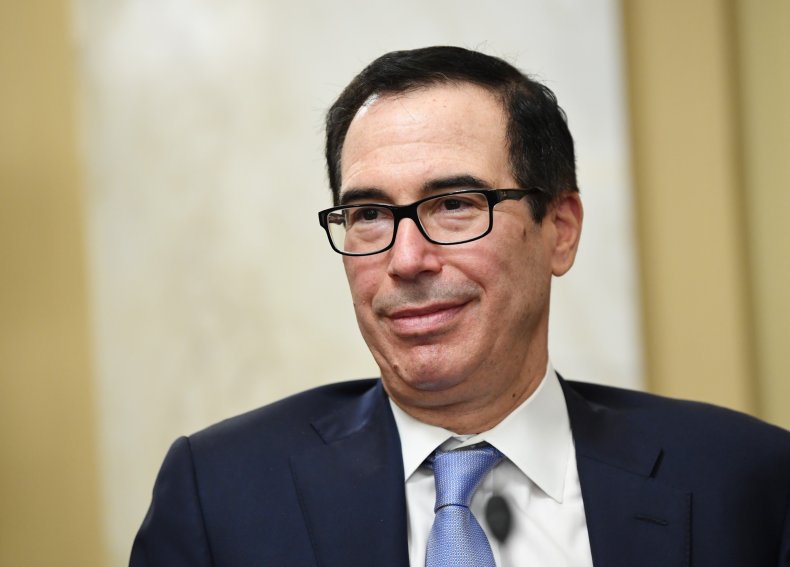 Newsweek reached out to the Treasury Department for comment on how people can improve the speed they receive their potential payment but did not receive a response in time for publication.
Once Congress returns from its Independence Day recess on July 20, legislators will have two weeks to come to an agreement on the next stimulus package. On August 3, the House of Representatives will leave Washington, D.C., for its summer recess, but Speaker of the House Nancy Pelosi said is meeting the deadline for a stimulus bill is completely doable.
Since Republicans stated publicly what they want in the next bill, Pelosi said on July 2 that she expects there to be a bill. August 3 is a deadline the White House is also eyeing for a $1 trillion package to be on the president's desk.
The White House's goal is to balance helping those who are unemployed and hurting with containing the amount of spending, Marc Short, Vice President Mike Pence's chief of staff told Bloomberg on Tuesday.
Closing businesses to curb the spread of the outbreak put millions of people out of work and Congress expanded unemployment benefits to help those adversely affected by the pandemic. By increasing benefits, it inadvertently put more money into some people's pockets than they were making before they lost their jobs. A recent paper from the University of Chicago economists found about 68 percent of unemployed workers who can collect unemployment will earn more than their paychecks.
Mnuchin told CNBC Thursday that he expects the additional unemployment benefits to be extended past the July 31 expiration date, although it will likely take a different form. He chalked the issue of people earning more on unemployment than at their jobs up to a "technical glitch" that he said would be fixed the next time around.
While Mnuchin didn't share specific details about the plans for expanded unemployment benefits, he did say it was reasonable to assume benefits would cap at 100 percent of what a person was making. It's possible the benefits could be less than a person's paycheck before they lost their job, as well, because they want to give people an incentive to return to work.
"We're going to make sure that people are incented to go back to jobs," Mnuchin said. "We'll figure out an extension that works for companies and works for those people who will still be unemployed."