Americans Have More Positive View on Immigrants Since Trump Took Office, Despite Crackdown, Survey Finds
Public perceptions of new immigrants in the U.S. have improved "across all measures" since President Donald Trump took office in January 2017, a new study has found.
In a survey conducted through YouGov between March 26 to April 1, the Bucknell Institute for Public Policy found that 49 percent of people in the U.S. feel that immigrants have a positive impact on economic growth, while 31 percent think they have a negative impact.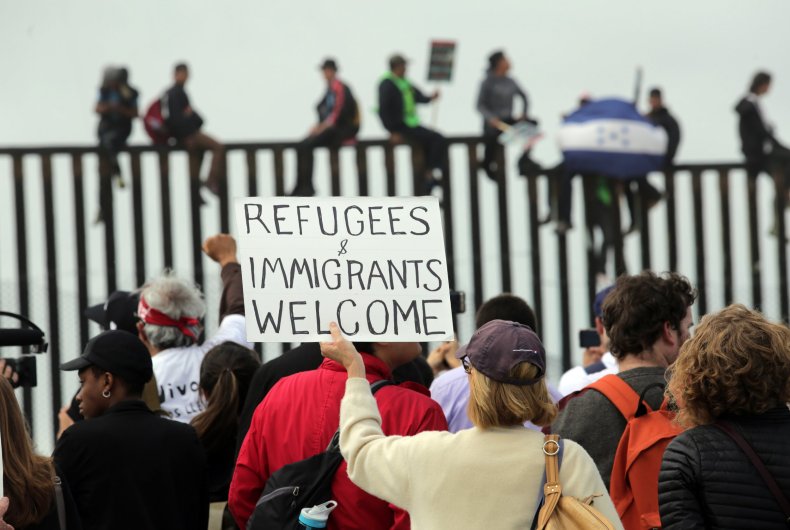 The numbers shows a marked increase from July 2016, during which only 36 percent of people said they felt immigrants had a positive impact on economic growth.
The study, which saw 1,000 people surveyed, also found that perceptions around immigration's cultural impact in the U.S. has also grown more positive since July 2016, with 44 percent of people saying immigrants have a positive impact on their community's culture in 2018, compared to just 37 percent in 2016.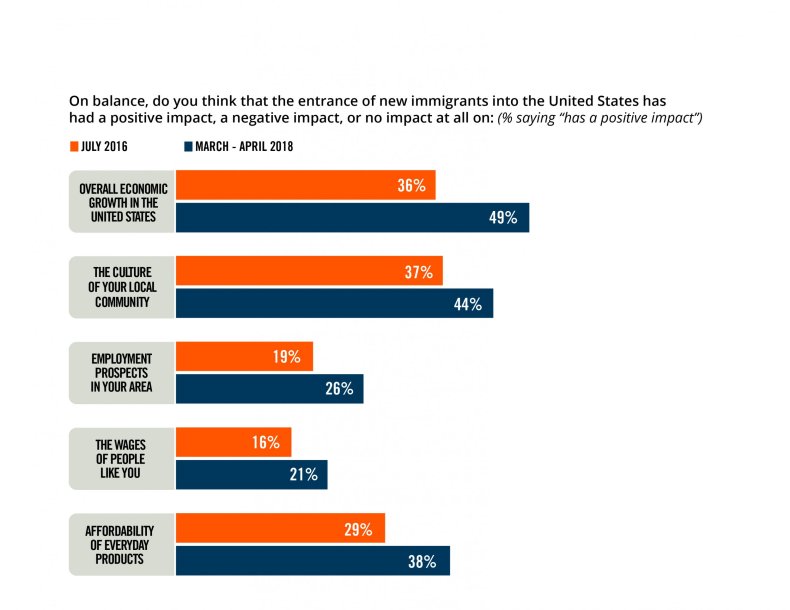 "Since the election, Americans are just generally feeling more positive about immigrants," Chris Ellis, political science professor and director of the Bucknell Survey Research Laboratory, told Newsweek.
"We see upticks in Americans saying that immigrants are a benefit to the country's culture. We see an uptick in the number of people that say immigrants are good for economic growth. We see an uptick in the number of people that describe immigrants in positive terms, like 'intelligent' and 'ambitious' and to some extent a downturn in the number of people that say things like immigrants are 'violent'," he said.
While Democrats were largely found to view immigrants more favorably than Republicans, the study found that Americans of "all political stripes" hold at least some positive views about immigrants.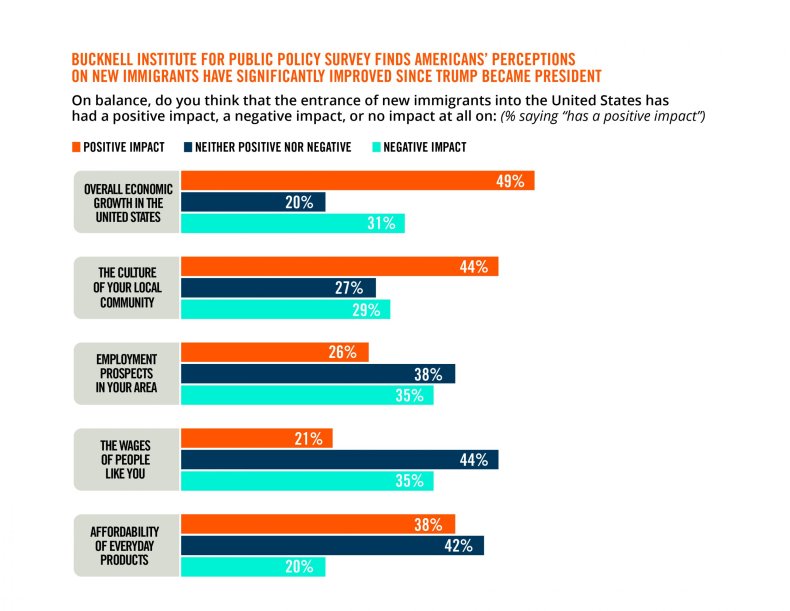 The researcher said that even Republicans were more likely to describe immigrants as "smart," "ambitious" and "hardworking."
"So, a lot of those stereotypes that we at least think we have in our heads of immigrants sort of 'taking things away' and 'being lazy' and stuff like that, those are opinions shared by very, very few Americans, no matter what the political affiliation is," Ellis said.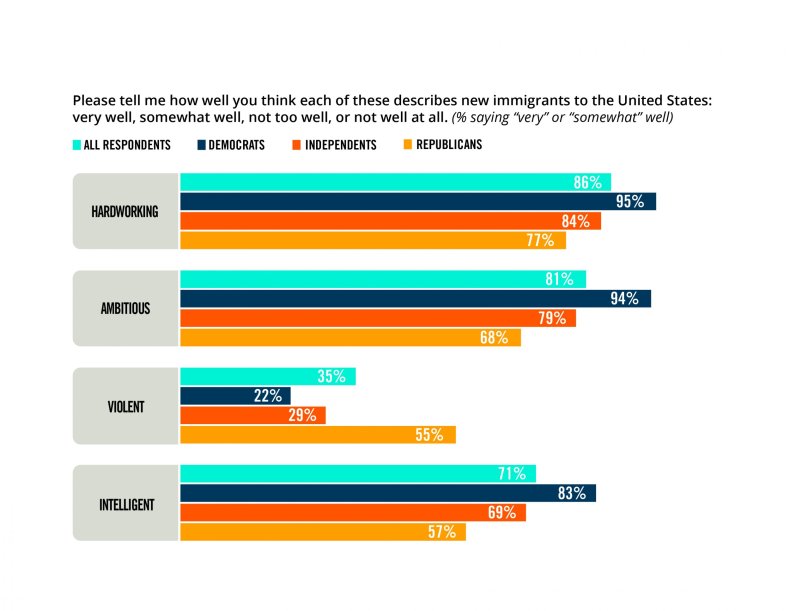 Most believe immigrants contribute more than they "take"
Asked whether they agree, neither agree nor disagree or disagree with the statement: "New immigrants contribute more to our economy than they take from it," 48 percent of all respondents said they agree, compared with 26 percent who said they "disagree" and 26 percent who said they "neither agree nor disagree."
Among Republicans who participated in the survey, 26 percent said they agreed with the statement, compared 47 percent who said they didn't. Twenty-seven percent said they neither agreed nor disagreed.
Ellis said he believed the Trump administration's current crackdown on immigration could actually be responsible for the boost in positivity towards immigrants in the U.S.
"I think it is in part the administration's rhetoric and policies," Ellis said. "We tend to see this in policy domains outside of immigration, where people generally tend to react against what the president's doing," he added.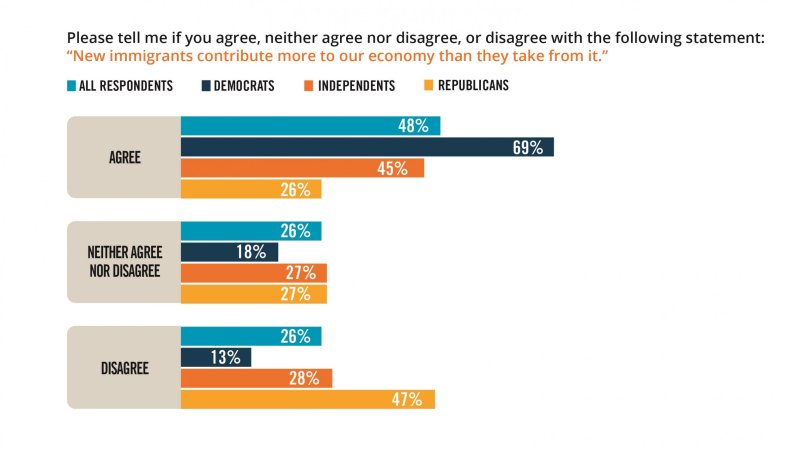 In addition to Trump's anti-immigration rhetoric and his administration's hardline policies, Ellis said news coverage and images of immigration raids carried out under the Trump administration may also be contributing to the increase in positive views.
"I think the images of some of these crackdowns and certainly the rhetoric has actually worked to humanize immigrants in ways that perhaps they weren't before," the researcher said, adding: "It's easier to sort of humanize immigrants when someone, at least rhetorically, is often working to dehumanize them."
"Immigration is now maybe less of a policy issue that's detached from people's lives and is something that actually involves real human beings trying to make real changes in their lives," Ellis said.
The researcher also said that negative views toward immigrants in 2016 may have had something to do with having "eight years of a Democratic president" under the Obama administration.
"After seeing those policies, there was certainly the case that maybe [people thought] we needed to sort of address this issue, maybe it was becoming worse or maybe it was becoming an unbearable burden on the country," Ellis said.
Economy influences sentiments towards immigration
Ellis added that the struggling economy may have also played a role in driving anti-immigration sentiments in 2016.
"The economy was worse and people tend to be sort of less welcoming to new people when the perception is that we don't have enough jobs, enough economic growth to go around," Ellis said. "When the economy improves, we can look at other things immigrants bring and not be so insecure about jobs going away or wages going down," he added.
In the March-April survey, Americans still felt less optimistic about the impact of immigration on employment or wages than they did about other areas in life.
Just 26 percent of people surveyed thought immigration had a positive impact on employment prospects in their area, compared to 35 percent who thought it had a negative impact.
Only 21 percent of people also saw immigration as having a positive impact on their own wages, compared with 35 percent who said they believed it had a negative impact.
Still, the numbers represent a significant jump from 2016, when just 19 percent of people surveyed said they felt immigration had a positive impact on employment and just 16 percent believed it had a positive impact on wages.