Most Americans 'Not at All Confident' Trump Will Concede Office: Poll
A majority of Americans are "not at all confident" President Donald Trump will concede the White House if he loses the 2020 election to Democratic nominee Joe Biden, a new poll has revealed.
The latest American values survey from the Public Religion Research Institute (PRRI) found that 55 percent of U.S. adults had zero confidence in Trump conceding the election after his efforts to cast doubt over the result.
Thirty percent told pollsters they were "somewhat confident" that he would accept a Biden victory, and only 15 percent said they were "very confident" in the president conceding.
Roughly a third of Americans also said they had no confidence in Republican lawmakers stepping in to force Trump out of the Oval Office if he refused to go after November 3.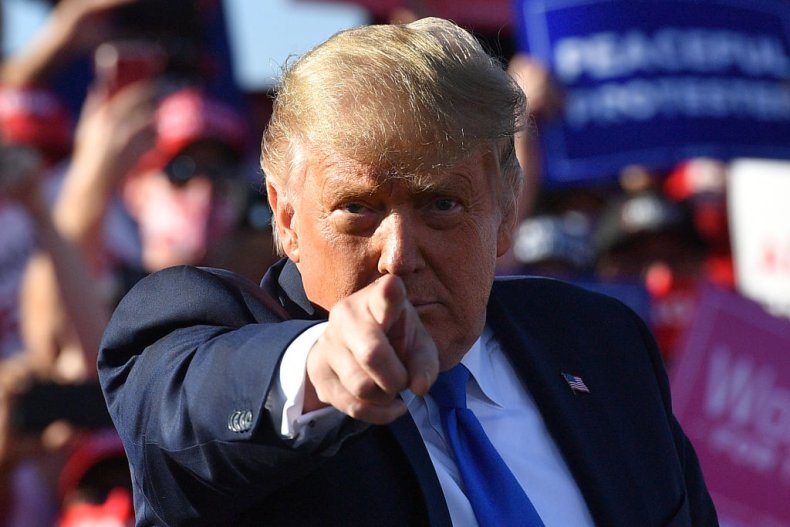 A little more than three quarters of Democratic voters (77 percent) told pollsters they didn't believe he would hand over the reigns of power after an election night defeat, and almost six in ten independent voters held the same view.
By comparison, only 24 percent of all Republicans and 17 percent of Fox News-watching Republicans had no faith in Trump conceding the White House to Biden. But 44 percent of GOP voters did say they had no confidence in the Democratic challenger accepting a loss to the president.
Asked whether they believed Republicans in Congress would oust Trump after an election defeat, 46 percent of Democrats had no confidence in GOP lawmakers enforcing the results of the vote. Thirty-eight percent of swing voters took a similar view, compared to a little over a quarter (26 percent) of Republicans.
A slim majority of all U.S. adults were confident that they would know the results of the election on the night, with 14 percent saying they were very confident and 42 percent being somewhat confident. Forty-four percent were not confident they would know the outcome of the contest on election night.
PRRI pollsters surveyed more than 2,500 U.S. adults between September 9 and September 22 for the poll published on Monday morning. Its margin of error stands at 2.6 percentage points.
The PRRI released the poll data after Trump repeatedly questioned, without evidence, the validity of the election results in the wake of mail-in voting expansions across the country.
Speaking to reporters at a White House press briefing last month, Trump refused to say whether he would agree to a peaceful transition of power in the event that he failed to win a second term in the Oval Office.
"We're going to have to see what happens," Trump said at the time. "There won't be a transfer, frankly; there'll be a continuation."