American Conservatives Celebrate, Progressives Fret Over UK Election News: 'Will That Happen in the USA Next November?'
American conservatives reacted triumphantly on Thursday to news that exit polls and early results indicating that the British Prime Minister Boris Johnson's Conservative Party would win a majority, while even some left-wing pundits wondered whether a progressive Democratic nominee would suffer the same fate as Labour's Jeremy Corbyn.
The apparent defeat of Labour Party leader Jeremy Corbyn has prompted a jubilant response from conservatives in the U.S., with many pundits predicting that the election could foretell good news for President Donald Trump in 2020.
Trump was elected in the second major global political upset of 2016, after the Brexit vote. Many Trump supporters see current efforts to impeach the president as an effort to overturn the result of that vote, just as the U.K. Parliament repeatedly refused to approve a Brexit plan that would allow Britain to leave the European Union.
The graphic below, provided by Statista, illustrates the swing in favour of the Conservatives.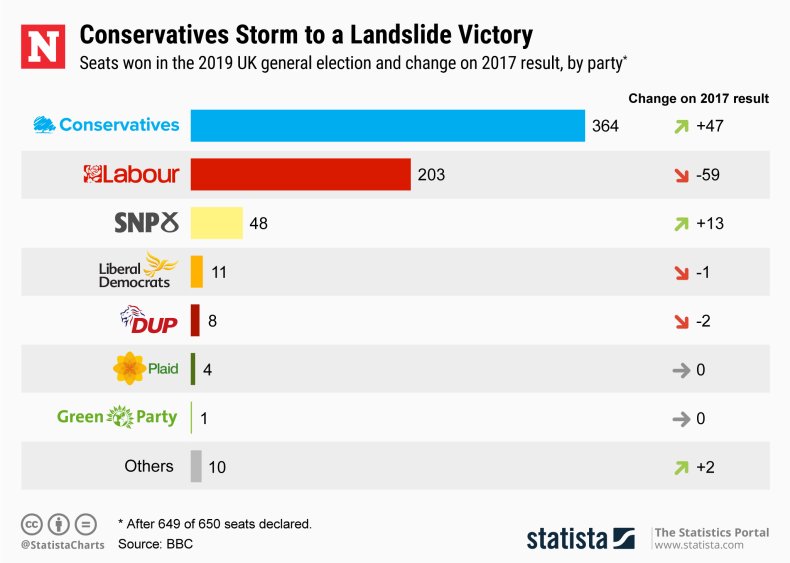 "Looks like the far left folks got hammered in the UK election today," said former Fox News host Bill O'Reilly. "Will that happen in the USA next November? Good chance."
Although some conservative commentators on the U.S. side of the pond have described Corbyn's Labour Party as "far left," the party has traditionally represented the U.K.'s mainstream left. However, Corbyn's leadership has been heavily criticized by some who may now feel the likely outcome of the election was due to his policies being too far to the left.
"By a margin of 9 points, British voters now think Brexit a mistake," claimed commentator David Frum. "How does an opposition party then lose to Mr. Brexit? By nominating somebody / something even more unacceptable."
Former Trump assistant and right-wing radio show host Sebastian Gorka claimed that Labour had been "crushed" due to British support for Brexit.
"Bojo did it. @UKLabour has been crushed," Gorka tweeted. "They denied the will of the People in BREXIT. Now they've lost 70+ seats and @BorisJohnson is stronger than ever. Bravo Boris!"
Columnist and author Peggy Noonan, a former speechwriter for President Ronald Reagan, suggested that the country's apparent turn to the right could represent an endorsement of Brexit.
"If the exit polls hold up this is landmark," wrote Noonan. "In effect an endorsement of Brexit, in fact a vivid endorsement of Get It Done, a kicking away from close-margin European lack of consensus, an utter rebuke of Corbyn and his 'yesterday's idea of the future' stand."
Former Republican congressman and current MSNBC host Joe Scarborough felt that the results were a clear sign of Corbyn's politics being out of line even with those who traditionally support the Labour party.
"The Labour Party is getting pounded in their strongholds up north and in the Midlands of Great Britain," tweeted Scarborough. "The blame is falling squarely on the shoulders of Jeremy Corbyn and Labour's leftward lurch. It was an inevitable result that will put Tories in power for another five years."
Likewise, journalist John Avlon cautioned Democrats of going too far left.
"If exit polls from the #UKelection are right, this is a cautionary tale for Democrats in the US about the perils of polarization and the predictable danger of a far-left leader who appeals to the base but not the larger electorate - losing to an otherwise unpopular conservative," Avlon tweeted.
Meanwhile, some members of the American left suggested that the results should represent a wake-up call for Democrats ahead of the 2020 election.
"The #UKElection should light a fire under every liberal/progressive in America," wrote filmmaker and activist Adam Best. "We need to inspire voters so this is not the Democratic Party's fate next November. "
Progressive campaigner Robert Cruickshank disagreed with any suggestion that Democrats should take the assumed results as a sign to move towards the center.
"For all these folks claiming UK election shows US Dems shouldn't go left...don't results of 2000, 2004, and 2016 presidential elections show real threat is Dems going to the center? Clinton won in '92 promising universal health care and no NAFTA. Obama won on a similar agenda," insisted Cruickshank.
The Young Turks reporter Ken Klippenstein offered some tongue-in-cheek "life hacks" for Brits who may fear that their country could begin to more closely resemble the U.S. due to the election results.
"Some life hacks for my UK friends: - call an Uber instead of an ambulance - take your dog's medications - don't get sick," Klippenstein tweeted.
Arizona congressional candidate Eva Putzova mirrored Klippenstein's concerns, but in a more serious fashion.
"If exit polls stand in #UKElection, Boris Johnson will have won. The NHS will be up for sale. Brexit will happen. To fellow Americans: We have a chance to avoid something like this in 2020. Let's use this moment to recommit to our fight for a better future. Never lose hope," Putzova wrote, adding an emoji of a fist upraised in solidarity.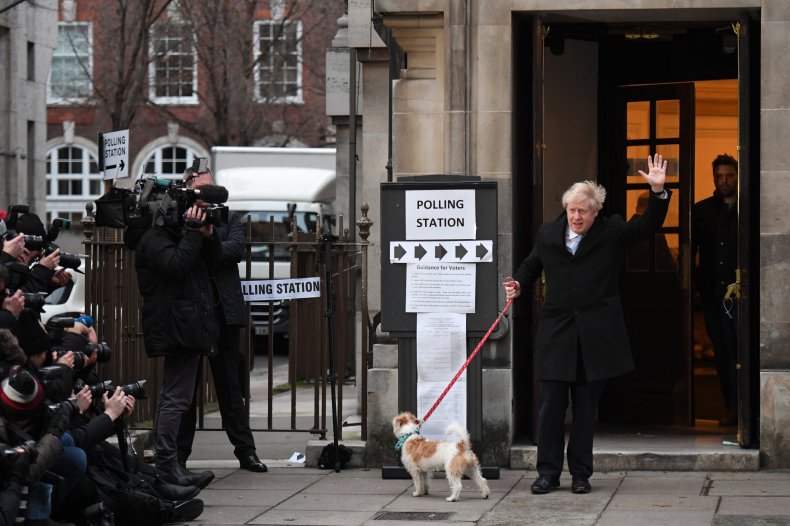 This article was updated to include an infographic.