Let Americans Jump Line at U.K.'s Biggest Airport, Says Heathrow Boss
The head of Britain's biggest airport said Americans should get the same fast-track access through U.K.border control as European citizens.
Currently, Heathrow's 60 e-gates are available only to those with biometric passports from the European Economic Area and Switzerland. Americans have to line up with all other nationalities in a process that, during busy times, can take hours.
But Heathrow chief executive John Holland-Kaye said these e-gates should also be available to U.S. travelers as well as to those from countries like Australia and Canada. He appealed to British Home Secretary Sajid Javid to abolish the restriction when the U.K. left the European Union on March 30.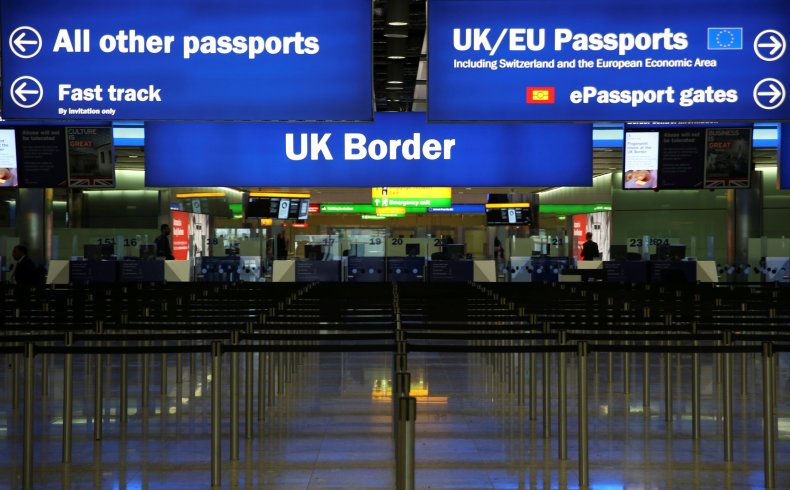 "There's no reason we should treat a passenger from the U.S. any differently from one from Lithuania. We have 60 e-gates at Heathrow, and you'll never see them all in use," he told The Guardian.
Holland-Kaye said the move would help ease lines, which have increased to the extent that non-EU passengers waited up to three hours at the airport's Terminal 4 recently.
"If the Americans aren't considered safe then no one is—they're at least as safe as our European partners.
"What better way on 30 March to show the world has changed than have Americans, Canadians and Australians use the e-gates? You know who is coming to your country, why do we need to treat everyone like a criminal when they get to the border?" he told The Guardian.
Earlier in July, planes had to wait by the terminal, because it was too busy for passengers to get off. Passengers from non-EU countries are supposed to pass through border control within 45 minutes—compared with 25 minutes for passengers from the U.K. or EU.
But The Sun reported that by July 19 this minimum time target for passport lines had been breached 1,300 times.
British Airways chief Alex Cruz told the paper: "Unless Heathrow gets more immigration officers and e-gates opened to other countries to reduce the current chaos, Britain will not appear open for business to our leisure and business visitors."
A Home Office spokesman told The Sun that in 2018, more than 95 percent of all passengers at Heathrow seeking entry to the U.K. were dealt with within the time targets, and that passenger waiting times had also been affected by late flights and arrival-hall capacity.
The Home Office said earlier this year it would recruit an extra 1,000 Border Force staff.
A record 38.1 million passengers passed through Heathrow in the first half of the year, Reuters reported. Last month, Parliament gave the green light for a new airport runway, and construction could start in 2021.