Americans Split on Prisoner Swap of Taliban for U.S. Soldier: Poll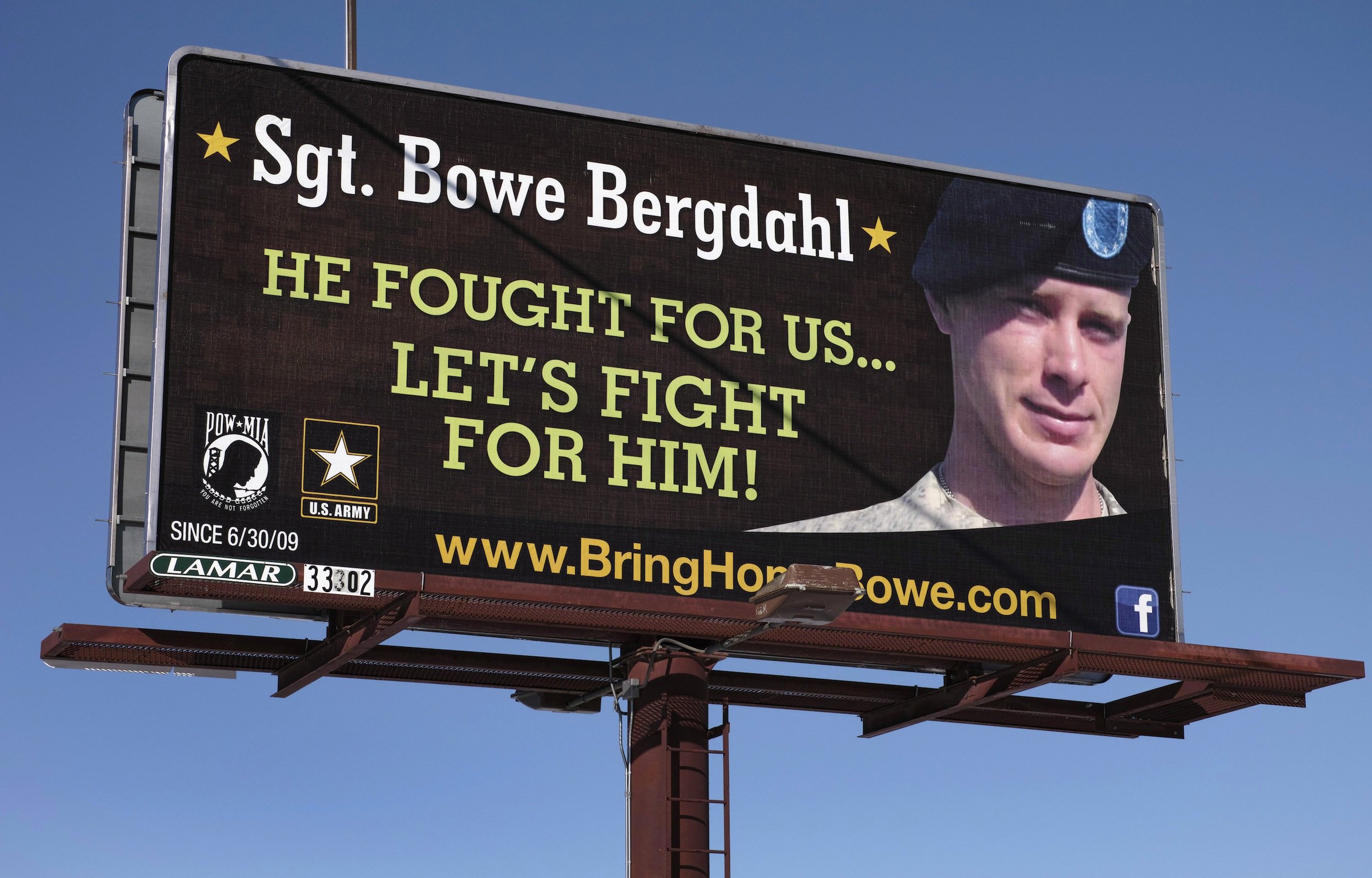 WASHINGTON (Reuters) - Americans are deeply divided over whether the Obama administration did the right thing by swapping five Taliban leaders to win the freedom of Afghanistan prisoner of war Bowe Bergdahl, according to Reuters/Ipsos survey released on Friday.
Americans strongly agree the United States should make every effort to free prisoners of war like Bergdahl, an Army Sergeant who was captured in eastern Afghanistan in 2009. But they also think the prisoner swap deal set a dangerous precedent.
The Reuters/Ipsos poll of 958 Americans interviewed online found that 44 percent disagreed with the statement that trading Taliban prisoners for Bergdahl was "the right thing to do," with 26 percent strongly disagreeing.
Twenty-nine percent of those polled said they thought the prisoner swap was the right thing to do and 27 percent said they were not sure, the poll found.
Bergdahl was handed over to U.S. special operations forces in Afghanistan last Saturday after the Obama administration agreed to send five Taliban leaders held at Guantanamo prison to Qatar, where they must remain for a year.
After an initial wave of euphoria over the release, the deal triggered a backlash among U.S. lawmakers angry because they were not given 30 days notice before the transfer of the Guantanamo prisoners, as required by law. Some of Bergdahl's former Army comrades said they believe he deserted his post.
White House counselor John Podesta said on Friday that President Barack Obama knew the prisoner swap would be a "controversial decision."
Obama decided to personally announce the exchange in the White House Rose Garden, accompanied by Bergdahl's parents, in order to explain to the public the reasons behind the decision, Podesta told a breakfast meeting.
The uproar over the prisoner swap has left Americans with conflicted views of the events, the Reuters/Ipsos poll showed.
Asked whether they thought Bergdahl was a patriot or a traitor/deserter, 65 percent said they did not know. Only 13 percent said they viewed Bergdahl as a patriot and 22 percent saw him as a traitor/deserter.
The respondents overwhelmingly agreed the United States should make every effort to recover prisoners of war, with 78 percent agreeing with that statement, including 48 percent strongly agreeing.
At the same time, they also thought trading five Taliban leaders for Bergdahl set a "dangerous precedent for future kidnapping or hostage-taking," with 66 percent agreeing with the statement, including 43 percent strongly agreeing.
The poll has a credibility interval of plus or minus 3.6 percentage points.
White House officials have said they were concerned about Bergdahl's health and felt they had to move secretly and quickly to secure his release once the exchange was decided.
Bergdahl was taken to a U.S. military hospital in Germany, where he was in stable condition and continuing to improve daily, according to an update by his doctors on Friday.
A U.S. official, speaking on condition of anonymity, said Bergdahl still had not called his parents "because he hasn't chosen to yet."
The official said Bergdahl had no physical issues preventing him from traveling but that there was no imminent plan to move the Idaho native back to the United States. Officials have declined to discuss his health issues, citing privacy concerns.