Americans Split on Trump Impeachment Inquiry but 73% Say Whistleblower Should Testify Before Congress: Polls
Americans are split over whether they support the Democrat-led House's recently announced impeachment inquiry into Donald Trump, but an overwhelming majority say they want allegations against the president explored, according to two new surveys.
A NPR/PBS NewsHour/Marist poll, released on Thursday, shows that 49 percent of Americans approve of the impeachment proceedings, while 46 percent disapprove and five percent said they were unsure.
Despite the divide, an overwhelming portion of respondents—three quarters—including a majority of Republicans, want the whistleblower to testify before Congress so the public can receive more information on the allegations against Trump.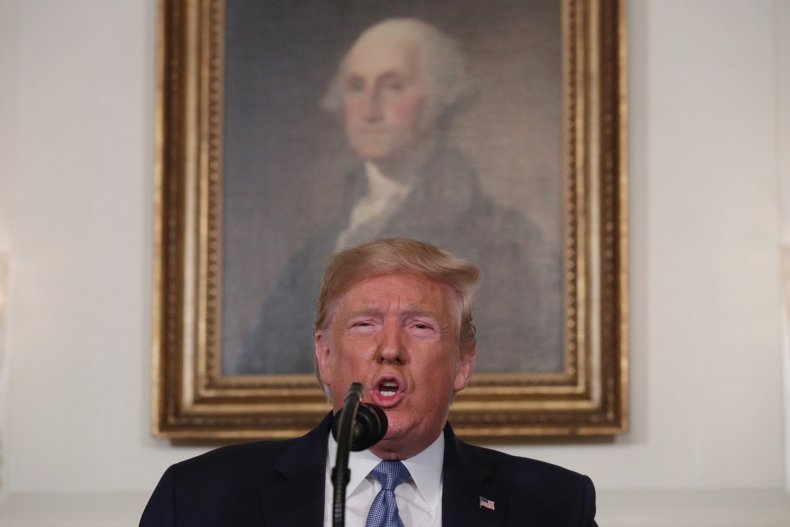 The survey was conducted on Wednesday night by phone, one day after House Speaker Nancy Pelosi announced a formal impeachment inquiry after the emergence of the whistleblower scandal and Trump's flubbed attempts to defend himself, but before the whistleblower complaint and summary of the president's phone discussion with Ukrainian leader, Volodymyr Zelensky, was released publicly. It surveyed 864 people in the U.S.
"Democrats in the House have work to do to convince people of the usefulness of their case," said Lee Miringoff, director of the Marist Institute for Public Opinion. "Independents still need to be convinced."
Respondents were also split on whether they thought the impeachment inquiry is of substance, with 50 percent saying it is a serious matter and 48 percent saying it's just politics.
Trump's overall approval rating—44 percent—was slightly higher than Pelosi's 39 percent. The poll shows that the president's base has rallied behind him more than Pelosi's, with 90 percent of Republicans approving of Trump's performance in the Oval Office while 74 of Democrats approved of Pelosi's.
Senator Mitch McConnell's approval rating was the lowest among the three political leaders, with only 32 percent of Americans approving of his performance as Senate Majority Leader. The Republican base were less supportive of McConnell then they are of Trump, with only 56 percent approving of the job he's doing in Congress.
A new Morning Consult poll, conducted between Tuesday and Thursday, showed a similar split among Americans on impeachment, with 43 percent of registered voters in support of impeaching proceedings and 43 percent saying Congress should not seek to remove Trump from office. 1640 registered voters across the U.S. were surveyed in the poll, which was conducted online.
The House Speaker announced an impeachment inquiry into Trump on Tuesday after the president had been accused of pressuring Zelensky to launch an investigation into his 2020 rival Vice President Joe Biden's son, Hunter Biden.