Americans Split on Whether Nation Would Be Better With Trump Win Over Biden, Poll Says
What if Donald Trump had won the 2020 election instead of Joe Biden? Americans are split on whether the country would be in a better place if that were the case, according to a new poll.
The Monmouth University survey, released Thursday, found 42 percent of U.S. adults think the current state of the nation would be "better off" if Trump had prevailed in the presidential race. On the other hand, 40 percent of respondents said the nation would be "worse off" if Biden had lost.
Some Americans, 16 percent, said things would be about the same if the election results had been different.
Biden bested Trump by 4-point margin in the popular vote and won the Electoral College 306-232.
Trump has continued to falsely say that the race was "stolen" and filled with fraud—claims that one-third of Americans support, according to the Monmouth survey. But a majority, 61 percent, of Americans said they believe that Biden won the election fair and square.
"The persistence of the 'big lie' continues to be a warning sign," Patrick Murray, the director of Monmouth's polling institute, said in a statement. "It is being fed and nurtured by messages that tout the possibility of overturning the 2020 result even though no such legal mechanism exists. While the number who hold this view might not sound like a lot right now, it's important to remember that it doesn't take an outright majority to destabilize institutions."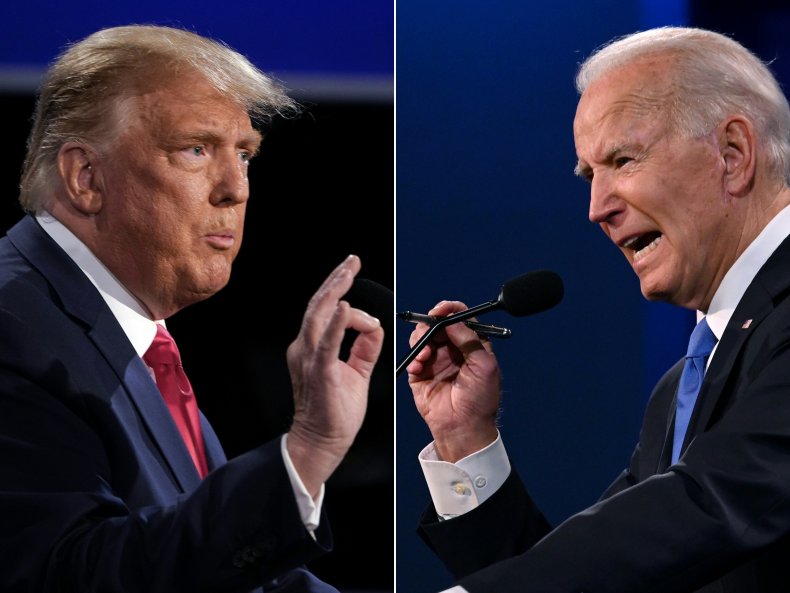 The poll's findings come one year into Biden's presidency. The Democrat saw some early legislative wins, including the passage of the American Rescue Plan to combat the coronavirus pandemic and a bipartisan law that will devote more than $1 trillion to roads, bridges and other infrastructure projects.
The White House has also touted its vaccination effort to get 200 million Americans inoculated against the virus, as well as adding more jobs to the economy to reach near pre-pandemic levels.
But Biden still faces challenges with inflation, the highly transmissible Omicron variant and congressional failure to pass his signature Build Back Better bill, as well as voting rights legislation.
The poll found that nearly two-thirds of Americans support establishing national guidelines to allow voting by mail and in-person early voting in federal elections in every state, a key component of the Freedom to Vote Act.
But the survey also found that Republicans who believe the 2020 presidential race was fraudulent are less supportive of regularizing vote by mail and early voting than Republicans who think Biden defeated Trump fairly.
Monmouth University surveyed 794 adults by phone between January 20 and 24. The poll has a margin of error of plus or minus 3.5 percentage points.