Americans Think Mueller and Comey Are Friends. They're Not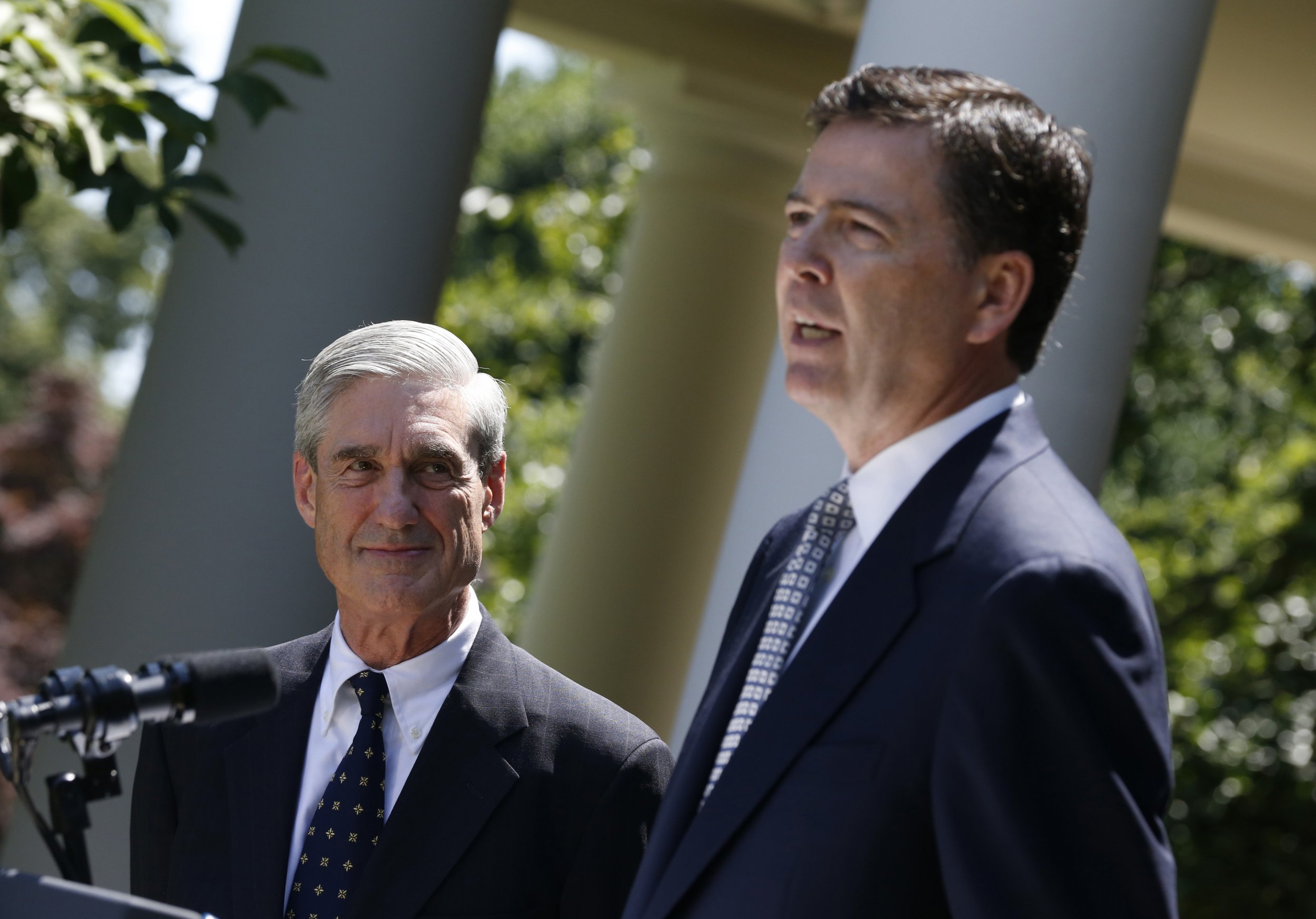 A majority of American voters believe that Russia investigation special counsel Robert Mueller and former FBI Director James Comey are friends, despite the fact the two men have never visited each other's homes or spent much time together outside of work.
New polling by Harvard's Center for American Political Studies shows that 54 percent of Americans think their relationship amounts to a conflict of interest.
Both are registered Republicans, and Comey succeeded Mueller as head of the FBI in 2013 following Mueller's tenure as bureau chief after being appointed in 2001 by President George W. Bush.
During the Bush administration, Come, served in the Department of Justice as deputy attorney general.
Mueller is investigating whether President Donald Trump obstructed justice when he fired Comey in early May as part of his probe into whether the Trump campaign worked with Russia to interfere in the 2016 election.
During a House Judiciary Committee hearing this week, Republicans urged Deputy Attorney General Rod Rosenstein to end Mueller's investigation after learning that an FBI agent, who was removed from the investigation over the summer, sent anti-Trump texts. Rosenstein said he saw no good cause to fire Mueller.
Last month, members of the hard-right Republican House Freedom Caucus argued that Mueller should step down because of "obvious conflicts of interest" in his investigation.
Related: U.S. risks 'coup' if Mueller investigation continues, Republicans warn
"Could Mr. Mueller be acting with vengeance? Or to vindicate his good friend and colleague James Comey, who had a very public feud with the president?" asked former Representative Trent Franks from the House floor November 8. Franks resigned early this month over a sexual harassment scandal.
In an interview in June, Trump said Mueller "is very, very good friends with Comey" and called their relationship "very bothersome."
Yet there is little evidence to suggest the two men are friends at all, said Benjamin Wittes, a personal friend of Comey's and a senior fellow in governance studies at the Brookings Institution, in response to the poll results Thursday.
"They are not, to my knowledge, personal friends," Wittes wrote on Twitter of Comey's relationship with Mueller. "Mueller and Comey are cordial former colleagues and two of the only people alive who have done a particular job."
"Jim and Bob are friends in the sense that co-workers are friends. They don't really have a personal relationship," David Kelley, Comey's attorney, has said. He noted that neither man has been to the other's home and that they have had lunch once and dinner twice during their decade-long overlapping careers in senior law enforcement positions.
While the Harvard poll shows Americans believe their relationship may be questionable, Mueller was viewed favorably by 34 percent of respondents, compared with 31 percent who had an unfavorable view.
Mueller's investigation has a 58 percent approval rating among Americans, according to a Washington Post-ABC poll in early November.
The investigation has filed indictments against four former members of Trump's campaign so far, including one-time campaign chairman Paul Manafort and national security adviser Michael Flynn, who resigned in February.