Americans Under Trump More Optimistic About Finding Good Jobs Than Ever Before
Americans are more optimistic about their chances of finding a good job than they have been in at least 17 years, according to a new Gallup poll. The survey found that 67 percent of all Americans believed that now was a good time to find a job—the highest percentage in the poll's history, up about 25 percent since President Donald Trump was elected to office in 2016.
Confidence in job acquisition began to fall at the end of President George W. Bush's presidency, and hit single-digit lows as President Barack Obama took office during the Great Recession. By the end of Obama's presidency, however, that number had quadrupled. That trend has continued through Trump's time in office: Unemployment has hit an 18-year low, at 3.9 percent, and the United States now has a job opening for every unemployed person actively searching, according to the Bureau of Labor Statistics.
Optimism toward job prospects rose among nearly all demographics, but the gap between men and women did widen, indicating that women may feel left out of the jobs boom. Seventy-one percent of men said their job prospects looked good, while only 59 percent of women said the same—a difference of 22 points, up from a 3-point difference in October 2016, the last survey before Trump was elected.
Young Americans are also struggling more than their Gen-X and Baby Boomer counterparts, according to the poll. Sixty percent of those between the ages of 18 and 29 indicated that "now is a good time to find a quality job," compared with 66 percent of those between 30 and 49, and 68 percent of individuals between the ages of 50 and 65. Before Trump was elected, young Americans between 18 and 29 were the most optimistic demographic about their job prospects.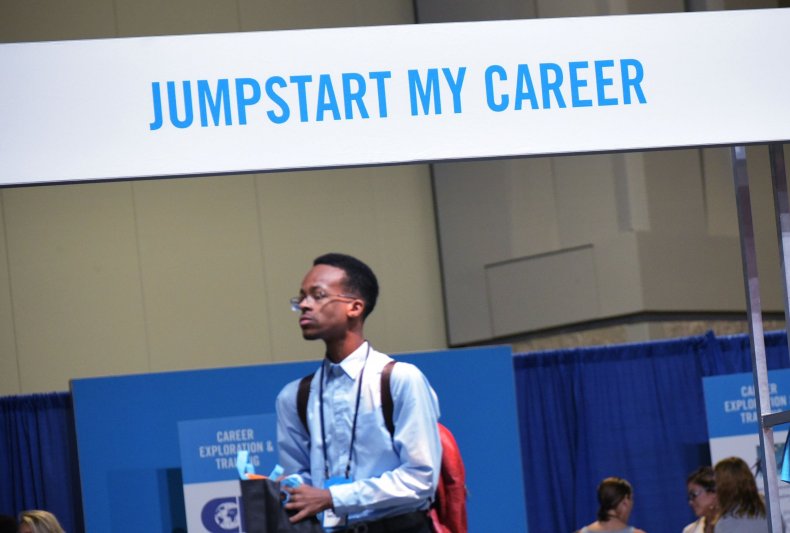 Gallup chalked the changes up to political motivations. "With Trump's election, Republicans gained confidence that the economy would produce quality jobs, and a sizable percentage of Democrats held on to the belief that decisions made during Obama's presidency created the conditions needed for the economy to prosper," wrote Jim Norman of Gallup. "With unemployment continuing to drop, Americans now survey the job market with a higher level of confidence that jobs are available and that the jobs are ones worth having."
An April Quinnipiac survey, however, found that a growing number of Democrats were willing to put economic performance down to the current president. According to the poll, 46 percent of Democrats agreed that it was Trump, not Obama, who was responsible for the current economy. The survey, however, found that only 9 percent of Americans would describe the economy as "excellent," and that 51 percent would label it as "good."
Former Obama adviser Valerie Jarrett hit the Sunday news-show circuit this week, working to give the credit to her former boss. "Look, I think we have to look at it over a longer horizon than that," she said on CNN. "If you think about what the economy was like when President Obama took office, we were losing 750,000 jobs a month. Under his watch, the unemployment rate dropped in half, and it's encouraging to see that we're continuing to make progress."