Americans Trust Democrats More Than Republicans on Health Care Ahead of 2018 Midterms, Poll Shows
With health care primed to be a major issue in the 2018 midterms, Americans trust Democrats more than Republicans when it comes to the subject, a new poll this week has shown.
A poll from YouGov/The Economist released on Wednesday asked: "Which party do you think would do a better job handling the problem of health care?" Respondents could choose either "Democrats," "Republicans" or "About the same."
Forty-one percent of respondents chose Democrats. Thirty-one percent chose Republicans while 28 percent said "about the same."
There was a predictable divide in opinions along party lines. Eighty-nine percent of Democratic respondents said they trusted Democrats most with health care, while 10 percent said "about the same" and just 1 percent said Republicans. Eight percent of GOP respondents said they trusted Republicans the most with health care, while 17 percent said "about the same" and 3 percent said Democrats, according to the YouGov/The Economist survey.
Interestingly, Independents were split evenly. Twenty-six percent chose Democrats, 26 percent chose Republicans and 48 percent chose "about the same."
The poll from YouGov/The Economist surveyed 1,500 U.S. adults from October 21 through October 23. It had a margin of error of plus or minus 2.8 percentage points.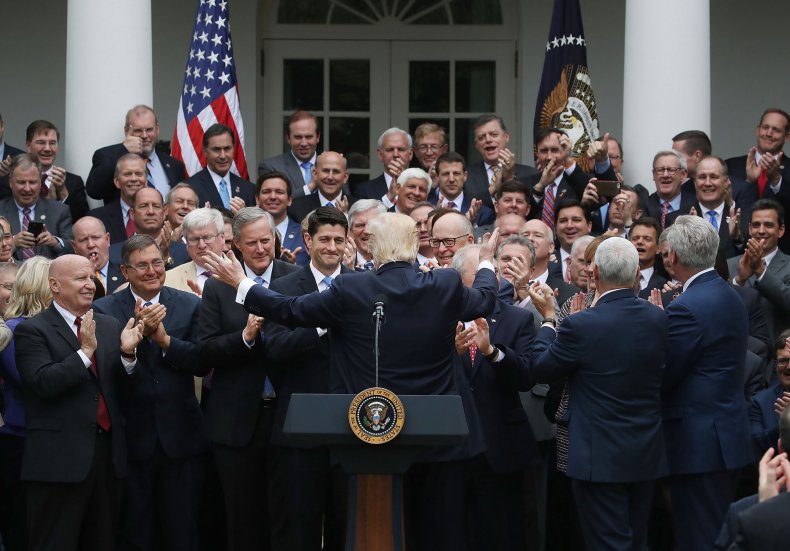 Health care will almost assuredly be a major issue and point of contention in the final days before Election Day in November.
President Donald Trump, for instance, on Wednesday tweeted, "Republicans will totally protect people with Pre-Existing Conditions, Democrats will not! Vote Republican."
Fact-checkers have shown this statement was false—as ABC News's fact-check pointed out, the Trump administration last summer urged a federal court to walk back the Affordable Care Act provisions that required insurers to cover people with pre-existing conditions and prevented insurers from charging higher premiums for folks with pre-existing condition. The Republican health care bill last year that failed to get through the Senate also would hurt the protections for pre-existing conditions.
That in mind, the GOP has seemingly made a push to improve how folks think about the party and health care—Wisconsin Governor Scott Walker made a similar claim about pre-existing conditions—while Democrats have been running ads attacking Republicans on the issue.