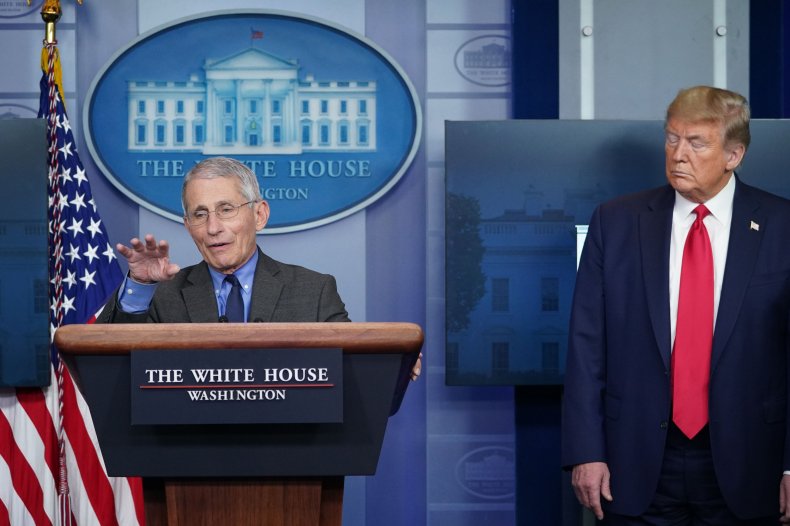 As President Donald Trump continues his effort to encourage states to relax social distancing measures and reopen their economies, newly-released polling shows that Americans trust him far less than their states' governors and National Institute of Allergy and Infectious Disease Director Dr. Anthony Fauci when it comes to dealing with the coronavirus pandemic.
According to a Morning Consult poll of 1,991 registered voters conducted on April 18 and 19, 71 percent of those surveyed said they would trust Fauci "a lot" or "some" if he advised ending the social distancing measures that most states have imposed to prevent the spread of SARS-CoV-2.
Just 9 percent said they would trust him "not much," and eight percent said they would not trust him at all.
Fauci, a 2008 recipient of the Presidential Medal of Freedom who has led the NIAID since the Reagan administration, has become somewhat of a bête noire for a number of right-wing media figures, including Fox Business Network host Lou Dobbs and Tucker Carlson of the Fox News Channel. At some of the small protests against the mitigation measures that have sprung up in state capitals in recent days, chants of "Fire Fauci" could be heard among attendees.
However, the survey found that respondents of all political stripes would trust his judgment over any of the others figure they were asked about.
A clear majority of respondents also said they would trust their state's governor if he or she recommended an end to the social distancing guidance that has kept most Americans in their homes in recent weeks.
Of the registered voters surveyed, 59 percent said they would trust their governor "a lot" or "some," compared with 31 percent who would trust their governor "not much" or "not at all."
Yet at the same time, a majority of voters—52 percent—said they would not trust Trump to varying degrees if he were to make the same recommendation.
While 11 percent said they would trust the president "not much," a significant plurality of 41 percent said they would not trust the president's word at all on the matter. The same percentage of respondents also said they would rate Trump's handling of the Covid-19 pandemic as "poor."
State governments also took top marks for their handling of the novel coronavirus crisis in an Associated Press-NORC poll of 1,057 adults between April 16 and April 20.
The vast majority of respondents—63 percent—said they either "strongly" or "somewhat" approved of both their state and local government's response to the pandemic, compared with 40 percent who said they approved of the federal government's response.
The same survey also found that 80 percent of respondents support the stay-at-home orders that are still in effect in most states.