Russian President Vladimir Putin appears to be gearing up for an invasion of Ukraine, prompting some Americans living in that country to make the difficult choice of leaving their homes.
In recognizing the independence of Luhansk and Donetsk, two separatist regions, Putin questioned the sovereignty of Ukraine and is sending Russian troops to Donbas for a "peacekeeping mission." His comments have raised concerns that he believes Ukraine is Russian territory, escalating the tensions with Western leaders who speculate he's planning a military attack.
"We are alarmed by yesterday's speech and the recent steady escalation of the conflict, particularly in the east," Heath Morrison, a technology executive based in Kyiv, told Newsweek. "It's scary and surreal."
Morrison and his family have lived in Kyiv since 2010, so leaving their home means pulling his sons out of school and away from their social network. It also means leaving behind his Ukrainian colleagues who may not be able to depart as easily and sending a statement to his staff that he has "no confidence in their personal safety and well-being."
In the three weeks since Newsweek first spoke with Morrison, the situation in eastern Ukraine has grown increasingly violent. On Monday, Morrison said his family is considering moving temporarily to somewhere else in Europe and has already relocated to Lviv, a city about 330 miles west of Kyiv near the Polish border.
Pro-Russian separatists have clashed with the Ukrainian military for years in eastern Ukraine. As Putin built up military forces along the border with Ukraine, global officials became increasingly concerned about his plans for a potential Russian invasion of the country.
Conflict in the eastern part of Ukraine became a part of life, and some in western Ukraine have questioned how what's happening now is any different than the last seven or eight years.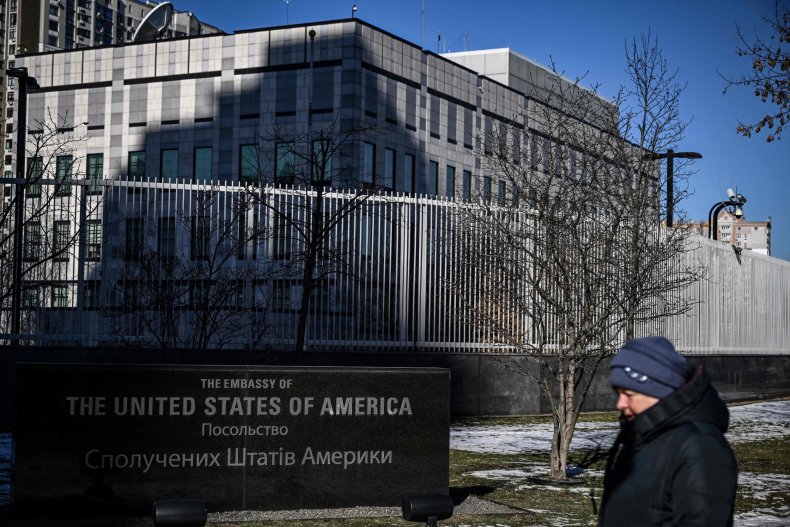 Rick Cain, who lives in Ivano-Frankivisk and runs an IT company, doubted fighting would reach his western Ukrainian town. While Putin's rhetoric on Monday made some question whether he planned to reclaim Ukraine for Russia, Cain dismissed the possibility because adding the 40 million people who live in Ukraine to Russia is "too heavy of a cost economically."
Putin called the situation in Donbas "critical" and used his Monday speech to question the individual identity of Ukraine. He credited the Bolsheviks and Communist Russia with the creation of Ukraine and lambasted Vladimir Lenin, the founder of the Russian Communist Party, for "severing what is historically Russian land."
Putin added that a "stable statehood" never developed in Ukraine and accused the government of creating a "puppet regime" of the United States, calling into question its sovereignty.
Corie Jason, who moved to Kyiv three years ago and teaches English, told Newsweek most of her concern is based on President Joe Biden's comments. The White House repeatedly advised Americans in Ukraine to leave the country and officials have been cautioning that Putin plans to launch a full-scale war within days.
Jason left Kyiv to stay with a friend in Budapest but said she still remains in contact with her adult Ukrainian students, who mostly aren't "too worried." Since Kyiv is her home, she's hoping to return in about two weeks if war isn't "actually happening."
But if Putin's plan is to attack Ukraine, she believes he'll "find an excuse" and "nothing will stop that" unless a diplomatic path can be identified.
U.S. Deputy National Security Advisor Jonathan Finer told CNN that Putin "closed the door even further to diplomacy." While America hoped to resolve the conflict through conversations with Putin and Biden, Finer said Russia is headed "down the path for war."
For Americans in Ukraine, making the decision to leave isn't an easy one. Randall Collett, an American who's lived in Ukraine for about four years, would come back to the United States if it was an option. However, it would mean leaving his wife behind. The couple has been waiting on her spousal visa for 10 months, and Collett accused the United States of creating a "refugee crisis" because of visa backlogs and red tape.
After multiple "pressure" phone calls and emails from the American embassy urging them to leave, Collett and his wife decided to wait for her spousal visa in Poland. But he's unsure when it'll come through.
"So, basically [we're] refugees in Poland," Collett said.