Americans View Putin as Stronger Leader Than Biden Amid Ukraine Standoff
U.S. President Joe Biden has a leg up on Russia's Vladimir Putin when it comes to favorability and trustworthiness with Americans—but there is one area where Putin is ahead.
More Americans view the Russian president as a stronger leader than Biden, according to a new poll. Thirty percent of those polled described Biden as a strong leader, compared with 57 percent who said the same about Putin. The findings come as Biden warns Putin not to invade Ukraine, threatening "swift and severe consequences" if Russian forces cross the border into the Eastern European nation.
Fears of war have been growing for months as Moscow builds up its military presence around Ukraine, amassing an estimated 130,000 troops. While the White House has hoped for a diplomatic solution to the tensions, Biden said Sunday that Putin is asking for "things he cannot get." National Security Advisor Jake Sullivan also emphasized on NBC's Meet the Press that their assessment remains that an "invasion of Ukraine could happen at any time."
Meanwhile, Moscow has downplayed the administration's warnings. Russia's deputy ambassador to the United Nations, Dmitry Polyanskiy, wrote in a Twitter post that the U.S. was stoking "madness and scaremongering."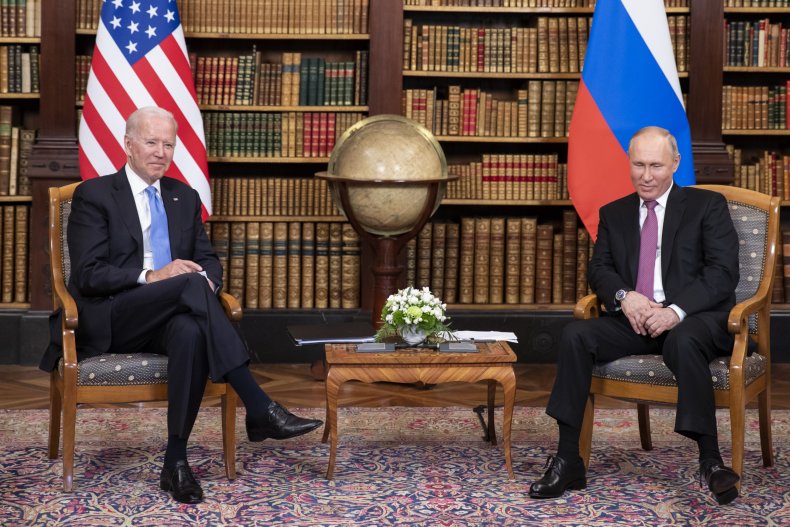 Putin has accused administration officials of "ignoring" his security demands. The president also wants the U.S. and its allies to ban Ukraine from joining NATO.
In the YouGov survey, most Americans didn't support making concessions to Russia—such as sending Russia financial aid or promising that Ukraine will never join NATO— even if the actions were made to prevent war.
While more Americans polled said Putin was a stronger leader, they generally favor Biden and view him as more honest.
More than a third of U.S. citizens surveyed had a favorable opinion of Biden, while only 9 percent had a favorable view of Putin. The two leaders had similar scores when it came to trustworthiness: Thirty-nine percent of Americans said Biden was honest and trustworthy compared to Putin's 6 percent.
Last week, the Biden administration said that Russia has been preparing a propaganda video showing a fake attack by Ukrainian forces to use as a pretext for an invasion.
"Our objective is to deny Russia the opportunity to use these lies to justify an invasion of Ukraine and to convey clearly these are actions we're seeing that are straight out of their playbook," White House press secretary Jen Psaki told reporters. "We've seen them run false-flag operations in the past and use confusion to launch military action many times in history."
YouGov surveyed 1,500 U.S. adult citizens between January 29 and February 1, 2022. The poll's margin of error is plus or minus 3 percentage points.
Newsweek reached out to the White House for comment on the survey's findings.