Over the past 11 months, Republicans and Democrats have worked together to pass nearly $4 trillion in emergency COVID-19 fiscal relief. The crisis is far from over, which is why Republicans stand ready to work with Democrats to provide additional relief, ensure vaccines are distributed and begin the process of rebuilding our economy.
But last week Democrats said no.
Rather than work together—something two-thirds of Americans say they want—Senate Democrats rammed through a partisan COVID-19 relief budget on a party-line vote during the early hours of Friday morning.
With this blatantly partisan process, which included stripping out bipartisan policies in the dead of night, it seems inevitable that congressional Democrats will pursue a COVID-19 package that caters to the most radical elements of their base instead of focusing on the needs of the American people.
But it doesn't have to be this way if President Joe Biden is actually willing to work with Republicans.
I offer my colleagues some ideas of where we could start.
First, any meaningful, bipartisan package should throw a life preserver to as many Americans as possible—including middle-class families—by increasing Americans' direct economic impact payments from $600 to a full $2,000. Even before President Biden's inauguration, I have repeatedly advocated this as a starting point for cooperation.
Second, the package must include urgent funds necessary for COVID-19 vaccine distribution, as I said last month and the House's Blue Dog Coalition urged just last week.
Third, a bipartisan bill should also support direct assistance to struggling American families. The president's plan offers steps in this direction, but I support an even larger boost than the current proposal by increasing the child tax credit (CTC) to $3,500 per older child and $4,500 per younger child. Republicans doubled the CTC in 2017, and we are ready to do even more now. This expansion must not penalize at-home caregivers or undermine the work, training and child support requirements of parents receiving welfare benefits.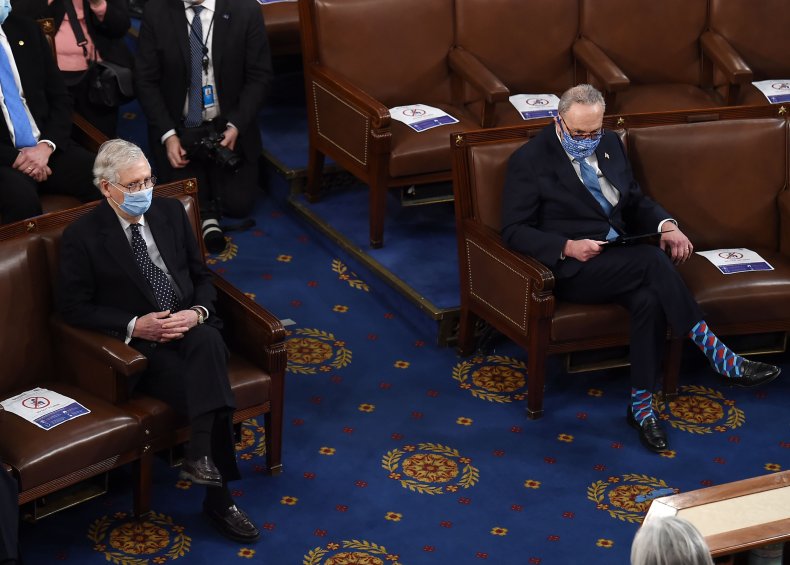 Fourth, a bipartisan relief package should include meaningful incentives to reshore supply chains in areas of the country once home to thriving manufacturing industries, like Puerto Rico. My Medical Manufacturing, Economic Development and Sustainability (MMEDS) Act, introduced with Representative Jenniffer González-Colón (R-PR), represents a good starting point. We should also strengthen "Buy America" requirements for medical supply chains and pharmaceuticals. These represent solid steps to bring back good jobs and make sure we can make things like medical supplies and advanced technologies in America, so that nations like China can never hold us hostage.
Fifth, we should make sure that our manufacturers, health care providers and businesses are not subjected to frivolous lawsuits if they follow best practices.
Finally, a serious bipartisan plan will provide a clear way forward for our nation—especially our youngest Americans. Tens of millions of our children have not been in a school classroom for nearly a year now. The consequences for their educational outcomes, socialization and mental health have been nothing short of catastrophic. Opening our schools back up is contingent on being able to do so safely, but the Centers for Disease Control and Prevention has made clear that we've already reached that point. A genuine bipartisan package must therefore include accountability for school systems that are not making our children's education their top priority.
These are all ideas that can transcend partisan bickering. Just as Democrats must work with Republicans, Republicans must work with Democrats.
For example, I understand Democrats are eager for state and local governments to get money in this legislation. I have said in the past that these entities will need support, but we should ensure we are dealing with legitimate COVID-related costs and not bailing out states that have dysfunctional budgeting. It appears revenues have come in for state governments at a higher clip than some people's worst fears might have predicted, but there are still increased costs and some revenue losses that can be addressed. These issues can be solved in an enduring, bipartisan way if Democrats come to the table.
The American people have repeatedly made clear that they want a bipartisan response to the ongoing pandemic. President Trump did it, and President Biden campaigned on it. With last week's vote, we've now initiated the leftward lurch away from bipartisanship, away from compromise and ultimately away from productive lawmaking. But it's not too late. President Biden, Leader Schumer: Let's give our nation the relief it desperately needs and get this done right.
Marco Rubio, a Republican, is the senior U.S. senator from Florida.
The views expressed in this article are the writer's own.