Meghan Markle Should Be Invited to King Charles' Coronation, Americans Say
Prince Harry and Meghan Markle should be invited to King Charles III's coronation in May, according to more than half of Americans, exclusive Newsweek polling shows.
The Duke and Duchess of Sussex launched wide-ranging attacks on the institution of monarchy, as well as significant criticisms of specific royal family members.
Harry's book Spare accused Queen Consort Camilla of leaking stories to the media about him, Prince William of pushing him to the ground during an argument, and Kate Middleton of making Meghan cry.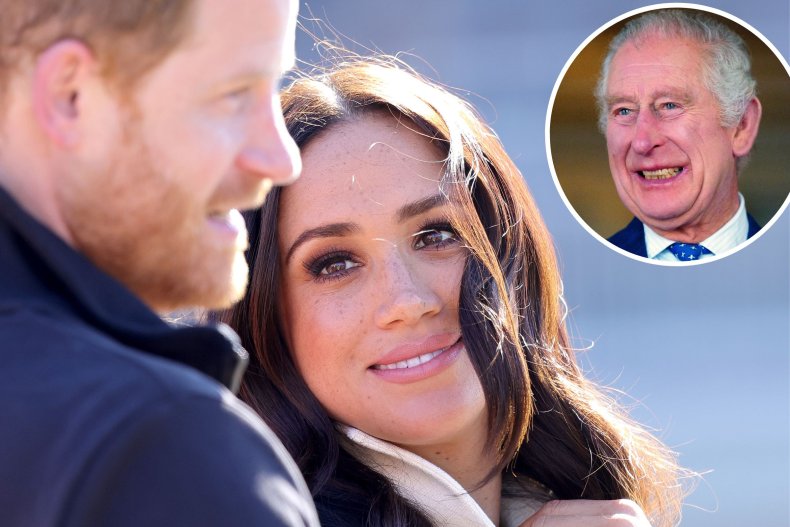 Harry and Meghan's own U.S. approval ratings plummeted in the aftermath of his book and their December 2022 Netflix docuseries Harry & Meghan.
However, most Americans still believe the couple should be invited to Charles' coronation at Westminster Abbey, in London, on May 6.
Data collected by Redfield & Wilton for Newsweek shows 58 percent believe Meghan and Harry should get the invite, compared to 15 percent who thought they should not. And 27 percent either did not know or had no opinion, according to the survey of 1,500 adults, carried out between January 28 and 29.
British newspapers, including The Daily Telegraph, have been reporting that Charles would like Harry and Meghan to come to the ceremony. The king has enlisted the help of Archbishop of Canterbury Justin Welby as a negotiator.
However, Harry was elusive when asked during a ITV interview on British television in January 2023: "There is a lot that can happen between now and then. But, you know, the door is always open, the ball is in their court."
The coronation—described by Buckingham Palace as "a solemn religious service, as well as an occasion for celebration and pageantry"—will include a series of events across a long weekend, in a similar manner to the Platinum Jubilee in June 2022.
The ceremony itself, though, will be on Saturday, May 6, and begin with a carriage procession taking Charles and Camilla from Buckingham Palace to Westminster Abbey.
A palace statement in January read: "After the Service, Their Majesties will return to Buckingham Palace in a larger ceremonial procession, known as 'The Coronation Procession'. Their Majesties will be joined in this procession by other Members of the Royal Family.
"At Buckingham Palace, The King and The Queen Consort, accompanied by Members of the Royal Family, will appear on the balcony to conclude the day's ceremonial events."
Charles would have a range of options for including Harry and Meghan. They could be given the same access as senior, working royals like Prince William and Kate Middleton, or a scaled-down role.
For example, Harry and Meghan could be offered a seat at Westminster Abbey to watch the service but denied a place in the procession and palace balcony appearances.
During the Platinum Jubilee in June 2022, the couple were invited to the opening event, Trooping the Color, Elizabeth's birthday parade. However, they were allowed to watch only from a side office, where they were mostly not visible.
This meant the media spotlight fell instead on other members of the royal family. Alongside the queen herself, it turned out to be Prince Louis who stole the show.
It is equally possible that, even if an invite is extended, that Harry and Meghan may simply choose not to attend.
Jack Royston is Newsweek's chief royal correspondent based in London. You can find him on Twitter at @jack_royston and read his stories on Newsweek's The Royals Facebook page.
Do you have a question about King Charles III, William and Kate, Meghan and Harry, or their family that you would like our experienced royal correspondents to answer? Email royals@newsweek.com. We'd love to hear from you.