Americans Who 'Strongly Approve' of Biden's Performance Halves to 15 Percent: Poll
President Joe Biden's favorability among supporters appears to be dropping even among those who "strongly approve" of the Democrat, a new CNN poll conducted by SSRS found.
According to the poll, 48 percent of adults approve of Biden's presidency while 52 percent disapprove. Among respondents who "strongly approve" of the president, the number has decreased from 34 percent in April to 15 percent in November.
CNN does not always ask Americans to rate their approval strength in each poll but reported that during the presidencies of Barack Obama and Donald Trump, the number never sunk below 20 percent.
Thirty-six percent of respondents said they "strongly disapprove" of Biden's presidency which is similar to the percentage of April respondents—indicating that his rating decline comes from a group that wasn't already opposed to Biden, CNN reported.
The poll found that among Democrats and Democratic-leaning independents, almost all adults 65 or older, about 95 percent, approved of the president. However, for those under 30, the number drops to 61 percent approving. Only 9 percent of the subset strongly approve of the president.
CNN's polling also found that the majority of Americans, around 58 percent, think that Biden hasn't paid attention to the most important issues in the country, however, it was conducted between November 1 and 4 which was before the House passed the bipartisan infrastructure bill.
More than one-third of Americans or 36 percent said the economy is the biggest problem the nation faces. Within that group, 72 percent responded that Biden hasn't been paying attention to the right issues, according to the poll.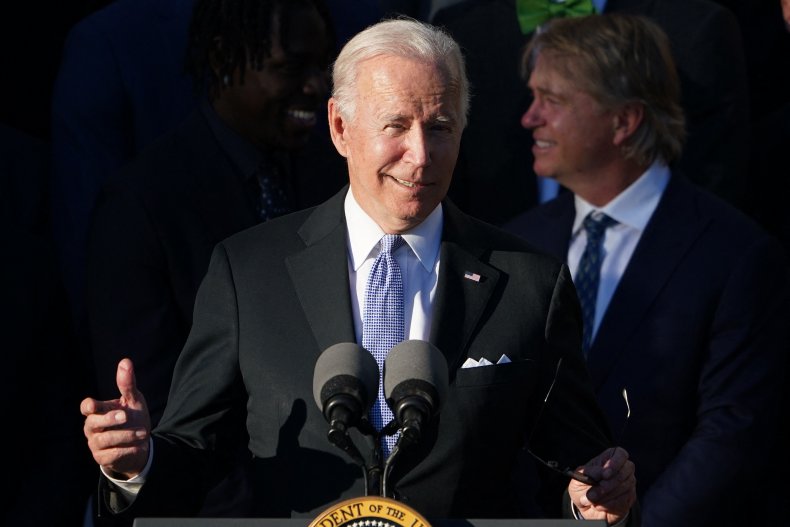 The pandemic was ranked as the second most pressing issue, with 20 percent most concerned about COVID. Yet 79 percent of respondents in the subset approved of Biden's priorities while 21 percent did not.
Although 6 in 10 said they don't think the president has the right priorities, it's in line with what respondents said about Trump in September 2017 and Obama in January 2010. According to CNN, 59 percent and 55 percent disapproved of the former presidents' priorities in those months, respectively.
Both Republicans and Democrats lost power in Congress following the midterm elections during the presidents' second year, the CNN poll questioned voters one year out from the 2022 elections.
When asked if the Congressional elections were being held today, 49 percent of voters said they would vote Democrat in their district while 44 percent said they'd vote Republican. A CNN poll from November 2009 had similar results with 49 percent saying they'd support Democrats and 43 percent saying they'd back the GOP.
But CNN noted that with redistricting and the results of recent elections, Democrats may actually win "a smaller share" and that it appears Republicans are "more enthusiastic" about voting at the moment which could hurt the president's party during the midterm elections.
Just more than half of the registered voters, around 52 percent, said their vote next year will not be about Biden but those who are trying to send him a message are not doing so in support. Twenty-six percent said they would send a message that opposes the Democrat at the polls while 19 percent said they'd be sending a message of support.
The poll also asked respondents about their confidence in the midterm elections being conducted fairly, and about two-third of Americans or 65 percent said they are confident it will be conducted fairly. Only 31 percent said they are very confident.
Among political parties, there is a big divide in their response. Just 40 percent of Republicans expressed confidence in the fairness of the upcoming elections compared to 84 percent of Democrats and 66 percent of independents who offered the same response.
Newsweek reached out to the White House for comment.