In case you missed it, the United States didn't qualify for the World Cup. It was a stunning comedy of errors at the highest levels in the U.S. Soccer Federation, led by former President Sunil Gulati—leading much to be been both spoken and written about the historic failure and the reasons for it in the ensuing eight months.
But amid bitterness over the American side tripping over itself to miss the World Cup, U.S. soccer fans were left without a squad to cheer for in the World Cup.
A new poll from YouGov released this week revealed that many Americans seemed to have shifted their loyalties to Mexico and England. The firm asked respondents who expressed interest in the World Cup: "Which country do you WANT to win the 2018 World Cup?" The U.S. respondents were presented with each and every nation in the tournament.
A plurality—18 percent—chose Mexico. Eleven percent chose England, according to YouGov. No other nation hit double digits, although Germany and Brazil came close at 9 percent each.
In a way, these results make sense. In the United States, there are roughly 36 million people of Mexican descent, or about 63 percent of the U.S. Hispanic population, according to the Pew Research Center. And England getting the second-most votes seems logical since many American soccer fans grew up watching the English Premier League.
The YouGov survey polled 1,500 total U.S. adults from June 24 through June 26. It had a margin of error of plus or minus 3.1 percentage points. Of the 1,500 U.S. adult respondents, more than 400 expressed an interest in the World Cup.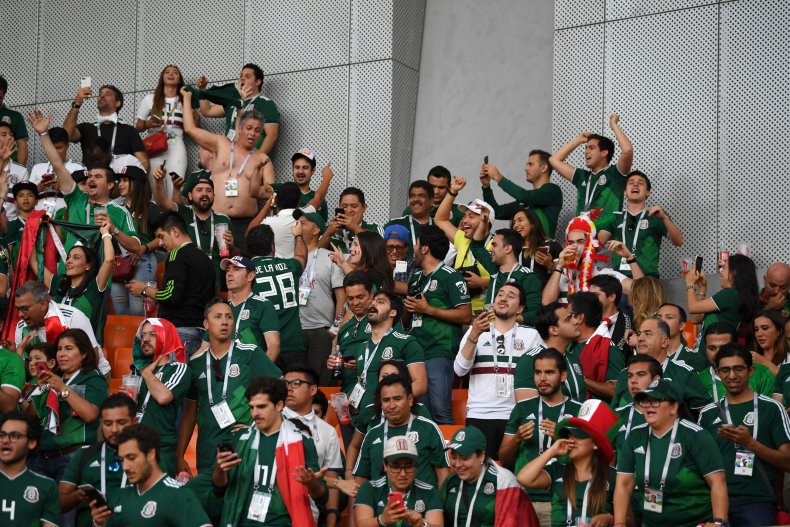 There was, however, a divide along party lines when choosing a World Cup rooting interest, according to the YouGov poll. Among Hillary Clinton voters who expressed interest in the tournament, 26 percent hoped Mexico would win, while England had the second-highest figure at 12 percent. In contrast, among voters for President Donald Trump interested in the World Cup, 16 percent wanted England to win while just 7 percent wanted Mexico to win. Again, there would appear to be some logic behind those findings, given that the former-reality-TV-star-turned-president has often insulted Mexican immigrants and even kicked off his campaign by saying the country was sending the U.S. criminals and rapists.
There has been a push by some in the U.S. for American fans to adopt Mexico—the U.S's longtime rival—as its preferred side for the 2018 World Cup in Russia. U.S. soccer great Landon Donovan was criticized for appearing in an advertisement for Wells Fargo in which he held a scarf reading, "My other team is Mexico."
"To begin, my heart bleeds red, white and blue and no one should ever question my allegiance to and support of US Soccer and its national teams," Donovan wrote in statement in response. "That being said, having grown up east of Los Angeles playing with Mexican teammates whose passion for futbol inspired me at a very young age, as well as recently with Club Leon in Liga MX, I always have had a strong connection and respect for our neighbor."
That doesn't mean Mexican fans were ready to return Donovan's embrace.
"There are two guys that Mexico fans love to hate," Hector Ramirez, a Mexico supporter at the World Cup in Moscow told USA Todaythis week. "Donald Trump—and Landon Donovan."