America's 3 Largest Coronavirus Prison Outbreaks, Located In Texas, Have Infected Over 2,100 Inmates
The largest coronavirus prison outbreaks in the U.S. have infected more than 2,100 inmates across three facilities in Texas.
The federal prison in Seagoville has the highest number of cases among inmates out of all the country's federal prisons with 1,132 confirmed cases of COVID-19, as of Monday, July 20. At FMC Carswell, 509 inmates have tested positive for coronavirus and FCI Beaumont has reported 468 infected inmates, according to the Federal Bureau of Prisons.
On Monday, the Bureau of Prisons said that a 51-year-old inmate at Carswell had died from COVID-19 after testing positive for the virus on June 30.
The location of America's three largest prison outbreaks have resulted in three inmate deaths. One at FCI Seagoville and two at the women's facility Carswell. Both are located in the Dallas-Fort Worth metroplex.
There have been relatively few recoveries at these three facilities. Three inmates at Carswell and two at the federal prison in Beaumont have recovered. In comparison, 97 percent of inmates that tested positive at the prison in Butner, North Carolina have recovered. FCI Butner has the fourth-highest number of coronavirus cases.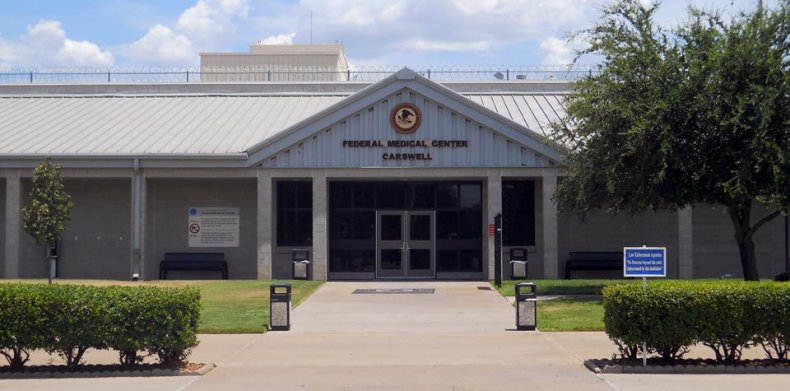 Multiple women at Carswell told Fort Worth Star-Telegram that the facility lacked sufficient cleaning supplies and personal protection equipment. They also raised concerns that cells were not being sanitized immediately after an inmate tested positive.
"We feel basically abandoned," inmate Holli Chapman told the Star-Telegram. "[Officers] are saying they're doing all this stuff for us, that they're in here with us. But they're not the ones in 24-hour quarantine, left in a 6-by-6 cell with three other people with 10 minute showers, 10 minutes to be on the phone or email to communicate with their families."
The close quarters of prisons have made social distancing between inmates nearly impossible and have caused the facilities to become coronavirus hotspots.
Chapman also said face masks were only handed out for the first time at Carswell on July 14, despite the first cases of COVID-19 among prisoners being diagnosed nearly four months earlier on March 20.
In a statement emailed to Newsweek, the Bureau of Prisons said that it is "carefully monitoring the spread of the COVID-19 virus," which includes restricting movement down 94 percent from this time last year.
The Bureau of Prisons is currently in the eighth phase of its coronavirus action plan and is expected to remain so until July 31. Social visits across all federal prisons have been temporarily suspended. The transfers of inmates to and from different facilities has also been suspended by the bureau but limited exceptions, like one made in California, have caused surges in cases.
San Quentin Prison in California saw a spike in infections after 122 inmates were transferred from another state prison in Chino.
The Bureau of Prisons said that, as of June 19, "all inmates entering or departing a BOP facility are required to participate in a test in/out enhanced screening and quarantine/isolation process." Testing negative would result in a 14-day quarantine for a new inmate and they must test negative again before joining the other inmates.
According to data from the Marshall Project, there have been at least 9,437 cases of coronavirus reported among inmates in federal and state prisons.
Update 07/21/20 3:22 p.m. EDT This story was updated with comments from the Bureau of Prisons.