America's COVID Death Rate Drops to Record Low as Cases Reach Pandemic High
The raging Omicron variant has pushed COVID-19 cases to record highs in the U.S., but America's case fatality rate has dipped to 1.39 percent, its lowest mark since the first wave of cases struck in March 2020.
The U.S. mortality rate hovered around 1.6 percent from the end of August until mid-December when it started to drop. The highly infectious Omicron has milder disease properties and the widespread use of vaccines has so far prevented deaths from spiking out of control.
On Jan. 1, America's case fatality ratio dropped below 1.5 percent for the first time since the start of the pandemic. At the height of the first wave, the case fatality ratio stood at 6.25 percent, according to Our World In Data, a scientific publication maintained by the University of Oxford.
The case-fatality ratio measures the number of confirmed deaths against the number of confirmed infections. It's an imperfect measurement, as it doesn't factor in the true number of cases or deaths, especially in a fluid situation like the COVID-19 pandemic. But, Dr. Michael Ben-Aderet, told Newsweek it's a "good marker" of the overall mortality rate.
If one aspect of the ratio was to be underreported, he suspected it would be cases because there's a "pretty good system" for reporting COVID-19 deaths whereas cases could go undetected if a person is asymptomatic or only has mild symptoms. Cases are also being undercounted because of the prevalence of at-home tests, which aren't reported in official case tallies.
One of the main contributors to the decline in the case fatality ratio is likely the increase in vaccinations and boosters. At the height of the pandemic, no one was vaccinated, and last January, when fewer than 2 million Americans were fully vaccinated, the case fatality ratio was at 1.7 percent.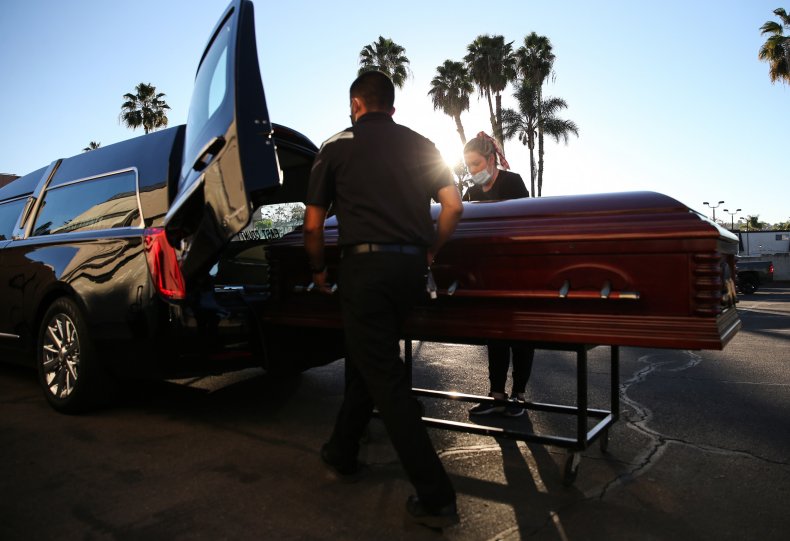 Dr. Panagis Galiatsatos, a pulmonary physician and professor at Johns Hopkins Hospital, cautioned Americans against getting complacent because of case fatality ratios. In September, when the mortality rate had dropped to 1.6 percent, he told Newsweek deaths can lag weeks after cases start to rise because of the nature of the virus.
Hospitalizations started trending upward at the end of June and hospitalized patients with COVID-19 broke the all-time pandemic record on Jan. 9, according to the Centers for Disease Control and Prevention (CDC). It's possible America's death rate could tick upward again as the weeks pass, but fortunately, COVID-19 treatments have come a long way since the pandemic started.
At the start of the pandemic, health care providers relied heavily on ventilators, which can cause a slew of complications for patients. Ventilators are still being used, but doctors' two main weapons are Remdesivir and Dexamethasone and many health care providers feel confident they can treat COVID-19. Still, doctors have cautioned people against wagering their life on the belief doctors can save them.
"I think people think I'll just take this drug or that drug," Dr. Michael Benninghoff, section chief for medical critical care at Delaware's Christiana Hospital, the largest in the state, told Newsweek. "[But] it's a lot easier to prevent COVID-19 than it is to treat this disease and it can be as bad as 50/50 chances."
Even if Omicron does predominately cause mild cases, health officials warned against writing it off as a non-concern. Surges in cases will mean more people need to be hospitalized and health care systems are already under significant strain.
Unvaccinated people are more likely to get seriously ill or die from COVID-19 than those who have been vaccinated. Although hospitals are seeing upward trends in vaccinated patients, doctors told Newsweek it's predominantly among people who did not receive their booster dose or are immunocompromised and can't mount an adequate immune response to the vaccine. Increases in people getting their booster dose could help keep America's case fatality ratio low.