New Yorkers will most likely be adjusting to a new normal soon as the city plans to drop mask mandates and proof of vaccination in the next few weeks, according to Mayor Eric Adams.
New York City was the stronghold for COVID-19, reporting roughly 2.28 million total cases since the start of the pandemic. Our World in Data reported a total of 39,783 coronavirus-related deaths in the metropolitan area. Over 24,000 of those deaths were recorded in the first wave of the pandemic, according to Kaiser Health News.
In April 2020, hospitalizations peaked at nearly 12,000 total and continued to fluctuate, spiking again to almost 6,400 in January of this year with the surge in Omicron variant cases.
As total cases around the U.S. begin to decrease, Mayor Adams announced his intention to reverse the city's "Key2NYC" policy, mandating masks and proof of vaccination in most public spaces.
The city was the first in the U.S. to implement vaccination requirements in public places, an effort enforced in August 2021 as the city was seeing a daily average case count of nearly 2,000. New Yorkers have since needed to show proof of vaccination in order to enter restaurants, bars, nightclubs, coffee shops and fitness centers.
"At the end of this week, we will evaluate the numbers and make a final announcement on Friday. If we see no unforeseen spikes and our numbers continue to show a low level of risk, New York City will remove the indoor mask mandate for public school children, effective next Monday, March 7," the mayor said in a statement.
Governor Kathy Hochul lifted the statewide mask mandate, as well as masks required in schools, in February as cases dropped.
"We are now entering a new phase of the pandemic," Hochul said in a statement. "Because New Yorkers have stepped up, we can confidently remove the statewide mask requirement in our schools."
Similar decisions have been made in several cities and states in the last week, starting with California, where Governor Gavin Newsom announced he would be shifting the state from pandemic to endemic-level protocols.
Colorado, Utah, West Virginia, New Jersey, Vermont and Pennsylvania have also begun dropping mandates in the last week.
Mayor Adams' biggest concern is to keep the city's economy afloat now. "We can't close down again, and I'm not going to do something at my anticipation to get back that's going to jeopardize closing down the city again," Adams said. "Our economy can't handle it. We don't have another $11 billion to put back in the economy. We must do it the smart way."
New York City is reporting a seven-day average of 1,088 cases as of Sunday.
Newsweek reached out to the New York City health department for comment.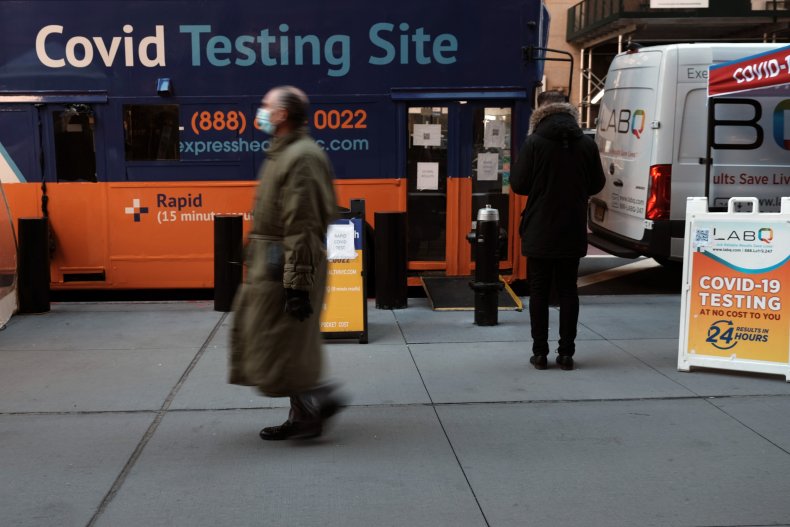 Uncommon Knowledge
Newsweek is committed to challenging conventional wisdom and finding connections in the search for common ground.
Newsweek is committed to challenging conventional wisdom and finding connections in the search for common ground.
About the writer
Emma Mayer is a Newsweek Culture Writer based in Wyoming. Her focus is reporting on celebrities, books, movies, and music. She covered general news and politics before joining the culture team and loves to cover news about new books, films, Taylor Swift, BTS, and anything else she might be obsessing over at the moment. Emma joined Newsweek as a fellow in 2021 and came on full-time in January 2022 after graduating from Colorado Christian University in December. You can get in touch with Emma by carrier pigeon or by emailing e.mayer@newsweek.com. Languages: English.