Independence Day, July 4, is so close we can taste the juicy BBQ food already. People in the U.S. often pair their love of food with federal holidays, spending a lot of money to celebrate holidays via their stomach.
According to the graphic below, provided by Statista, consumer spending on Fourth of July cookouts and picnics in 2018 was approximately $6.9 billion, and $6.8 billion is expected to be spent in 2019.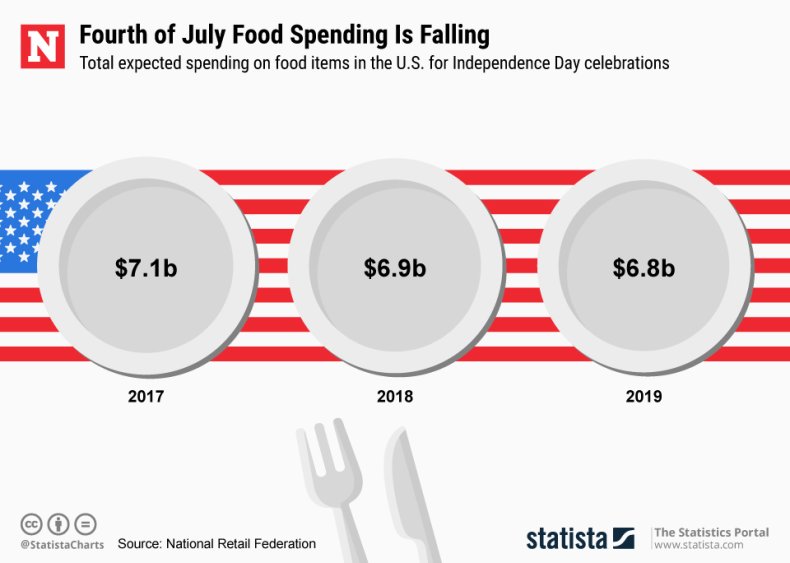 But what is the nation's favorite food for the holiday? According to data provided to Newsweek by food delivery service, DoorDash, Americans like to keep things classic with a cheeseburger, with almost one third ordering the dish on July 4, 2018. Cheeseburgers and french fries made up 58 percent of the top items ordered nationwide. Nathan's Hot Dog Eating Contest inspires people across the country to eat hot dogs, coming out as the fourth most popular order on the day.
San Franciscans seem to bypass tradition and order foods such as garlic naan, burritos, tikka masala and pad thai. Washington, D.C. is all about doing it yourself for the Fourth of July, as its most popular order last year was "craft your own pizza."
Here are the top ten foods Americans love on the Fourth of July, with some Insta-worthy recipes if you want try making them at home.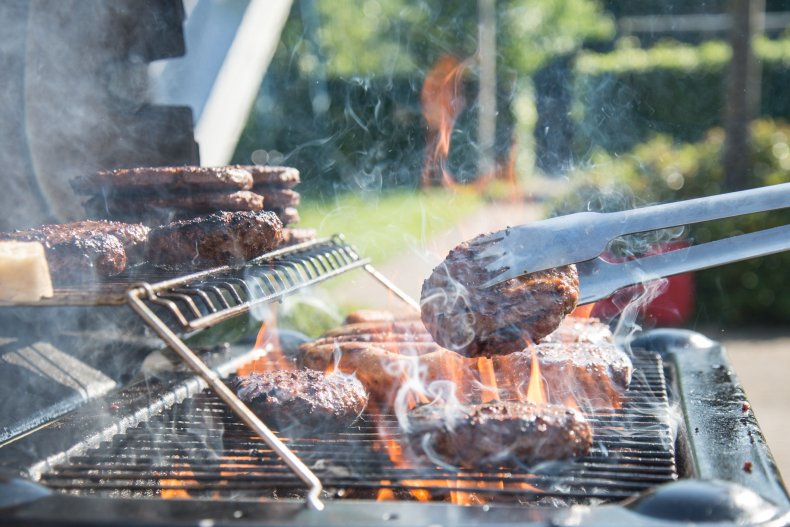 1: Cheeseburger
A favorite across the U.S., cheeseburgers don't have to be boring. Try this recipe by Burger Lab: the Triple Decker Cheeseburger.
2: Bacon Cheeseburger
Try this twist on the bacon cheeseburger for July 4.
3: French Fries
Go all out on these french fries, the third favorite July 4 food.
4: Hot Dog
Make some New York hot dogs courtesy of Jamie Oliver.
5: Onion Rings
Make some beer-battered onion rings for the Fourth of July with this Martha Stewart tutorial. The question remains: do you use white or yellow onions?
6: Boneless Wings
Americans favor these over traditional wings, according to DoorDash. Less to waste we imagine.
7: Soft Drink
We all love ordering a drink with our meals but try this DIY version of Wendy's Frosty to keep you cool during the Fourth of July.
8: Traditional Wings
If you're having a BBQ for Independence Day, then try this recipe especially if you prefer these over boneless wings.
9: Garlic Naan
The ninth most popular food ordered on Independence Day is originally from Asia. We're not sure what people eat with it though as the traditional curry main dish didn't make the top ten.
10: Tortilla Chips
Great as a side dish or snack, pair this with a salsa.