America's First Jury Trial via Zoom Begins, Complete With Virtual Jurors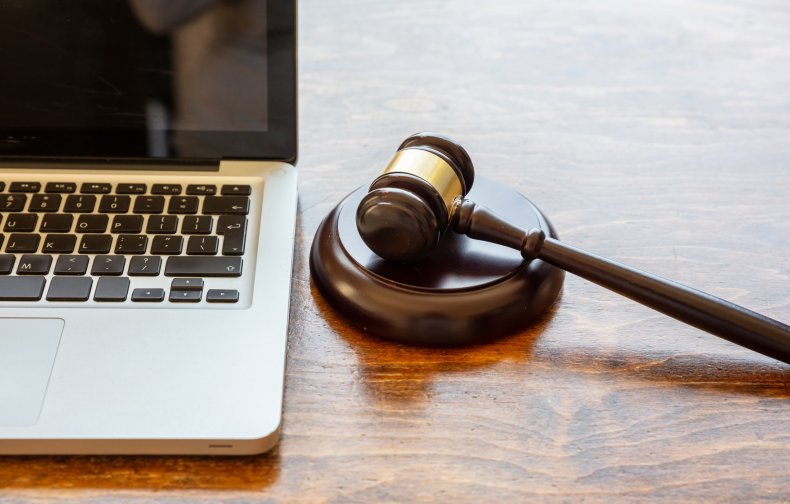 The first-ever U.S. jury trial to be held entirely by Zoom began Monday in Duval County, Florida.
The Florida Supreme Court believes the trial is the first fully-remote trial with a legally-binding verdict to be held on the popular video conferencing platform, according to The Florida Times-Union. Other cases had been conducted while partially using the platform.
The trial, Cayla Griffin vs. Albanese Enterprise, Inc., is not being livestreamed for the public, but delayed recordings featuring the faces of jurors blurred out are being posted to the state's Courtroom View Network website. Jury selection for the civil case took place last week and are already available to be viewed online, while Monday's stream had yet to be posted at time of publication.
Griffin is suing the owners of Jacksonville's Paradise Gentleman's Club, where she had worked as a dancer, alleging she suffered serious injuries from bouncers who beat her while she tried to retrieve her wallet and other personal items shortly after being fired in February 2018. The trial is being held to determine damages only, since the club is not disputing the facts of the case.
"Everyone involved has been working hard to develop the processes and procedures that will allow us to conduct a smooth and efficient remote jury trial," Circuit Judge Bruce Anderson, who is presiding over the case, said in a statement to WTLV. "I especially appreciate all of our volunteers who served as jurors and attorneys in mock trials to make sure everything was in place to hold this first fully-remote civil jury trial."
Technical issues have reportedly led to delays during the remote trial, with attorney for the plaintiff Matt Kachergus citing "connectivity issues" for difficulties in hearing responses from jurors. A strong afternoon thunderstorm is also said to have temporarily cut off one of the virtual hearings.
The trial is taking place in Jacksonville's Fourth Circuit Court, one of five Florida courts that were selected for a virtual trial pilot program launched in June. The program's first jury selection over Zoom happened on July 13, although it involved a case with a non-binding verdict and the trial itself was conducted in person. Thousands of hearings for non-jury trials have been conducted, according to The Miami Herald.
In-person court proceedings have been hampered in Florida for several months due to the COVID-19 pandemic. Virtual hearings are likely to continue to be a crucial tool since the severity of Florida's outbreak has significantly increased during the summer. The state has the second-most reported cases of any U.S. state, with 536,961 cases including 8,277 deaths recorded as of Monday.
Newsweek reached out to the Florida Supreme Court for comment.