'America's Game': How to Watch Kansas City Chiefs Super Bowl Documentary
A new NFL season means a new instalment of America's Game.
The NFL Network series has become a staple of the NFL calendar and this season's documentary—the 54th episode of the series—chronicles the Kansas City Chiefs' journey to triumph in Super Bowl LIV in February.
Narrated by actor and Chiefs fan Paul Rudd, the hour-long America's Game: 2019 Chiefs delves into the franchise's first Super Bowl title in 50 years, through interviews with Patrick Mahomes, Tyrann Mathieu and Travis Kelce.
The latest instalment of America's Game will be followed by Time's Yours: Andy Reid and the 2019 Chiefs, an hour-long show providing a close-up look at Kansas City's winning season from the coaches' perspective.
Narrated by actor and Chiefs fan Eric Stonestreet, the show features interview with Chiefs head coach Andy Reid, offensive coordinator Eric Bieniemy and defensive coordinator Steve Spagnuolo.
Here's everything you need to know about both documentaries.
When does America's Game premiere?
America's Game: 2019 Chiefs premieres at 8 p.m. ET on Wednesday, September 9. As usual, the latest instalment of the documentary is first broadcast the night before the opening game of the NFL campaign.
The 101st NFL season kicks off on Thursday night, when the Kansas City Chiefs host the Houston Texans at Arrowhead Stadium at 8:20 p.m. ET.
Time's Yours: Andy Reid & the 2019 Chiefs will premiere at 9 p.m. ET.
Which channel is America's Game on?
Both documentaries will air on NFL Network on TV, online and via the NFL Network app on connected devices.
What to expect from America's Game this year
America's Game: 2019 Chiefs chronicles the Chiefs' march to Super Bowl LIV and is littered with memorable comebacks.
Still smarting from losing the AFC Championship Game at home in overtime to the New England Patriots in January 2019, the Chiefs hit the ground running last season, winning their first four games.
Three home defeats in the following four games, however, halted their march, while a knee injury sidelined Mahomes for two weeks.
"I looked down and my knee is in the side of my leg. I was on the ground just kind of sitting there, season flashing before my eyes like, 'Man, I'm about to be out for the season.'" Mahomes says in the documentary about his injury in Week 7.
After losing to the Tennessee Titans in Week 10, however, the Chiefs won all their six remaining games to finish with a 12-4 record for the second consecutive year and clinched the AFC West title for the fourth straight season.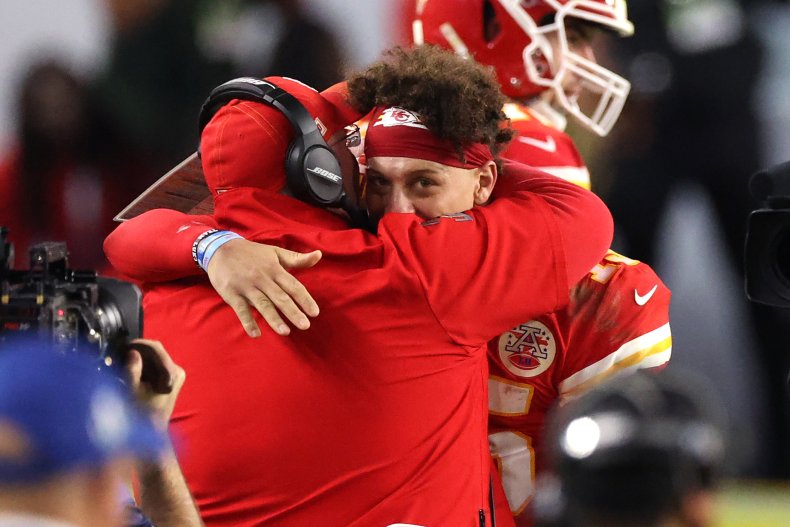 Down 24-0 at the beginning of the second quarter at home against the Houston Texans in the AFC Divisional Round, the Chiefs' playoffs run looked to be over at the first hurdle before Mahomes inspired a spirited comeback, leading Kansas City to a 51-31 win. A week later, the Chiefs again had to come from behind, overcoming a 10-0 deficit to defeat the Tennessee Titans 35-24 thanks to another superb performance by Mahomes, which included a memorable scramble.
"At that point in the game, for him [Mahomes] to pull something out of his hat like a magic trick, that's something the NFL hadn't seen of him yet," Kelce explains in the documentary when asked about Mahomes' run.
"To be able to make a play on his feet like that in arguably the biggest game of his career at that point. It was pretty special."
True to form, in Super Bowl LIV Kansas City trailed the San Francisco 49ers by 10 points with three quarters gone, before Mahomes drove the Chiefs to score 21 unanswered points to win their first Super Bowl title in 50 years and Andy Reid finally lifted the Vince Lombardi Trophy in his second Super Bowl appearance in 15 years.
"I was just so happy for Coach Reid," Mahomes says in America's Game.
"For me, it was about getting him that trophy and winning that championship first. It's a cool story that I'll be able to tell forever, but I'm still at the beginning of my career and I'm still trying to go out there and get more."