'AGT' Trapeze Fall: Married Couple's Blindfolded Act Goes Wrong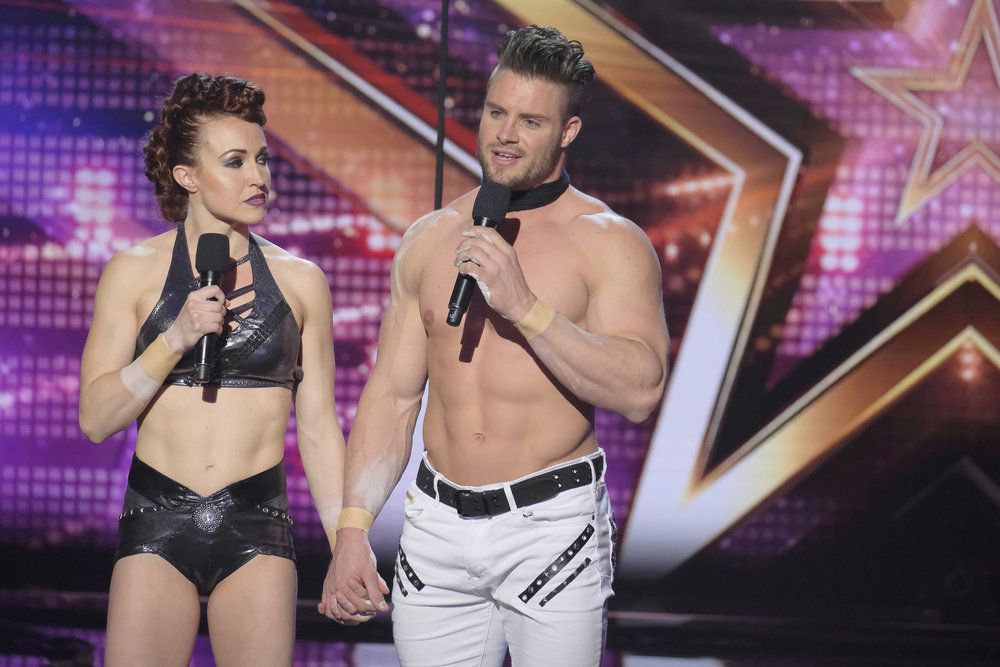 A dangerous trapeze act went wrong and could have ended in tragedy during the Judge Cuts on America's Got Talent on Tuesday.
Mary Ellen Wolfe and Tyce Nielsen have been married for six years and perform duo trapeze together. Known as Duo Transcend, the couple from Utah took it up a notch during their latest performance when they added a blindfold to their already dangerous act. Their audition during Week 4 in June got them a "yes" vote from judges Heidi Klum, Simon Cowell and Howie Mandel, but Melanie Brown, aka Mel B, hadn't been won over.
That changed during the Judge Cuts performance to "Shout" by Tears for Fears. The judges and the audience were impressed during Mary and Tyce's act, with the stage on fire below them. Then he covered his eyes and hung upside down. He stretched his arms out to catch his wife as she dropped, but he missed. She fell to the stage floor.
Mary was OK and able to stand up on her own. Later, Mel B noted the "massive red mark" on her back as she walked off the stage. What happened was something that's in the back of Deborah's mother's mind as she watches her daughter perform. "If she falls, she will fall on her head or her neck," she said.
Even after the fall, Mary wanted to try the trick again, to the judges' surprise. "Only on America's Got Talent does that happen," Mandel said. The judges refused to let them perform again, but guest judge and actor Ken Jeong told Mary, "It's not America's Got Perfection." Cowell agreed, adding that even singers don't need to be "note perfect" to be amazing.
After their audition, Mel B had said that she wasn't "wowed enough," but she was this time. "Everything about it—the music, the suspense, the fire—just incredible," she said. "You stepped up your game higher than I could ever have expected."
Though Tyce had worried that their mistake could keep them out of the Live Shows, they advanced.
What makes the couple's act even more "incredible" is that Tyce is legally blind in his right eye. He has a progressive eye disease that requires a cornea transplant, and doctors have told him not to do the trapeze acts. Tyce must rely on his other senses during their stunts. "I feel where she's at," he said. "I know if I've done it right by the sound that her skin makes on my skin."
America's Got Talent Season 13 airs Tuesdays at 8 p.m. ET on NBC.