'America's Got Talent' 2020 Recap and Results: Auditions Night 7
It's getting down to the wire for contestants in the first round of the competition on America's Got Talent. The last remaining acts hoping to get one step closer to the $1 million prize will perform for the judges on the last night of auditions on Tuesday.
Heidi Klum is still out sick, but Simon Cowell, Sofia Vergara and Howie Mandel will be back in their seats at the judge's panel. Terry Crews will be on hand to host the show.
The show is expected to be a lively one as there are still a few interesting acts set to make their grand appearance on the world's biggest stage. And there's still one remaining golden buzzer out there, so one lucky contestant may be skipping past the next round of the competition and headed straight to the live shows.
As usual, we'll be on hand providing live blog coverage of the episode, including the final results of all the act that get a yes vote from the judges, beginning at 8 p.m. ET. If you need to catch up on all the contestants who have made it through so far, check here.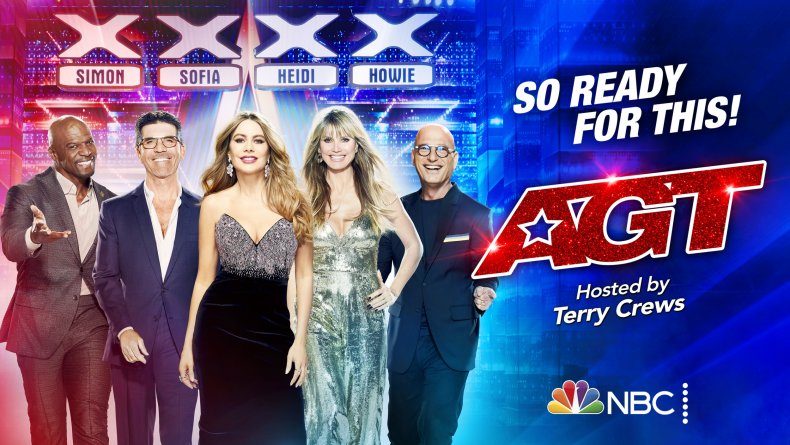 America's Got Talent Season 15, Episode 7 Live Blog
8:00:
After a week off, we are finally back in the theater with the judges Simon Cowell, Sofia Vergara and Howie Mandel. Heidi is still missing in action, so Howie is sitting in her seat tonight.
The first act of the night is 34-year-old Alex Hooper from Los Angeles. The comedian actually first appeared on the show two seasons ago. He made quite the impression with the judges back then but in a very negative way. After cracking offensive jokes about all of the judges back then, Alex was booed off stage by the audience.
8:08:
Alex still teased the judges just as much as he did the first time he appeared on AGT, but his jokes weren't nearly as insulting. He managed to bring all three judges to giggles during his set, and for that, he received three yes votes. It's off to the next round for Alex.
8:10:
Next up is the Lightwave Theater Company, a puppeteer theater group from Romania. They put on a heartfelt life-sized puppet show full of drama that almost brings Sofia to tears.
8:15:
The group won the judges over. Howie and Sofia thought the performance was very unique and special. Simon agreed.
"That was beautiful. I almost got emotional," Simon said.
Three yes votes for Lightwave, so they are moving forward in the competition.
8:21:
Country music singer Kameron Ross. He's come all the way from Texas to show off his pipes, and share his story. Although he was performing all over east Texas in his younger years, after coming out as a gay man his music career took a dive for the worst. He lost support from fans and friends because of his identity, and opportunities to perform diminished.
"This is a great opportunity for people to show other people like me that it is possible to do this in the country music industry. As of now I am completely open and being who I love to be as a person and pursing the stuff I want to," Kameron told the judges.
8:26:
Kameron begins a performance of "Red Dirt Road" by Brooks & Dunn. After he gets to the chorus, Simon asks him to sing a cappella and do what he came to AGT to do: stand out.
"You have an amazing voice, young man," Howie said.
Sofia said Kameron's voice gave her goosebumps, and Simon said there was something "very memorable about you."
No surprise here—it's yes votes all around for Kameron.
8:32:
Next we're treated to a wave of interesting characters. There's singer John Austin, who can sing words backward. Somehow he gets a yes vote from Sofia and Howie while Simon says his performance was the backward-word for "crap."
Then there's Chicken Scratch Sam, who wins over Howie and Sofia with his bird jokes. Of course, Simon's unamused. But the big bird scores two yes votes so he's off to the next round of the competition anyway.
8:38:
The Ninja Twins—identical twin brothers Nick and James— are up next. They're dancers from Bakersfield, California, but they've slowed down on the grooves as they've aged. Now they're here to perform an original pop song they've written. They're dancing and rapping all over the place, but they seem like they're out of breath. It doesn't take long for Simon to hit them with a no, but Howie and Sofia appear to be enjoying their performance.
8:42:
"Look, I love you two. I think you're hilarious but the song and the singing and the dancing were terrible," Simon said.
However, it was a for-sure yes vote for Howie. And much to Simon's dismay, Sofia pulls a Howie and gives the Ninja Twins a yes vote too.
8:47:
Next to the stage is standup comedian John Hastings. He very personable right from the very start and Howie certainly seems to like the comedian as he cracks jokes about aging and the hardships of life.
8:51:
John gets a standing ovation from all three judges, and they shower him with compliments. He's headed to the next round of the competition after all three judges give him a yes vote.
8:57:
The band of Jefferson Davis High School in Montgomery, Alabama are set to perform next, and boy, do they make quite the entrance. The kids give a great performance full of energy. There's music, there's dancing, baton tricks and flips—just an overall jam-packed, incredible performance.
9:02:
The band scores a standing ovation from all three judges, and Simon says he wishes there was an audience here to witness the group's audition. Howie wants to see them perform at their home stadium, and Sofia says the band reminds her of the marching bands back home in Colombia. All three judges give the band a yes vote, so they're on to the next round of AGT.
9:09:
Dancer Siena Uremovic is up next. She'll be performing a dance and acrobatic routine that she finished only last night, but there's a kicker—she's doing a lot of the stunts wearing a blindfold.
9:10:
The judges were really impressed by Sienna's performance.
"Sienna, I've never seen that before," Simon said. "You have amazing energy."
Three yes votes for Sienna and she's move on to the next round.
9:11:
Up next is the opera singing duo Gilead and Natalia, otherwise known as Voce Nova. They're performance starts off very traditional, but in the middle of their audition, they flip the switch and begin an upbeat show that feels a lot more like a pop performance.
9:15:
The judges weren't so impressed.
"I see no market for this whatsoever," Simon said. "It's fine at a wedding, and that's about it."
It's a no vote for Simon. Sofia and Howie follow suit and give no votes as well. This is the end of the road for Voce Nova.
9:19:
The next performer arrives on stage wearing a dramatic costume, but he refuses to introduce himself before his performance. He literally turns his back on Simon when the judge asks him a question about what he's here to do. Finally, a piano backtrack plays and he delivers a broodingly beautiful performance, showing off a lovely voice full of range.
9:21:
He finally introduces himself as Sheldon Riley from Sydney, Australia. Although the judges can't see his face, they're all in on his talent. Sheldon gets yes votes from all three judges.
9:28:
Well, there's some changes to the format of the show for the remainder of the hour. With the coronavirus pandemic erupting during the height of auditions, the AGT team had to wrap the last of auditions via live video. So now we'll get to see the judges in their own homes, and—even better—Heidi's back.
The first video audition is from Chris and his dog Syd. They're parked in Chris' pickup truck in Cedar City, Utah, and they're going to sing together.
9:34:
The judges loved Chris and Syd's performance.
"You've got a good voice. Your dog actually was singing with you," Simon said.
Sofia felt like Chris and Syd's performance was really heartwarming, and Heidi knew that this would be a performance an audience would enjoy.
Chris and Syd get yes votes from all the judges.
9:36:
Johnathan Goodwith, a daredevil gets four yes votes from the judges after catching an arrow with his bare hands. Tommy Socks wins the judges over with his hilarious dance moves and gets four yes votes. Dance Town dance group impresses the judges with their quick feet, too. They're headed to the next round after securing four votes.
9:38:
Next up is 8-year-old Alexis Brownly, and she's going to her amazing dog show called The Puppy Pals. Her pups can jump hurdles, rolls around, hop on their hind legs and do plenty more amazing stunts.
9:42:
The judges thought Alexis was a "brilliant little dog trainer," and they had a lot of fun watching her performance. Sofia is first to give Alexis a yes vote. Simon, Heidi and Howie follow suit and give her yes votes as well.
9:43:
Mentalist Max Major is up next. He's going to try to connect with all the judges mentally and attempt to control the minds of the judges through the screen. He impresses them with a card trick and wins four yes votes.
9:49:
A quick montage shows a few more contestants that secured yes votes from the judges including a dad and daughter stunt devil duo, a family of dancers and vocalist Erin McCarthy, who performs opera while sitting on a horse.
9:56:
The show wraps with a montage of the many acts we've seen so far this season.
America's Got Talent Season 15, Episode 7 Results
There were a lot of interesting performances tonight, but not everyone can move on. Below are the contestants who did.
Alex Hooper— Comedian
Lightwave Theater Company— Puppeteers
Kameron Ross— Singer
John Austin— Singer
Chicken Scratch Sam— Comedian
The Ninja Twins— Singers
John Hastings— Comedian
Jefferson Davis High School— Marching Band
Sheldon Riley— Singer
Chris LeDoux— Singer
Johnathan Goodwith— Daredevil
Tommy Socks— Dancer
Dance Town— Dance group
Alexis Brownly— Dog Trainer
Max Major—Mentalist
The Herd Family— Dancers
Erin McCarthy— Singer