Who Are the 'America's Got Talent' Wildcard Acts and How To Vote
After two months of auditions, golden buzzers, and jaw-dropping performances, the audition round for America's Got Talent has officially come to a close.
At the moment, there are 54 acts confirmed to be appearing in the live shows including the lucky golden buzzer acts—Golden Buzzer recipients: saxophonist Avery Dixon, vocal trio Chapel Hart, singer-songwriter Lily Meola, singer Madison Taylor Baez, dance group Mayyas and singer Sara James—who had their dreams secured when the judges sent them automatically through to the live shows after their audition.
On the lead-up to the live shows, which will kick off on Tuesday, August 9, audiences have the opportunity to send one more act through to the live finals.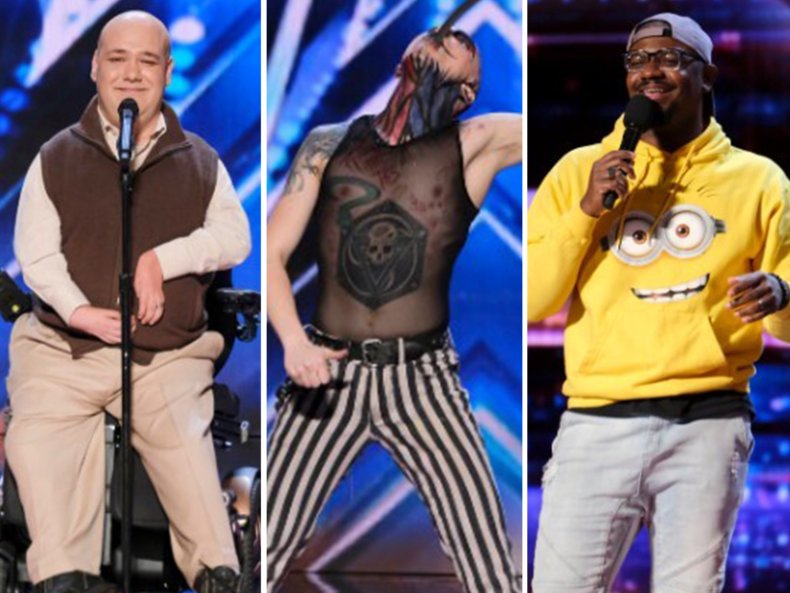 Known as wildcards, the judges need one more act to secure a spot on the live show and they have left it up to the American public to decide.
Newsweek has everything you need to know about the America's Got Talent wildcard acts and how to vote for your favorite.
Who Are The America's Got Talent Wildcard Acts?
The four lucky America's Got Talent wildcards acts are singers Ben Waites and Debbii Dawson, comedian Jordan Conley and danger act Auzzy Blood.
Ben Waites
Southern Gospel singer and vocal coach Ben Waites impressed the judges with his emotional performance of Cyndi Lauper's "True Colors" for his audition.
His performance was so good that he reduced judge Sofia Vergara to tears and received a standing ovation from the audience.
Debbii Dawson
Debbii Dawson, 26, gave a stunning acoustic performance of ABBA's "Dancing Queen" for her America's Got Talent audition.
Ahead of her audition, Dawson shared with the judges and audience that music meant "everything" to her.
She said: "Basically, music is like everything to me. It's more than, like, a hobby. It's my legacy. My grandfather is actually in India. He taught himself to play the organ by drawing on the concrete with charcoal, like a keyboard. He taught himself, and that's how he taught my dad. And my dad taught me."
Jordan Conley
Comedian and actor Jordan Conley had the judges and audiences in stitches with his stand-up routine.
He earned the praise from stand-up comedian and America's Got Talent judge Howie Mandel, who praised him for being so lovable and even managed to make famously grumpy judge Simon Cowell laugh.
After his audition, Cowell said: "You really cracked me up. This was a really, really good audition. I like you a lot."
Auzzy Blood
Death-defying Las Vegas danger act and self-proclaimed "sideshow freak," Auzzy Blood had everybody on the edge of their seats with his spine-tingling audition which featured him performing several swallowing sword tricks, impressing and terrifying the audience all at the same time.
If he was to make it through to the live shows, Auzzy Blood told the judges he would break a world record in a second performance. So, if you want to see Auzzy Blood take his act even further (and on live TV), you can vote for him as your wildcard act
How To Vote for Your Favorite America's Got Talent Wildcard Acts
There are two ways to vote for your favorite America's Got Talent wildcard act.
You can head to America's Got Talent's official website now: https://agt.vote.nbc.com/
Alternatively, if you have the official America's Got Talent app, you can also cast your vote for the wildcard act there. The app is available to download for free via the app store.
Fans can cast up to 10 votes per voting method and to vote, you must reside in the U.S. and be over 13 years old.
While the results of the wildcard vote will be revealed on Tuesday, August 9, you can watch the winning Wildcard Act compete during the Tuesday, September 6 episode.
Voting for the America's Got Talent wildcard act will close on Friday, August 5 at 7 a.m. ET.
America's Got Talent airs Tuesdays at 8 p.m. ET on NBC.